It is winter in Australia isn't it?

The loose bark could be nothing more than a layer of bark exfoliating, but honestly it looks like that root is dead and rotting away. But don't reach for chemicals or a pruning shears just yet.

For the winter I would remove the moss covering the soil. Most oaks - I'm thinking of genus Quercus, I know there are other genera in Australia that get called "Oak", Most oaks come from less than wet and humid environments. Here in the USA, they are savanna trees. Essentially prairies with scattered trees, Dry grasslands. Only a few species come from humid wet forest environments. Most if found in forests are from upland forests that are less wet than the typical forest where you would find maples and hornbeam.

So I think it has been too wet, and the tree has started to loose roots. Remove the moss, use your finger or a chopstick or other method to determine moisture level about 2 cm deep into the soil. You want the pot to be moist to barely damp as much as possible, with as little time as possible being wet.

See if drying it out some will stop progression of the rot. You can then clean up and prune out the dead roots in late spring when you repot the oak. I would wait with the repotting until buds have started to swell and grow in spring.

Hope this helps.

If you have the systemic Fungicide Cleary's 3336 on hand, you could apply it. It functions more to prevent spread of disease, rather than "cure it", It might not be available in Australia. If you have horticultural grade Hydrogen Peroxide, in USA one label is Zertol, 30 ml in 20 liters makes a good soil drench. Or simply drench the soil and pot in 3% hydrogen peroxide from your local Pharmacy or "Chemists", the same strength used for mouth wash or cleaning wounds. It won't hurt the plants at all. Won't hurt mycorrhizae and will kill many pathogenic fungi and bacteria.

Leo Schordje

Member





Thank you so much for replying Leo.
It SHOULD be Autumn here but we haven't had a day under 34C as yet. We keep hoping. I think the problem may have occurred because I went away for 2 weeks and had to get someone else in to water for me. I put a tray under it and in a semi shaded position fearing that it would be missed watering and die while I was away.
I have treated it with Fongarid as that is what I had on hand ( systemic fungacide ) and put it out in the sun on my return. I've taken a couple of clearer shots. It doesn't appear to be affecting the health of the tree, as yet. I was waiting til spring to repot as I found this one drys out easily. Store bought Bonsai so probably not much omph left in the mix. I will definitely remove the moss as you suggested, as on closer inspection, I can see the black patches through that as well. I will also use the 3% Hydrogen Peroxide as well. Thank you very much for your help, It is most appreciated. Gina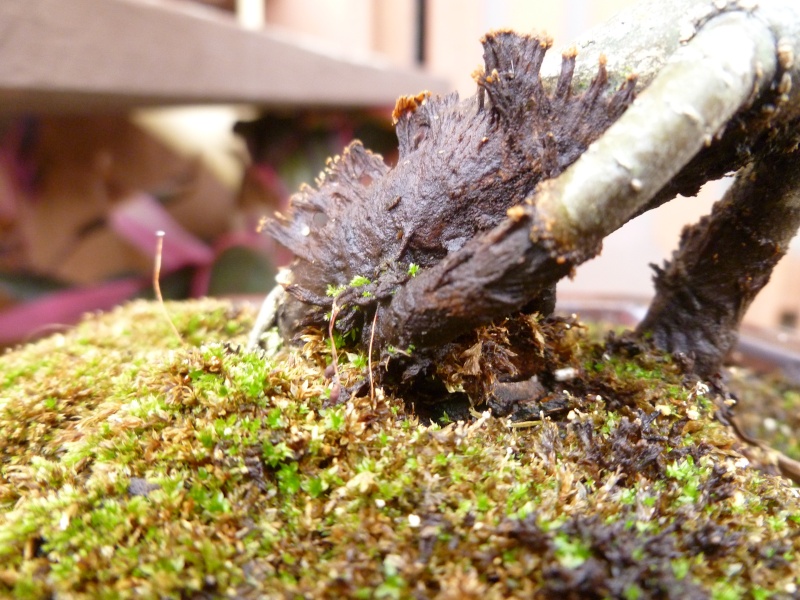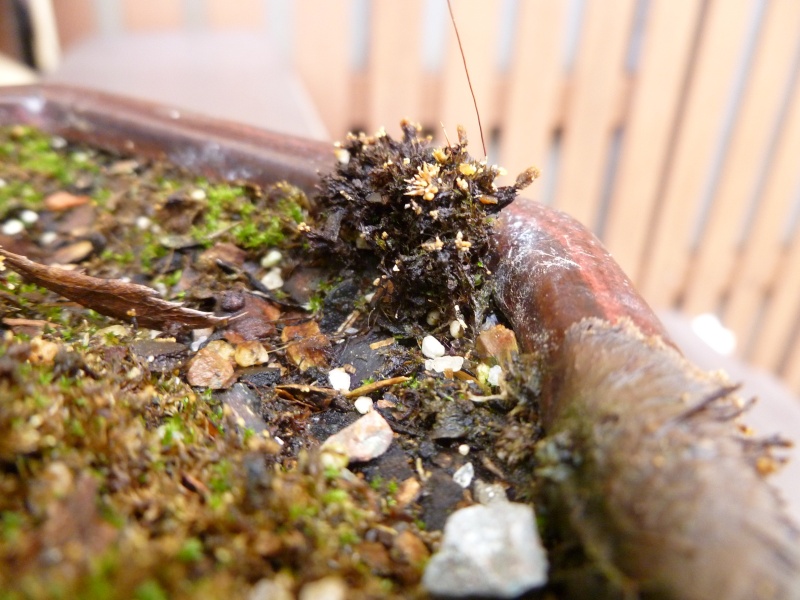 ---
Permissions in this forum:
You
cannot
reply to topics in this forum