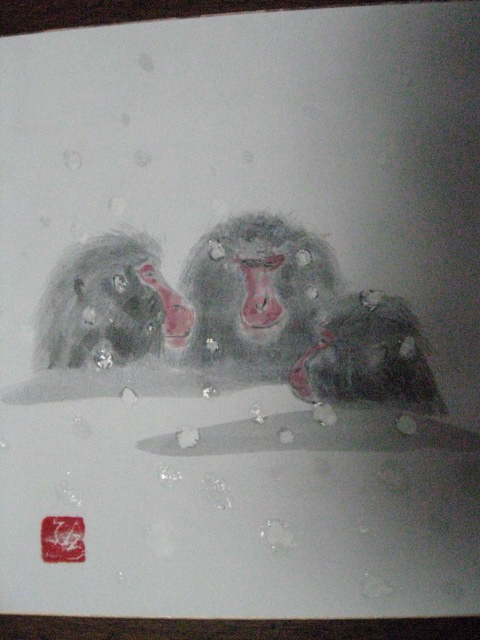 With the advent of official fall just days away, i got to thinking about winter and being prepared. We've all seen the monkies of japan that love to sit in the hot springs to bathe and warm up. I love the pink/reddish faces. I don't know how hiroko did it, but unseen in the photo but in real life, the big snowflakes have a silvery tint to the white. it adds a feeling of cold to the viewing....

dick benbow

Member





Hey Dick!
J-san mentions your!,
Ice burg Stone?
Same theme idea!...
stonener
*peek*
Hey Dick I was kinda hoping to see this board in your Tokonoma.
Displayed for the coming Winter Season, before your New Year's
Would be a fun challenge to come up with a three point set up.
Once before I heard you have a real nice Winter Scene Stone.
Come on dude! break it out and give us a peek?...
stonener
*all eyes*
Just dread the thought of "promoting" the next season after fall. BRRR! kusamono is actually an artic willow after leaf drop...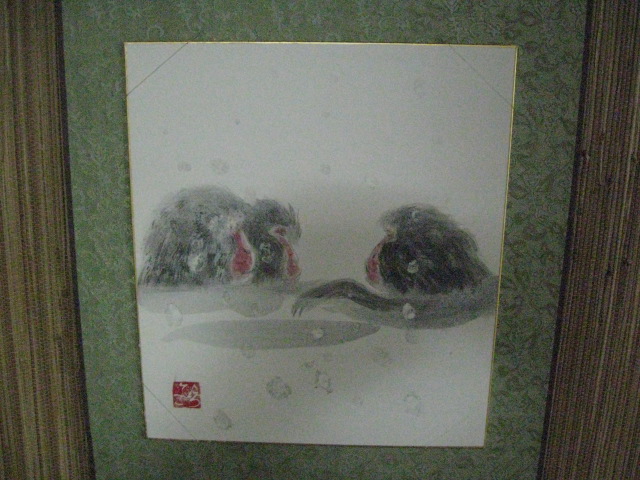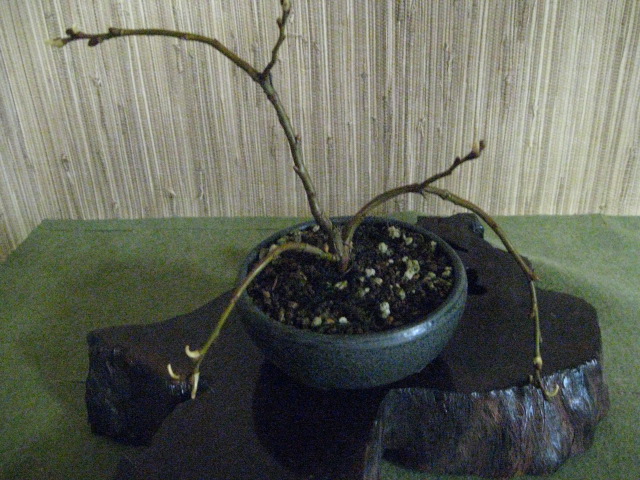 dick benbow

Member





Dick the fun is in using what we have and in the arrangement of it!
So working with what you show, IMHO At first glance I would switch the stone and tree,
Tree even if very young ok, speaks of second long hard journey coming through this next winter, "Struggle".
It has a kinda weeping snow style so ok on tall mountain stand, same direction placed at left corner off center, forward.
Did the monkeys eat the leaves off the tree?. Stone with daiza good, gives a warmer feeling, than if in a suiban.
But not with that thick redwood slab, you might try a simple thinner one, a mat or even a silk cloth.
Ok lets get deep if you use cloth remove the daiza, warmer feeling yet, "hot springs" or as an extra blanket.
Stone direction the same, springs facing into center of display, left to right and placed forward off center of Tokonoma.
Then spread things out but not equal spacing, stone farther out to left side, but keep the scroll center of display.
stonener
*it's the journey*

p.s. That stone is a killer! go's together with that scroll like peanut butter and jelly. even if you switched shikishi!
could have sent this by PM as usual, but Maybe!, just Maybe!, SOMEONE will have something positive to say...
Last edited by stonener on Sat Oct 19, 2013 1:20 am; edited 4 times in total (Reason for editing : many)
I appreciate your thoughts. always fun to challenge each other to open up new ways of seeing.....

dick benbow

Member





Sorry Dick for so quickly commenting on your Tokonoma display, my bad...
I should have in retrospect allowed you to tell us your story first!, which I thought you did.
I had been hoping and waiting to see when and how you would use this beautiful Shikishi...
Wanting not to wait a whole year for next window in time! I decided to kindly risk motivating.
As I get older and I more quickly tier!, I have been noticing the fall signs of the coming Winter...
Shorter warm days and longer cold nights are a warning! that even the tree take notice.
But maybe would have been better said by PM...
stonener
*just wanta have fun*

Similar topics
---
Permissions in this forum:
You
cannot
reply to topics in this forum