It's a shame they are so costly and appear in display for a limited time in days. Not like a framed picture to be enjoyed year round. But I have found i want something very good for those short days and can settle for no less. as always i enjoy your comments of what you like or how you'd see them used. the first posted was given as a gift to thank-me for my commissions, the second one that she did at my request.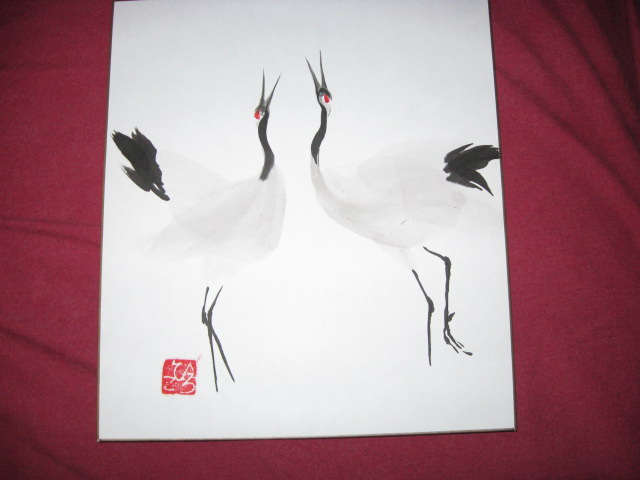 dick benbow

Member





I do not want to be insulting, just need to comment on the 2nd board-since there is a bird flying high up of the mountain-I see it as a summer scene-but it is snow covered-is this to show Mt. Rainier? it is beautifully painted-I am just a bit confused about the time of year, this can be properly used. I do invite comments-as I may be off base here-kora
I appreciate your comments. I climbed Mt rainier once. Got up to camp muir, the staging area for the asault to the top early in the morning when the ice bridges are still frozen and you "sleep there" till 2:30 a.m.
Anyway it's at 10,000 feet this staging area and there were birds running around the snow bank up there. I thought what the ??????
so I investigated and found the updraft wind from the meadows below were bringing up insects and depsoiting them on the snow banks. And the birds just naturally folowed them up and were feasting. It's a magical place and the 5th national park set aside for
we americans and the rest of the world to enjoy. The Mt itself carries snow year round even in the hotest of summers.....

dick benbow

Member





thank you for your story, so when would it be appropriate to show this? kora
The first board with mating cranes would be in february when in japan they begin courtship. A bonsai would not be the prominent piece in the display but a deciduous tree with bare branches would signify timing and maybe a crocus for companion plant would be nice.

I think the second one could be used with a dominant say white pine bonsai to signify the high country and companion could be high altitude kusamono. It's a less dominating feature that could be used more frequently than the craines which are so time specific. And i do like it for it's simplicity.

dick benbow

Member





Kora, i consider it an honor and a priviledge to have you sharing on any of my threads on display. I appreciate your knowledge
and effort you've put into learning this art.
just a lil story to share with you that you'll appreciate. i was judging a koi show in a near-by state and hosted by a family in the club for meals and sleeping quarters. The bedroom had a collection of figures from their younsgters as they grew, that they never took with them as they "left the nest". In it was a small metal figurine of a fox. I could visualize this figurine under a small grape bonsai, like one i saw many moons ago on famous koi breeder toshio sakai's office desk. I had to look twice at the cluster of grapes to be certain it was real. As I was thanking them for their hospitality, I struggled with asking them about the fox figure. And when i did they were so gracious and to give it to me as a gift. So now i have the tenpai, just need the grape bonsai.
I used to think finding good shikishi boards would never happen, till I found Hiroko. now to find a source for good tenpai.

dick benbow

Member






Similar topics
---
Permissions in this forum:
You
cannot
reply to topics in this forum