will be available tomorrow (tuesday)
I'll use in for my alcove in winter. It will be the pink faced monkeys of japan, warming up in an onsen(warm spring). I'll take a photo tomorrow and post. next project for Hroko (sumi-e artist) will be Tancho craines in their mating dance, appropriate for use in February. She says she has a surprise for me, so anxious to see what it is....

dick benbow

Member





Not too much can be said except here they are....Hiroko usually will do 4 boards for me to select from. The tancho craine scenes were so beautiful in a four piece order. I wish I could have purchased all four. The scene was a sequence of the dance ritual...greeting....crouching in anticipation of the leep into the air, the leep and then the scene here where they walk off together.
With the monkeys, two of the scenes were with 3 monkeys, two with just two subjects. I struggled to pick just one. I liked the face on the monkey to the right side. In the other two some, one of the monkey's was preening the other whose face was pure pleasure.
She is just such a talented artist.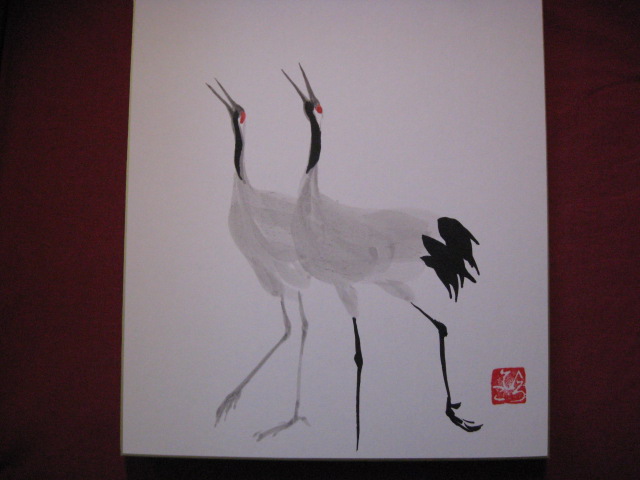 dick benbow

Member





I was delighted as i returned to this thread to see over 125 views since yesterday, yet disappointed somewhat to find nothing said. I realize art is subjective and not everyone likes the same things as others, yet I would appreciate hearing what you thought as you first viewed them. When it comes to display I'm trying to build two opportunities to display. One that would have local and one that would be more in tune with japanese culture. These two obviously have more of a japanese influence. When it comes to display, which do you prefer? It is my honest hope to get some comments on the subjct....pro or con....while i enjoy sharing my journey towards this topic, I really DO appreciate having others to express their position or thoughts in this same journey.

dick benbow

Member





They are truly beautiful. So complete there is nothing to say beyond beautiful.

Scrolls used in display are supposed to evoke an emotion. I am 3rd generation Chicago born American. I can relate to the cranes, that image brings to mind the wonderful walks I took over the years to see the sandhill cranes during their mid-migration stop over at the Jasper-Pulaski wildlife refuge. I can really relate to the crane panel. They hit me emotionally, even though I have never seen the Japanese crane in real life. They are enough like the sandhill crane that it works for me. The sandhills have similar behavior.

As for the monkeys, beyond seeing them in less than ideal conditions at the zoo, I don't relate to them, beyond the beautiful image. No emotional impact evoked.

My point is, bonsai display is supposed to evoke a memory or emotional response from the viewer. It should get a reaction from the viewer. At the low end of positive for this response, one might just look and say this is nice. Display done to its best may actually bring tears to the eye of a viewer. More do-able by mere mortals, would be a display that would hold the viewer, strong enough emotion to keep them looking at the display for more than 10 seconds. Hit the viewer hard.

For myself, my skill at this is low, I'm happy, consider my display a success, when I get any reaction beyond, that's nice, or a pause longer than 5 seconds. The monkeys are good, they would get me to pause for more than 5 seconds, but the cranes are better, because they are closer to something I can relate to, our native cranes.

Ideally, we should use elements in our displays for which we have a cultural or emotional context. In my mind, Japanese and Chinese calligraphy is completely lost on an audience who doesn't read these languages. I don't get calligraphy in a language I can't read. Yes, the lines are abstact and pretty, but to those that can read these languages there is another layer of meaning/emotion that is lost.

In our orchid society, there is a member who insists on using a banner with Japanese calligraphy as a backdrop in a display. Even after they were told that the calligraphy was a sign for a noodle shop and they were displaying the banner wrong side out, so what was seen was the mirror image of the what had meaning. Symbols from another culture, used without understanding.

The hazard of trying to adhere to the appearance of Japanese display, without being part of the Japanese culture.

Leo Schordje

Member





Wow! what a nice contribution. thank-you! I love to fly fish for trout and often was the time when sandhills would fly over in migration, talking to each other, maybe that's why we both relate so much better to the craines. I would have loved to have seen snow on the monkeys, but most difficult with sumi-e.
Thank-you for your thoughts!

dick benbow

Member






Similar topics
---
Permissions in this forum:
You
cannot
reply to topics in this forum