Hi experts could someone help identify my first Bonsai and tell me what it is? In addtion I assume its deciduous tree given all the leaves have started to become dry and cureld as if getting ready to fall? I would like to make sure I haven't killed in a week? please could some advise me? i have photos for further clarity but not sure how to upload?
[img]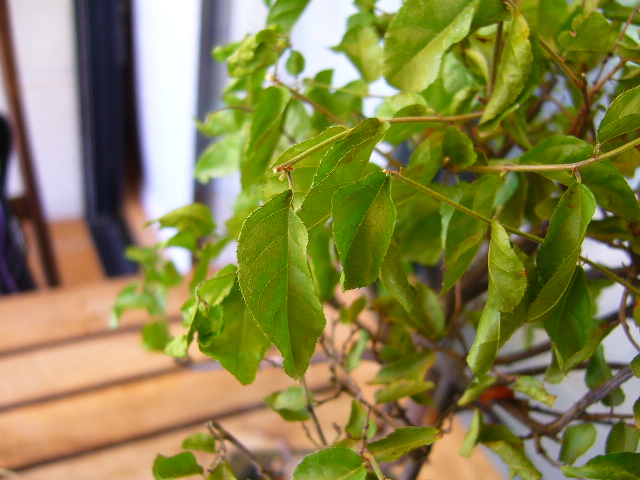 Last edited by Bon Saiman on Tue Sep 08, 2009 2:58 pm; edited 1 time in total (Reason for editing : photos added)
First of all, please go back to your profile and tell us where you live. We can't advise you without knowing that.
Regardless of ID, unless you live in the Far North, it is not time for deciduous trees to lose their leaves yet.

Where have you been keeping your tree? It should have been outside for the summer. Leave it outdoors in the shade for now.
The most common cause for problems is incorrect watering. Stick your finger into the soil. Only water when the soil underneath is almost dry.
Scratch the bark on your tree. If it is brown underneath, the tree is dead. Get back on the horse & get another tree. If there is a layer of green under the bark, the tree is alive & may recover with proper care.
Iris
Last edited by bonsaisr on Tue Sep 08, 2009 3:04 pm; edited 2 times in total (Reason for editing : Removed superfluous comments after seeing photos.)

bonsaisr

Member





profile updated but more to do ...
I have been keeping my tree outside on the balcony but not in direct sunlight and it has been a little humid the last week or so , I have watered probably once or twice thus far...after scratching thew bark it looks alive , whitish color but fleshy not dry??
Welcome to Bonsai Club,

This is when it gets a bit tough .... when there's a problem with a new bonsai. Please don't be insulted with a few questions we need to know:

When was the tree potted and what kind of soil did you use? Have you recently fertilized the plant? What kind of tree is your bonsai? Iris is correct about over-watering and where you have placed the tree. Could you give us another picture of the tree showing the size of the pot and it's soil surface?

Thanks ... I hope we can help you!

Norma

Norma

Member





Español bon Saiman,

Me parece que tu árbol en una Pseudocydonia sinensis. Su estado no presenta signos inmediaos de fatalidad, pero parece que la has puesto en un lugar a media sombra y con riego excesivo.

Saludos,

Jose Luis

I think that your tree is a pseudocydonia sinensis. Its present state does not show immediate signs of death, though i suspect that it was placed in a semi-shade location and has been overwatered.

Kind regards,
Jose Luis

jrodriguez

Member





Hi all see below photo of pot and soli , I did not pot this its was purcahsed froma garden cnetre as is , needless to say it looked fine in the shop. I think its a case of being in too hot a position but Im still not clerare as to what type of Tree it is? If its a Chinese Quince then leaves look very different from the internet pictures Ive seen and the book i have here????
Sorry one extra piece I wnated to add here which is not apparnet in the photos is that all the leaves are dry and crispy for wnat of better word so I think its about to drop them all??? leaves are dead but tree looks ok???
Thanks for the photo. My guess is that the soil in your pot is not good bonsai soil but looks rather heavy. If the tree belonged to me I would repot with bonsai soil such as lava rock, akadama or haydite, or decomposed granite! This type of soil allows water to run through quickly and keeps the roots from rotting. Before you repot defoliate the tree by cutting the stem of each leaf.

Best of luck...

Norma

Norma

Member






---
Permissions in this forum:
You
cannot
reply to topics in this forum