I have a number of shohin bonsai. Displaying them on stands which are generally only about 2-3 inches high has always bothered me. They are always too low and tend to get lost in exhibitions. For this reason I decided to make some pedestal stands. Cherry wood is easy to carve and darkens nicely with age. Enjoy. Hank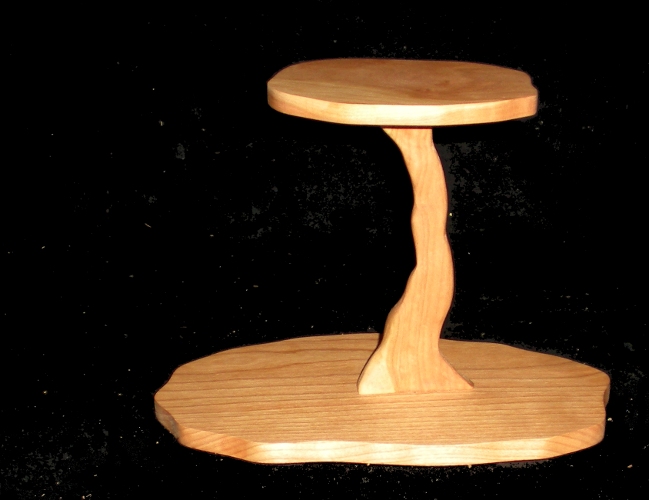 7" pedestal stand
12" pedestal stand
11" cascade stand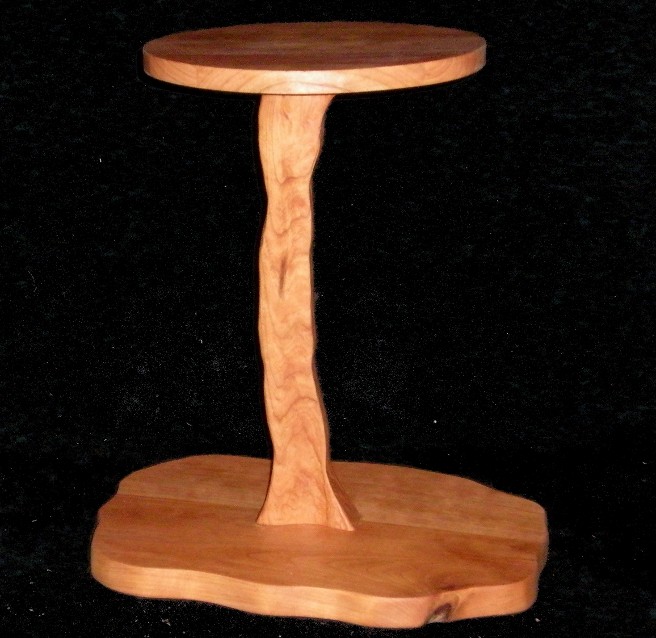 15
15" cascade stand
Last edited by Hank Miller on Tue Mar 27, 2012 6:00 pm; edited 1 time in total

Hank Miller

Member





I like your idea and your work. A couple of comments. Simple is almost always better in Bonsai display. With that in mind I like you first stand best. Looking at that stand, I would try to make all the pieces appear smaller to the eye. In the case of the flat surfaces they could be up to half the thickness, the support arm might be turned 90 degrees. Also the rule of thirds would suggest that the support arm be placed off center.

Billy M. Rhodes

Member





I wish I had any vestige of this kind of talent . . . however, I agree with Billy that the stands could have a bit less weight to them. And, I think I'd stain them to a dark cherry immediately. In a display, your eye would be pulled to the lighter-colored stands and away from the trees -- which you say you want to make more prominent than they usually are.

Good start.
_________________
Jim Lewis - lewisjk@windstream.net - Western NC - People, when Columbus discovered this country, it was plumb full of nuts and berries. And I'm right here to tell you the berries are just about all gone. Uncle Dave Macon, old-time country musician

JimLewis

Member





good job, hank. I like them

best wishes, sam
Thank you for your suggestions and comments. I really appreciate them. With regard to making the stands a bit lighter the problem with the smallest pedestal stand is the following: in order to dowel the base and top to the pedestal the minimum thickness must be about 3/8". The pedestal cannot simply be glued to the base and top. We have made a small walnut pedestal stand (4 1/2" high). It is very difficult to assemble because of the thickness of the base and top. Metal pins were used.
One of the problems of looking at stands alone is much akin to looking at picture frames without having the painting present. Below are a few images of two of the stands with some of my trees on them ( I hope I am not violating any of the rules for posting both bonsai trees and stands here) for your consideration.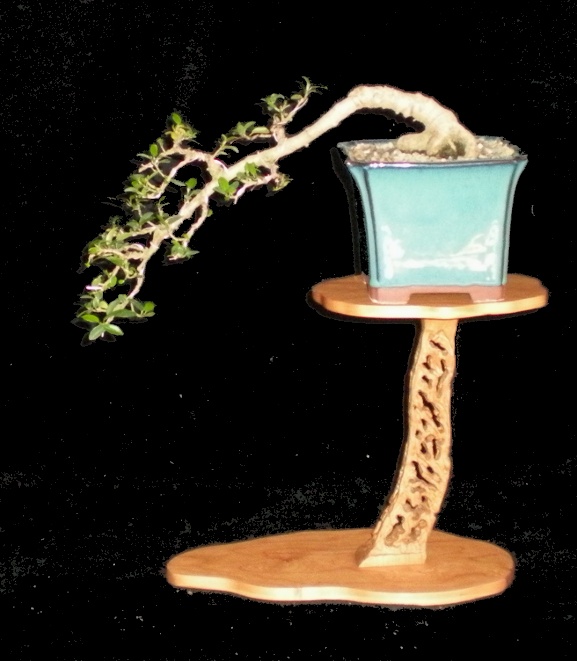 ficus burtt-davyi
ficus burtt-davyi
Lastly I have tried to stain carved cherry objects and have generally not been pleased with the results. I use wiping stains and it is really difficult to apply them uniformly in these cases. I have also tried mixing stain into the finishing oil I use. Again I am not particularly pleased with the results although it better than the first alternative. If anyone has any suggestions please let me know.
Hank

Hank Miller

Member





Hank,
Staining wood is tricky since the part along the grain doesn't absorb as much as the end grains. I like Cherry darkening (deep rich reddish brow) naturally. You can help it by exposing to sunlight but that is still a long process. If you go that route, do not apply any UV protection on it.
Try this.
http://www.ehow.com/how_6314524_use-solution-darken-cherry-lumber.html
If you apply boiled linseed oil (BLO), it will hasten the color change (compared to other finishes) too. Good luck!

Poink88

Member





Thanks for the info. Hank

Hank Miller

Member





Fantastic friend. They have remained precious

saludos desde españa

---
Permissions in this forum:
You
cannot
reply to topics in this forum