About 9 years ago I "rescued" (translation bought at a discount) a "spiral" San Jose Juniper from a nursery in late fall. It had a thick trunk, and lots of branches to choose from but it was a 'lil picked over and somewhat bruised form a full season of shoppers pushing it around.
It was twice as tall... so I decided to air layer it and get a second tree from it, once it returned to a healthy state. I waited 2 years for it to fully recover, which it did but it lost a few of the lower branches.
I air layered the top... when that was done about 9 months later...
I transplanted it, slowly reducing the root ball to fit in a bonsai pot. I started initial styling this weekend. It will be an ongoing project. I wrapped the branches with wet raffia because they're really stiff and gave them a new leader and some spread to let some light in.
Here is the air layer... Lots of possibilities here!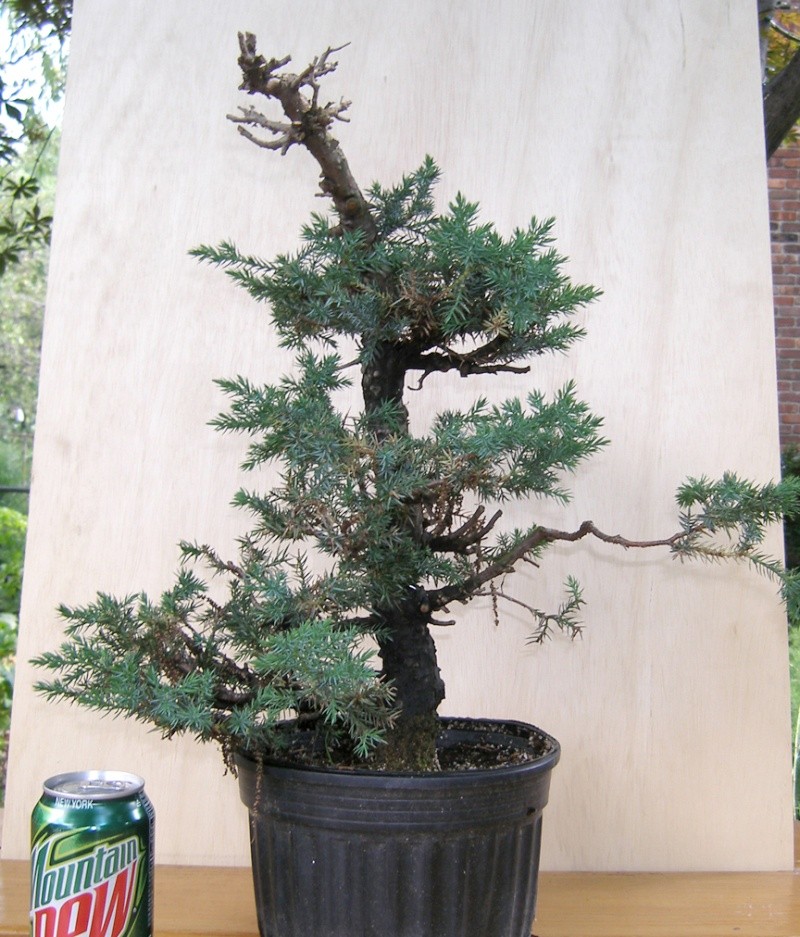 I look forward to your feedback all!

John Buttino

Member





Great stuff, I love it.... I have seen tons of spiral junipers, spruces, and other evergreens in garden centers and have always wondered if there was any tree within a tree in material like this.

My 2 cents... I would pull the wired branch/trunk that creates the apex a little towrds the front. Visually, it would come closer to the jin. This would be a great tree once the foliage pads fill in, and jin refined.

- S
Thanks Suburbia

I plan to do just that... over time. The branches are really stiff. I'm going to fashion a wire to it and gradually bring it in. I am going to wait for it to start showing signs of growth before I do that though, it made some crazy cracking noises just getting it into that position!

Thanks again!

John Buttino

Member





Nice work on a difficult tree. The San Jose is not real popular as bonsai matreial, nary a mention in most bonsai books and, of course, I have a few. The foliage is the only problem, not a real problem, it just won't tighten up like the more popular varieties do, still I persist. Glad to see I'm not alone in my endeavors. May I ask how you airlayered the piece? I have a large junie (3" trunk) that I want to airlayer the top off. The tree is a baseball bat trunk with a Green Mound grafted to the top, looked like Cousin It with green hair when I got it. I've worked the top back to a nice cascade and now I need to lose the 3' tall trunk which is ram rod straight. Which technique did you use and how long did the layer take? Thanks and good luck with the San Jose.

RKatzin

Member





I cut a few windows through the cambium about 1/2 inch wide and high around the trunk... maybe 4 or 5 of them. This way roots have the opportunity to grow from many points. I left some of the bark intact to keep the path open. I painted some watered root-tone onto the holes and wrapped the whole thing with sphagnum moss. Then I wrapped it with a plastic bag. I pruned the top a bit just to inspire growth and also to decrease the demands on that section. Watered it regularly but forgot about it as well for a year.
The next spring I opened the bag and there were roots. I sawed it off and potted it and commenced to forget about it for 3 more years to let it firmly recover and get established.
I'm sure on can shorten the timeline... but I live in NYC, the growing season is not as long as California and such.

I like the San-Jose because the trunks thicken really quickly and get downright fat! I don't mind the foliage issue. In bonsai a lot of these things can easily be overlooked if the styling is there. Also If the tree is kind of big the foliage becomes less of an issue and the San Jose get big rather fast compared to a Shimpaku.

I hope this helps.. good luck, and be patient!


John Buttino

Member






Similar topics
---
Permissions in this forum:
You
cannot
reply to topics in this forum