Hello everybody
While suiseki is not my main interest I also "look around" when I'm at work where there are a lot of gravelstones.
The last weeks I found some nice ones. I'm not sure if that really is suiseki.....but I like it
Well...what do the pros say.....
Kind regards
Martin
A mountain with snow all around.....
[img]
[/img]
A mountain with a lake where the melting snow flows down from the top into the lake....and further down in a waterfall.
[img]
[/img]
....oh I like this one !!! I can see a seahorse in it .
[img]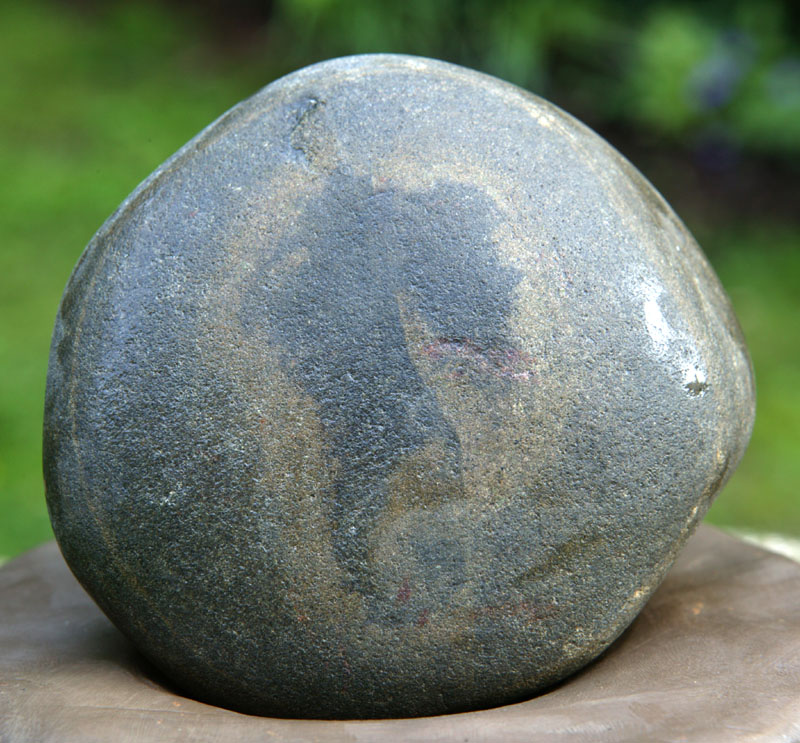 [/img]
...to me....an erotic stone....what do you see in it?
[img]
[/img]

Klaudia & Martin

Member





No Pros in this game, if you like the stones then that is just fine. The first stone that you are showing is magical
Regards Chris

chris

Member





Hi Martin,

Your intelligence is 100 percent for just looking suiseki:). Both first stone and second stone look like exquisite, I like them as you like them. How dimensions for them?

Sharon

Heven

Member





Hello Chris and Sharon

Thank you for your replies!

The first stone is 206 gramms and the second one 529 gramms.....so they are not very big.
I was simply using clay for the fotographing here. I will make a daiza or suiban for it in the future.

Kind regards
Martin

Klaudia & Martin

Member





Hello again
Here's another small stone I found yesterday night. It was dark and all stones were wet. Only the white ring was visible. I picked it up and it looked like a moon rising at a mountain to me ..... or maybe like a solar eclipse...
Kind regards
Martin

Klaudia & Martin

Member





Very cool! I like the 2nd stone very much, as well as the "moon" stone.
And, since no one else is saying anything....I like the 3rd erotic stone too. I think I see the same
Thanks for sharing, stones are fun and great for creative thinking.
Neil
thanks for sharing... I encourage you to continually get out and look about. What I like about stones, whether they fit a specific category of suiseki or are just a scholar type that speaks to the owner, there's something magical
about it's discovery and immediate impression, unlike my other hobbies that take time and more effort to get to a place of being satisfied with them.(bonsai,Koi, Mums)

dick benbow

Member





Thank you very much Neil and Dick
there's something magical about it's discovery and immediate impression
Absolutely. Especially at night in the rain....the stones look much different then.
Kind regards
Martin

Klaudia & Martin

Member





Hey Martin! nice work, good eye!
1st "Cloudy Island" as in Jurassic Park the movie.
2nd "Bridle Falls" like in Yellow Stone National Park
3rd "Troy Polamalu" Pittsburgh Steelers.
4th "Vagina" as in Debbie does Dallas.
5th "Moon at Sea" like in Titanic the move.
Sorry not enough room to show actual pictures of these scenes
but I call'sem as I see'sem...

Similar topics
---
Permissions in this forum:
You
cannot
reply to topics in this forum