i could use some help
A) Could i have some suggestions with styling
B) Branch removal and pruning (like what branches to remove or what to do with it).
c) Obviously the tree need to be shorter, should I cut the tree in half or what/ how should i if i do?
the tree is about 2 feet tall. and about an inch thick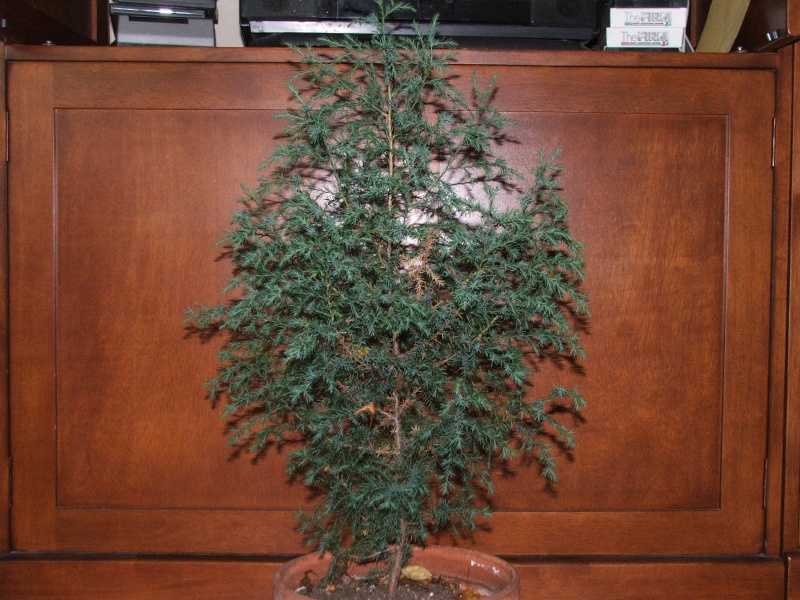 thanks,
zac
I'm having a hard time seeing where it is an inch thick. Again, this is pretty small to do much with -- unless you want to work on a mini bonsai. I'd let it grow for a couple of years.

Looks like J. virginiana to me.

JimLewis

Member





ok thanks for the advice jim,

zac
If you found it growing outdoors, that's what it is. It is a perfectly good species to practice on.
Comparing it with your thumb, I would say it is 1/2 to 3/4 inch caliper, 1-2 cm.
Right now, go up & down the trunk & prune each branch shorter than the ones below it, so you have a roughly conical shape. Then plant it in good soil in full sun, & feed very heavily. If you leave it for two years, next spring, dig it up, turn it around, trim the roots, trim the top, and plant it again for another year. Then you may have something.
Google on Eastern red cedar or J. virginiana bonsai, & you may find some interesting examples.
Go here!
http://www.google.com/imgres?imgurl=https://i.servimg.com/u/f65/13/55/40/66/jav_1010.jpg&imgrefurl=https://ibonsaiclub.forumotion.com/bonsai-f1/juniperus-virginiana-upside-down-garden-yamadori-1999-t2205.htm&usg=__3vAAfpyM6M6G6p6UoMVAQJ9xlNg=&h=598&w=797&sz=80&hl=en&start=20&sig2=d-_aDSqNpaYR1CAFw941qw&um=1&itbs=1&tbnid=MemCZ0nhGZXi-M:&tbnh=107&tbnw=143&prev=/images%3Fq%3Djuniperus%2Bvirginiana%2Bbonsai%26um%3D1%26hl%3Den%26client%3Dsafari%26sa%3DN%26rls%3Den%26tbs%3Disch:1&ei=604KTJOgMIKB8gb9pZCSBw
Iris
Last edited by bonsaisr on Sat Jun 05, 2010 2:25 pm; edited 1 time in total (Reason for editing : To add URL.)

bonsaisr

Member





Better yet, go to stone lantern and buy the book by Nick Lenz Bonsai from the wild. He's included quite a bit of info on native Juniperus. Its an interesting read and a good one to add to your collection.

If you like this species, check for some good collecting sites, ditches that are mowed 2-3 time per year can be excellent spots for decent trunks that arent you typical "gun Barrel" straight "cedar". Have seen a few nice ones, but never tried them myself.
oooh oooh i know, there's a field behind my house and a woods im sure i can find lots of trees in there

---
Permissions in this forum:
You
cannot
reply to topics in this forum