+4
Bob Pressler
Spidercrab
marcus watts
Morgan
8 posters

thats going in the right direction - but lots of straight lines jump out at me....a few more soft curves in the trunk and branches will mirror the foliage really well.

fantastic new growth to the foliage pads tho, really good

marcus watts

Member





This tree has potential but it must look like nature designed it and not us.Wind,rain,snow strong sunlight drought,all of these
Nice development in three years. With some refining and a little bit of time you'll have a really nice tree.

Bob Pressler

Member






dorothy7774

Member





Removing the lower branch was also my initial reaction, and Dorothy's virtuals seem to support that (at least to my eye). Could probably train one of the other branches down into that area if you feel the need for foliage there...but that current branch looks too "clunky" and comes off the trunk in a strange location.

Chris

coh

Member





Another idea. Maybe too radical but that straight upper trunk is ???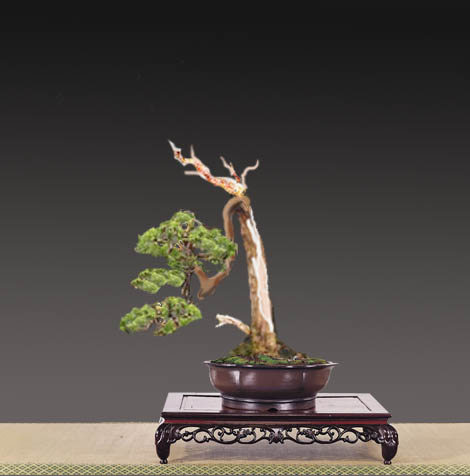 Rob Kempinski

Member





Hi Morgan.
I think the problem with your tree is the position/inclination of the trunk, It seems to be un balanced and falling down instead of just leaning a bit. and the unbalanced and heavy appearance were made heavier by the foliage pad formation riding to much on top of the leaning trunk.
My suggestion is nothing drastic, just minor adjustment of the leaning trunk to the right side. and then form some movement (horizontal) of the foliage pads to the left side, then create a deadwood/shari on the trunk to give some interest on the rather straight trunk.
just my opinion.
The pot would also affect the image portrayed...ordinary pot and not long enough would change the balance too. Slab would also look good.
regards,
jun
Hello Morgan

To me it has to much deadwood....but thats only MHO.
I personally would bend the straight part of the trunk first and than rethink the design again.
There's no need to hurry.

Kind regards
Martin

Klaudia & Martin

Member






Similar topics
---
Permissions in this forum:
You
cannot
reply to topics in this forum