Here is a Carpinus Betulus of mine that I dug up two years ago and completely styled it for the first time with the growth I had.
When I first dug up the stump.
First year of growth and I hollowed out the existing wounds a bit. I think the 'shari' was created by forest servicemen as they were cleaning the area maybe.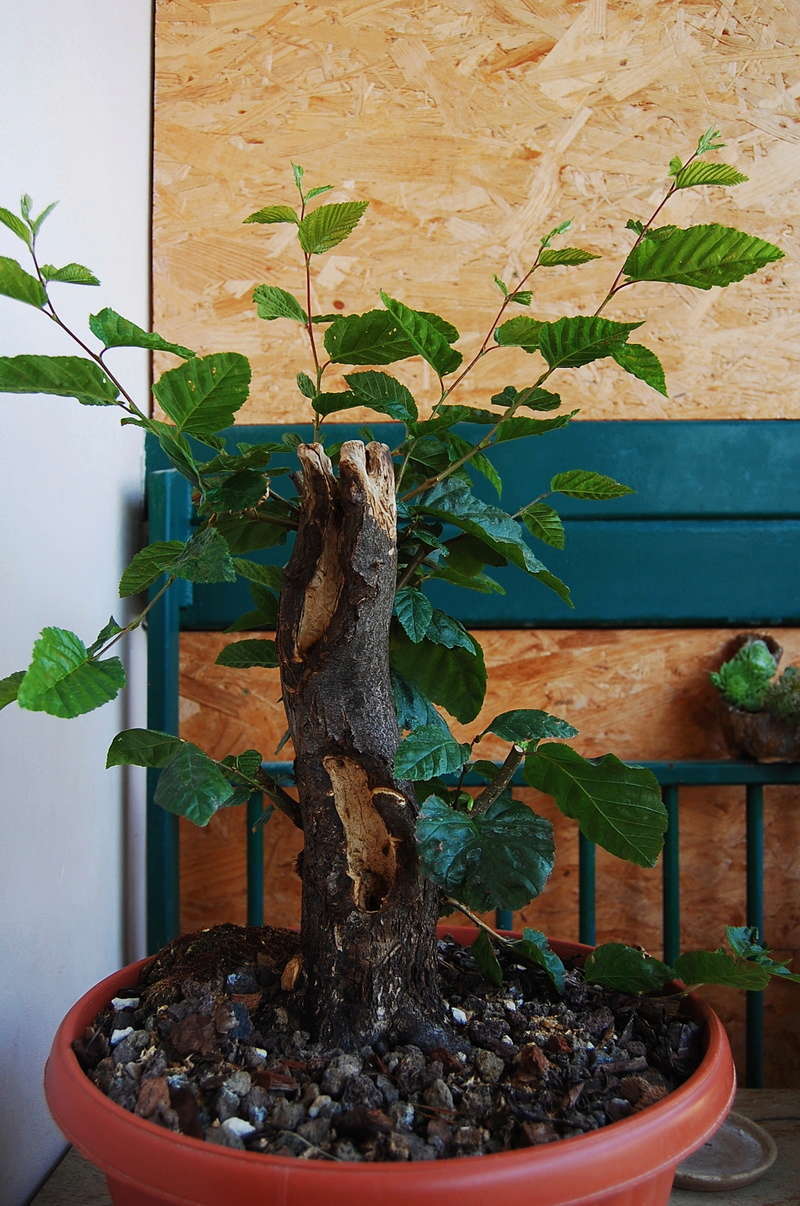 2nd year of growth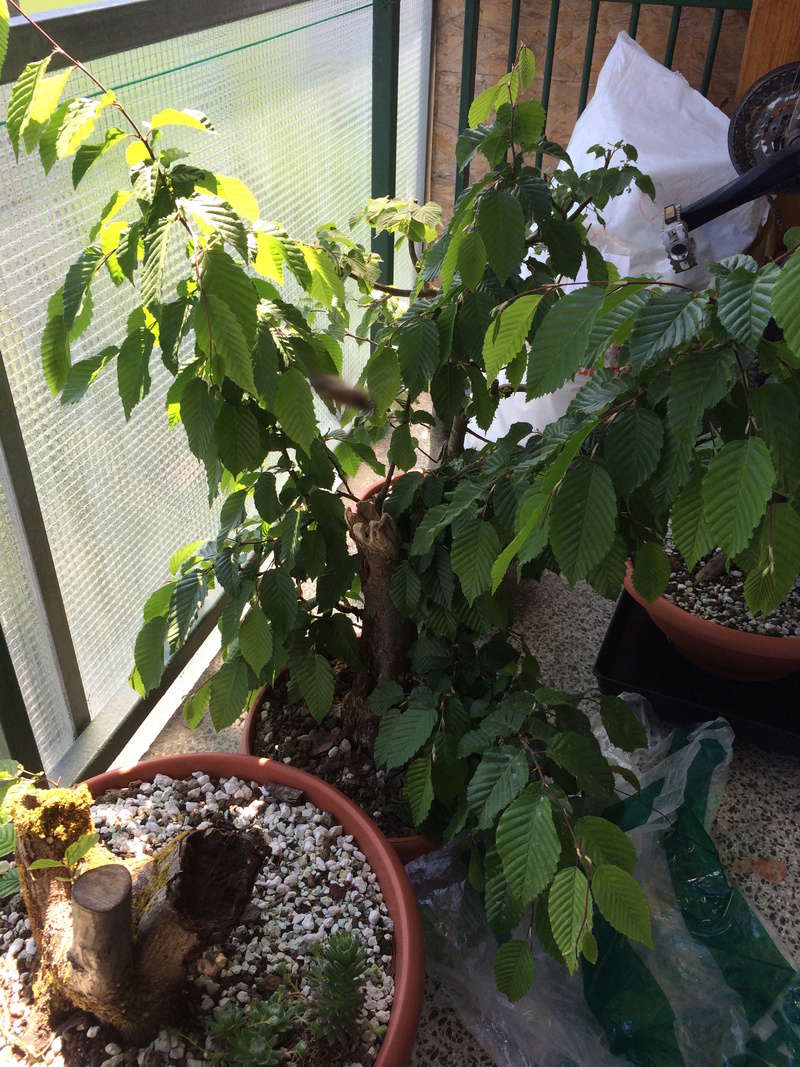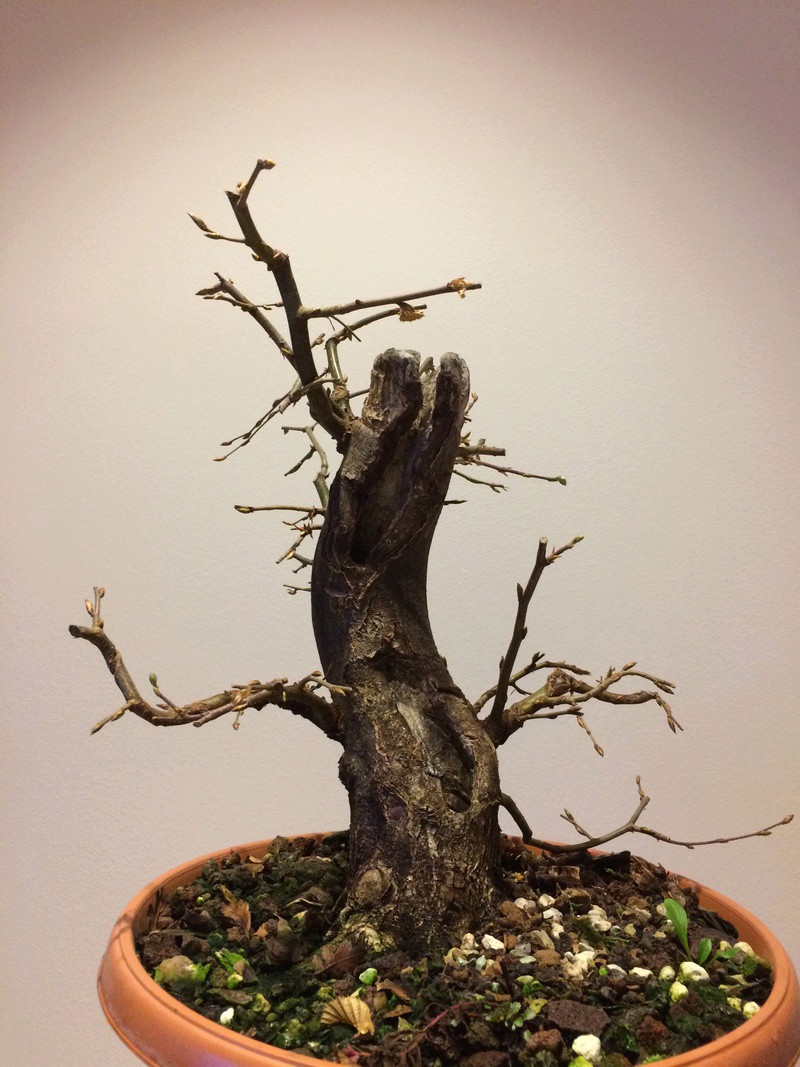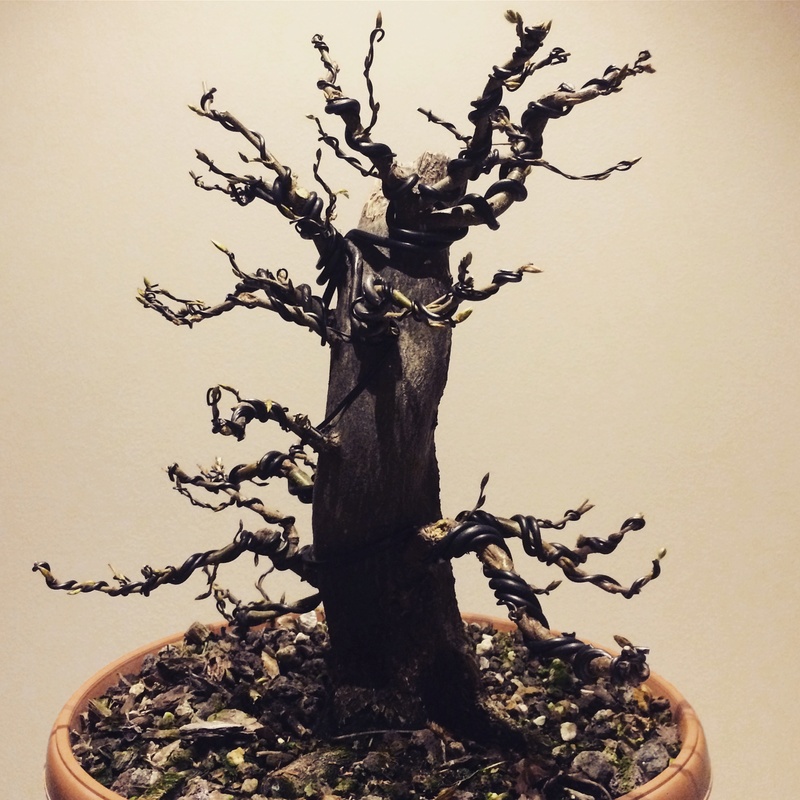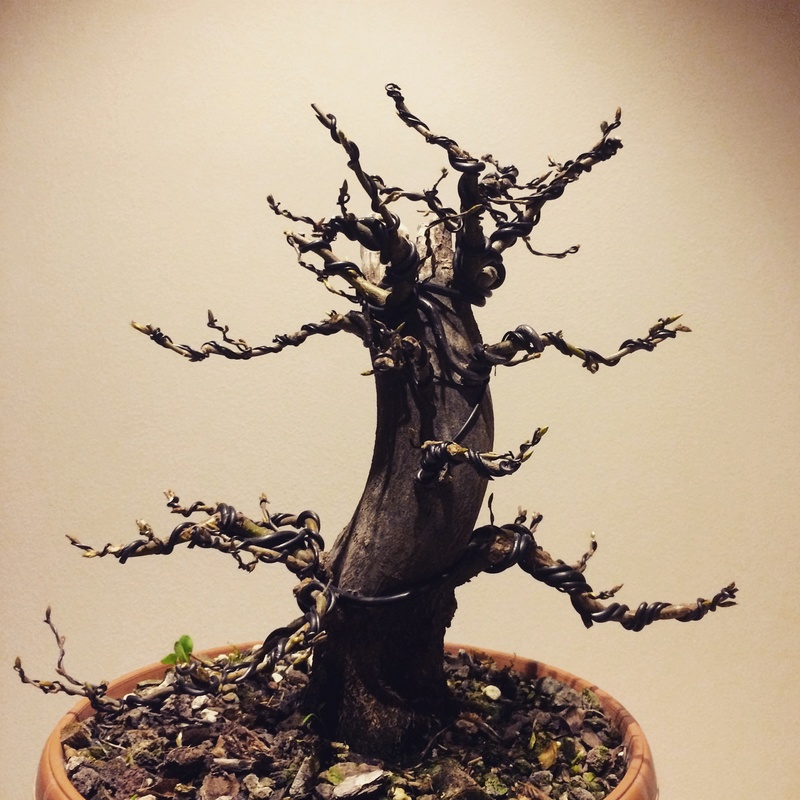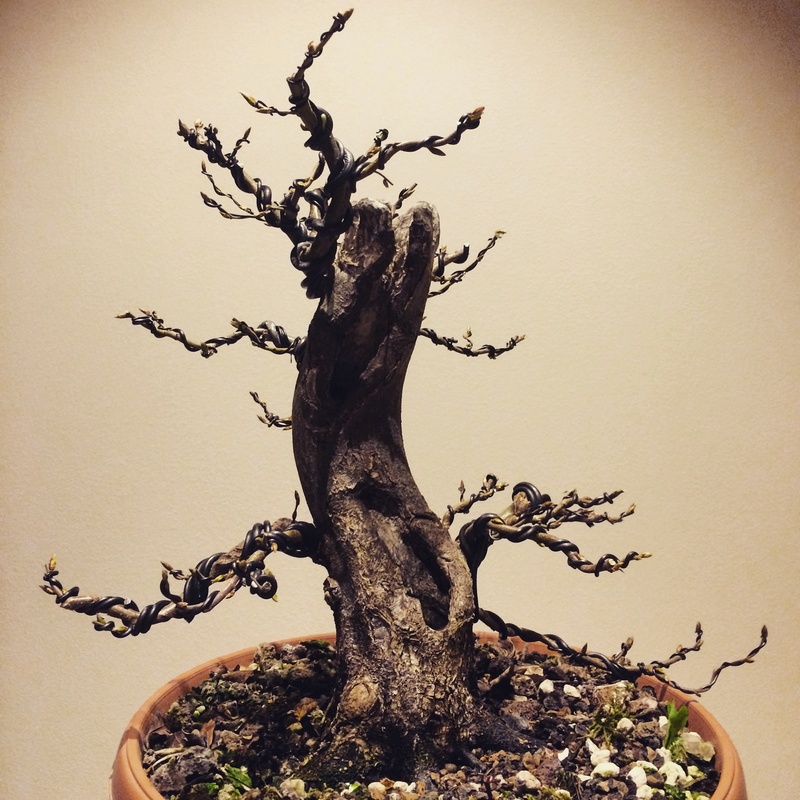 My favorite front. I still need to do a bit of carving with the wounds and also the entire former trunk needs to go but I unfortunately don't have a power tool suitable for this and it takes ages with a dremel. Hoping to have a workshop in the spring with a friend who has these tools.

Thomas Urban

Member





Very nice material that's progressing well. I like Hornbeam, they grow enthusiastically and predictably and they also ramify well. Yours has a nice movement to it.

I know what you mean about it taking ages to carve with a Dremel though, very tough wood!

Out of interest how tall is it?

Also you appear to have some more! Want to share them?

Regards

Richard

Richard S

Member





Thanks Richard. Yes, Hornbeams grow great, almost like a weed and I also enjoy how the growth is predictable, but I found they only respond so if their roots are great as well. I'm looking forward to a power tool that can make some dents in this hardwood
The size, I never actually measured it, I would say between 30-40cm.
And regarding the other hornbeams, I think that's what you're referring to, my first yamadori didn't make it. I think this was due to not enough roots during collection. I was very bummed. I have another small one that I will post at some point.

Thomas Urban

Member





Did you ever see the WP oak, maybe something to aspire to.
i dont think you need to carve out the entire trunk as you say, but maybe just make a thin channel with a drill bit on a dremel to join up the two Uro, however i think the hollows look fine as they are.
also, the right 'bits' on a dremel would make light work of that trunk, on high speed....I use these on the dremel, if not using a makita
2017-01-21_03-07-41
by
Bobby Lane
, on Flickr
Termite roto ball, termite rota saw, drill bit all from kaizen but im sure there variations that do the same job closer to home. the other bit is a nibbler, sold here
http://bonsainibbler.co.uk/
does the same job as the terrier from kaizen, the kaizen terrier is also available for the dremel now.

BobbyLane

Member





Hey Bobby I have stared at Walter's trees for hours and then after a pause I would come back and stare some more, this Robur being one of those trees so thanks for using this one as an example of what could be done. I may make some channel to connect the two 'uros' or wounds but mainly I want to make it look as natural as possible.

Good to see that the termite rotor ball works for you as I was considering that one. I think If i had the carbide tool from nibbler and the termite ball it would be enough for my material for now. Thanks for the link!

Thomas Urban

Member





another great start tommy !

Kevin S - Wisco Bonsai

Member





Very good start, Tomek
But
it seems the tree is attacked by insects and fungus
There's a lot of dead wood: do you plan to help this young tree to heal, or will you make it a pot-ridden invalid, a cripple, a disabled evoking more the emergency room than a strong, free tree in its glory?
I'm joking: I can understand why some view "bonsai" as old decaying trees. It's a culture, a personal - and common, story.
But designing a bonsai that both looks old ansd healthy is a challenge that you should consider. You've probably more time than I have before the machine begins to break, so...

AlainK

Member





Alain
You make a fair point.
The habit of heavy carving on deciduous trees appears to have become something of a fashion in recent years. Personally it's a fashion which I like but as with any "trend" it can be overdone!
Carving is easy to do but rather harder to do well (believe me I know
). When it works it can greatly enhance the character and interest of a tree and create a much more dynamic image. However there's no point doing it just for the sake of it.
Personally I hope over the years to develop an eclectic mix of trees that fit into many different styles ........ and none!
If I've understood correctly some of the dead wood on Thomas's tree is natural anyway. True you could heal those wounds (and the trunk chop) but it would probably take years of field growing so if you wanted an unblemished trunk, start with a different tree? With this material I think some carving which makes a feature of the deadwood is justified.
I like what Thomas is doing with his Hornbeam, there is room for great diversity in bonsai. Of course there is also room for great diversity of opinion and artistic expression on this forum so long may the debate continue  
Regards
Richard

Richard S

Member





Richard S wrote:

(...) Of course there is also room for great diversity of opinion and artistic expression on this forum so long may the debate continue  

Regards

Richard
I hope it will,

AlainK

Member





Thanks Kevin!
AlainK - Tomek?
I've never heard that before. Yeah I know there is a plethora of trees out there are that pointlessly carved to shit. It is as Richard said though. This tree got run over by something earlier in it's life and to me it looked a bit un-natural and if I left it with the full trunk as it was then in maybe 6-10 years it would have healed over but I wanted it in my collection.
On the top of the tree there was nothing drawing the sap so the top wound stopped healing altogether after the trunk chop; if I placed it into the ground the top would never heal as is. The bottom is however, is healing so that may look different down the road. To make these two wounds look more natural in the long run though I will need to carve this tree and especially at the top because it just looks weird. The bottom I may hollow out more and maybe connect it to the top but I will not increase the size of the current hole.
"will you make it a pot-ridden invalid, a cripple, a disabled evoking more the emergency room than a strong, free tree in its glory?" - I hope not
I want to make it look like something happened and it has recovered quite nicely. I enjoy your humor though and I will use this machine to try and make the best tree out of this material before the machine breaks down
and yes, may the different opinions continue, thanks for the bluesy jam too!

Thomas Urban

Member






Similar topics
---
Permissions in this forum:
You
cannot
reply to topics in this forum