i have this eastern red cedar forest i have been struggling with for a couple years and now it has something new going on...
if anyone knows what the hell this amber colored gelatinous crap is, and how to treat it, i would be MOST appreciative
i have never seen anything like this and literally did this  
 when i saw it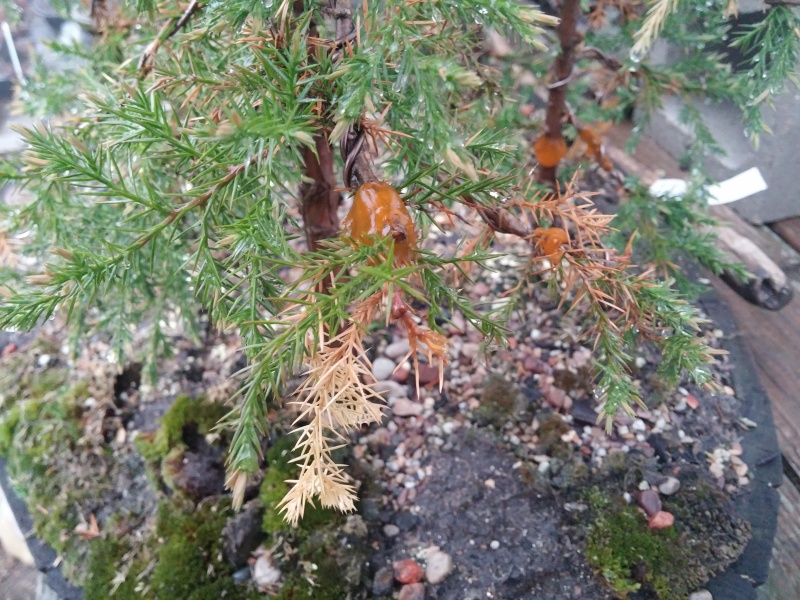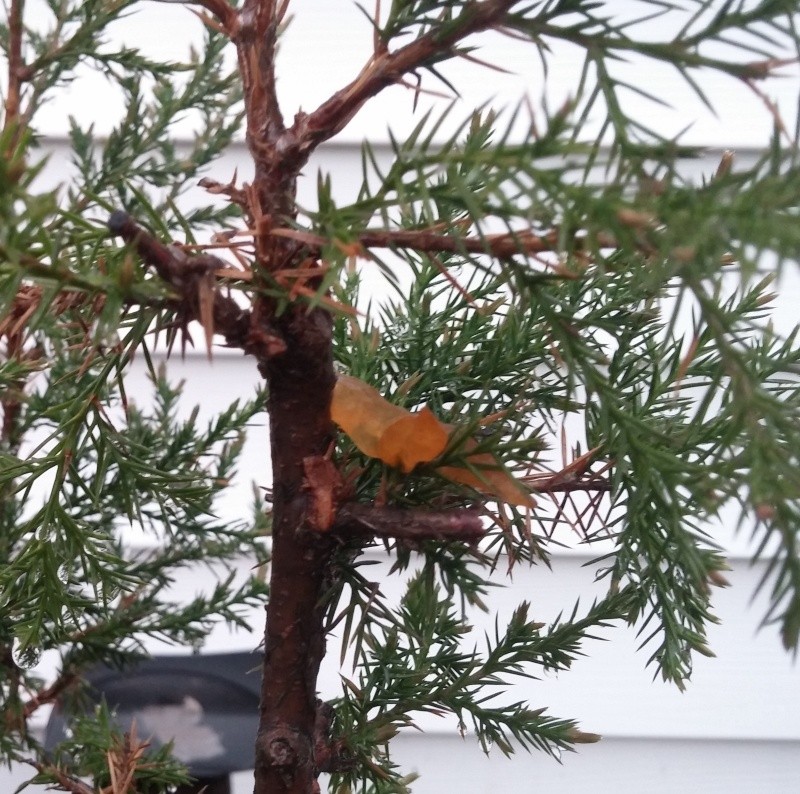 it seems to have developed rather quickly (over the course of a few days maybe) as i did not notice it earlier than that...
Last edited by beer city snake on Wed May 11, 2016 4:14 pm; edited 1 time in total

Kevin S - Wisco Bonsai

Member





cedar-apple rust
goggle it...quite common
thanks john - so fungicide it, eh ?

Kevin S - Wisco Bonsai

Member





ahhh,,, so i did the googles and it makes sense because i had the galls last year and this is what follows the following year...

still - fully creepy and sci-fi looking stuff, to be sure !

thanks again john !

Kevin S - Wisco Bonsai

Member





With all the recent rain here in PA, I can see huge "fruits" of this stuff hanging in the roadside trees. Now that the rain stopped temporarily, they aren't as noticeable. But they're still there.

Nick Lenz seems to indicate that you cant eradicate it from your trees, just fight it, IIRC.
Agree with Nick as mentioned above (and with our own Nina Shishkoff whose old post on this can be found with a search), cedar-apple (and/or cedar-hawthorn) rust can only be controlled not prevented. Best to remove the galls by pruning before they get to the stage of releasing the gooey spores.
Fungicide is only useful if sprayed
on the trees infected by the juniper-borne spores
(not the junipers themselves). It's been a very wet spring here in the NorthEast and I expect a bumper year, which is too bad, because we've really cut down on these by pruning small galls ruthlessly in the fall. J. p. nana is particularly vulnerable, along with the native redcedar J. virginiana).
Watch carefully on your apple/crabapple/shadbush/hawthorn bonsai for tiny yellow leaf spots. If possible without weakening trees, remove those infected leaves before they mature spores later in the summer.
Good website here:
http://www.missouribotanicalgarden.org/gardens-gardening/your-garden/help-for-the-home-gardener/advice-tips-resources/pests-and-problems/diseases/rusts/cedar-apple-rust.aspx
Had it on a juniper 2 (?) years ago. Decided to get rid of it in the garbage bin, to reduce spreading.

Afterwards, it create scar tissue (And inmy case these were big bulges).

leatherback

Member






Similar topics
---
Permissions in this forum:
You
cannot
reply to topics in this forum