I dug this one about 3 years ago.  This is its first time in a bonsai pot (of the whatever-I-could-find variety).  I have no idea of its age, but it is developing mature bark quite nicely.
At present, it stands 22 inches tall, and I'm not at all certain what its final height might be (but it will not be taller).  It has a very nice base for a juniper.  
3 views and the base.
This is the current preferred front: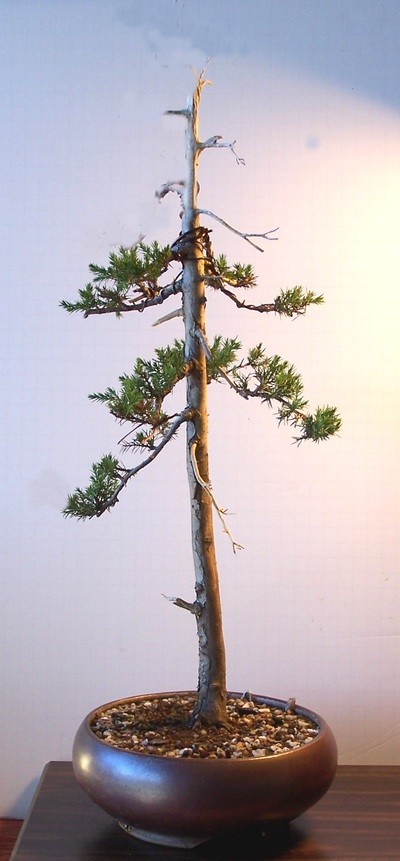 The former (and once again?) front (about 1/3 turn clockwise):
And the "back" (180(ish) degrees from the current front):
The base (look hard):
It has even taper bottom to top. but it is tall and
skinny
.  I assume most of you think it should be shorter.  How MUCH shorter? Note that I have already
virtually shortened
the "preferred" front
Other comments?

JimLewis

Member





the only thing i see that is disagreeable with the current front is that the section nearest the top (where the last foliated branches join the trunk) looks "lumpy" and abrupt in its taper... but that could be just the wire... ?

w/o seeing it in 3D, the former front looks more natural to my untrained eye,
including the current height, which will become naturally shortened over time, anyways...

Kevin S - Wisco Bonsai

Member





but that could be just the wire... ?
I think so. There's a tangle up there -- and at least one too many branches.

JimLewis

Member





I vote to not shorten it. It has a natural look to it as is.
I agree not to shorten this,
Just some branch development at the top and this can be very nice in future.
Good stuff

DjTommy

Member






Similar topics
---
Permissions in this forum:
You
cannot
reply to topics in this forum