JimLewis

Member





Somehow I don't think the jin does anything for it. Too big & not convincing.
Iris

bonsaisr

Member





Well, it can always get shorter . . . Hard to make it longer if I shorten it now, though. For now, I need to work on branching and foliage. I think.

JimLewis

Member





Jim-
your killing me with all these Mame style nuggets! I'm rethinking all the monsters I had grand designs for and starting to think that from here on out if I cant hold it in one hand forget it! Joking aside..I would also shorten the jin, just snap it off somewhere nearer to the overall outline of where the foliage is clumping, make it an aspect of the design rather than a feature if you get my drift. the other though I had is have you considered shortening all the way down to the first foliage group and going really tiny?
JimLewis wrote:I have a LONG way to go on this little eastern red cedar, Juniperus virginiana, but would like some suggestions on where I might want to take this little tree. It is one I dug from the woods edge near my pasture. It started out about 13 inches tall and straight as an arrow.


Hey, I think you've done a great job, Jim. It's an eastern red cedar and isn't arrow straight anymore!
But seriously, you might just let it grow out a little and see if the tree doesn't suggest something. You never know what might present itself.
Zach
Hi Jim,
I like looking through John Naka's "Bonsai II" for ideas. Don't cut the top jin yet.

Todd Ellis

Member






JimLewis

Member





I will probably be accused of having an ulteria motive and recieve some pm's about this but after your recent critisism of a forum member for " He's done bonsai for a lot longer than you have", I have to say something about the wiring. What does this wire actually achieve? Very little of it is actually touching or supporting branches and it is far to thin for the job. As a more experienced member, you should be showing correct wiring techniques. I would say this if it were Tony, Fiona, Pavel etc. Just names and not singled out for a reason.
Well, I HATE to wire. I don't give a . . . hoot what it looks like while it is on because I would never,
ever
formally show a tree with wire on it. That loose wire does do the job I want it to do -- for now-- which is purely and simply to hold the branch down, but at an angle you can't get with tie downs.
Given my druthers, though, I'd use clip and grow. There are times when wire is necessary, though, and slapdash is good enough for me.
Here's a somewhat better picture of that tiny juniper -- which is NOT
J. virginiana
. It needs a bit more wiring to bring that top branch down more sharply. A tough job for my increasingly shaky, clumsy fingers but it's gotta be done.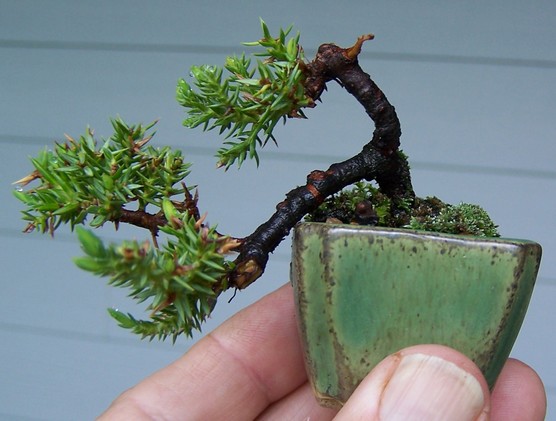 JimLewis

Member






---
Permissions in this forum:
You
cannot
reply to topics in this forum