Yesterday, I accompanied my wife to the asian grocery store to pick up some things we use that can't be found in our regular haunts.
  We substitute yakisoba (buckwheat noodles) in our spaghetti dishes and seem to be running out of it all the time. While she was waiting in line for check out I noticed a venor in the hallway that had a large display of things asian...all on sale.
  So I slipped out of line and started looking thru the sale items. All unpriced. UGGGG! How i hate that. So when my wife joined me, I pointed to a tiny hand carved chinese display table and said how much I could use it in my display alcove.
  To my surprise she went and found the vendor and asked the price. He couldn't speak english
and withdrew his cell phone to type in 20. To my surprise, the wife typed in 15 and he agreed.
  So I got the little table (shown here with a porcelain tancho kohaku koi) and an idea to return by myself armed with the knowledge that any other tables I saw could be negotiated "on the phone" at a discount of 25%.
  Usually I can never find the tables I want at the price i can afford. Sometimes skill has nothing to do with it, just dumb luck. And it doesn't hurt to have a spouse who understands the mind set that all sale prices are negotiable!
https://i.servimg.com/u/f56/16/52/35/57/img_3117.jpg[/img]
Last edited by Chris Cochrane on Wed Dec 11, 2013 4:17 am; edited 2 times in total

dick benbow

Member





not sure why the photo didn't take? maybe my luck is running out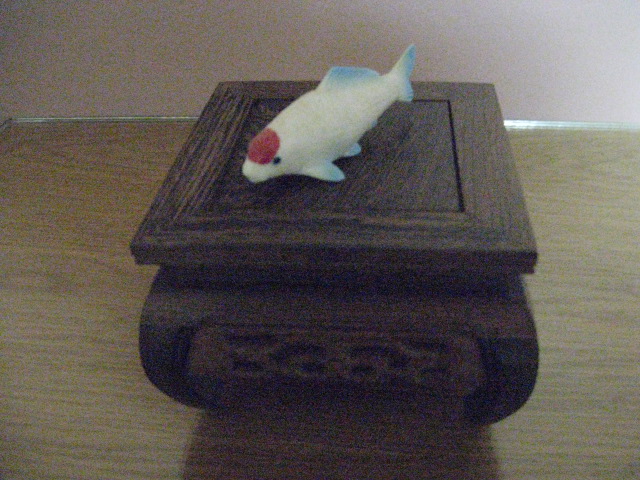 dick benbow

Member





Play Lotto!
stonener
*killer kohaku*
LOL! Buying anything for display is enough of a gamble....
Well i went back and found another table i couldn't live without. 40% discount this time....

dick benbow

Member






---
Permissions in this forum:
You
cannot
reply to topics in this forum