Good day everyone,
My wife and I have been learning for just 2 and a half years now. And we have been making plenty of mistakes along the way.
We have 2 Prairie Fire Crab Apples that were thriving pretty well. This is despite that we did not repot them in the spring like we were supposed to. A month ago or possibly longer the leaves began to discolor. I'm guessing this is cedar apple rust. But it doesn't look exactly like some of the other pictures and posts I found in other Forum posts. I've been watering daily. It has well draining bonsai soil and I've been fertilizing with a 10/10/10 periodically all year.
Initially the problem existed early in the year but the affected leaves either died and fell off or just stayed that way and clung to life on the tree. New shoots and leaves formed and were unaffected. Now the newer leaves are starting to show signs as well.
I bought a Pyrethrin and Copper pre made spray and sprayed lightly, I did try to get under the leaves. There doesn't seem to be an improvement. Maybe I should try spraying again? The first application was about 7 days ago.
Below are the pictures.
Is this for sure apple rust? Or some other fungus?
Should I get another type of fungicide or insecticide?
Am I correct thinking its too late to try systemics? Should I begin using a systemic alongside a topical? Is it too late in the year for that kind of thing? Can someone suggest a systemic for use in the future?
Could someone suggest a  product that I could find at a Home Depot or Menards or Lowes? I'd like to get something right away rather then wait for shipping.
I'm sorry for all the questions I am so new at this still. And having such a tough time sorting out fact from opinion. Thank you for reading and thank you for any suggestions.
P.S.I know the wire scaring on the branches is terrible... I'm embarrassed to post these pictures.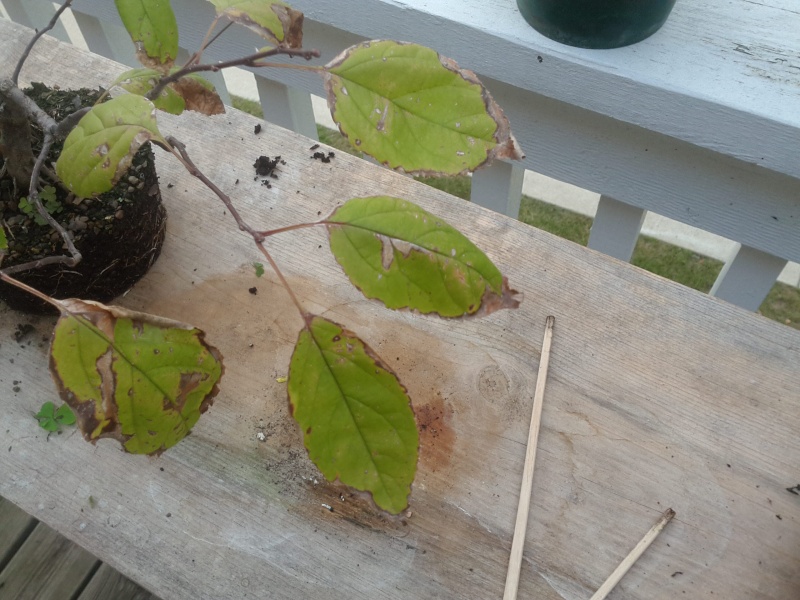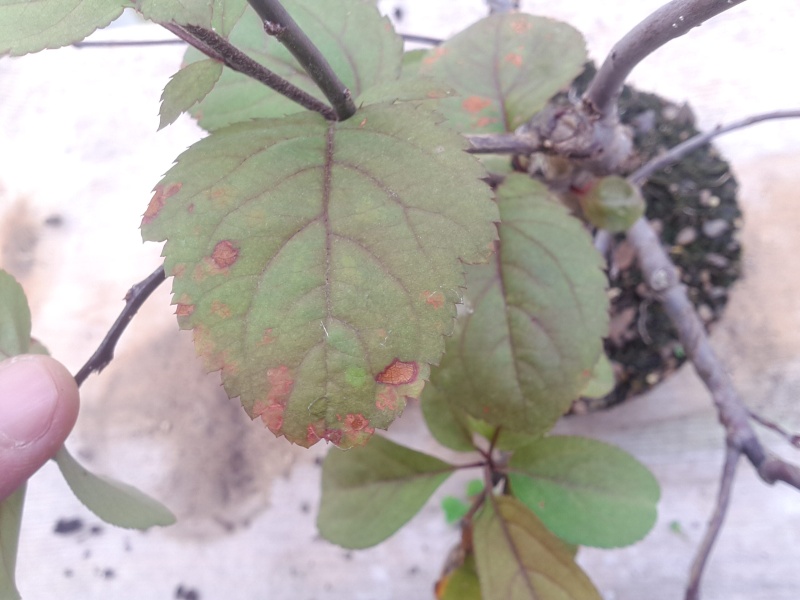 CSBudzi

Member





Only the last two pictures with the round spots with reddish rims appear to be a fungus or bacterial disease of some sort, but I wouldn't bother doing anything about it now. These leaves are old and abut to fall off the tree, anyway. Just sweep away and remove the dead leaves so they don't contaminate the area for next year.

The first two pictures look as if it is insect damage (maybe a leaf miner of some sort), but again that is common and natural at this time of year when your tree is shutting down for the winter. There's no point in spraying anything -- better living through chemicals isn't always true -- at this time of year.
_________________
Jim Lewis - lewisjk@windstream.net - Western NC - People, when Columbus discovered this country, it was plumb full of nuts and berries. And I'm right here to tell you the berries are just about all gone. Uncle Dave Macon, old-time country musician

JimLewis

Member





No, you do not have cedar-apple rust. Most bonsai in the Rosaceae, including the cherries & apples, are susceptible to all sorts of cosmetic leaf problems. Your early pictures look more like just leaf scorch. Put the tree out in spring very early and very gradually.
Don't spray with an insecticide unless you really see insect damage. I use acephate. You can use a routine spraying a few times during the growing season with one of the common fungicides if you want to display the tree in the fall.
Because of these leaf problems, crabapples are normally displayed only in bloom or in the winter with fruit. The rest of the year, don't sweat it.
Iris

bonsaisr

Member






Similar topics
---
Permissions in this forum:
You
cannot
reply to topics in this forum