I'm hoping to get some thoughts on this chamaecyparis pisifera 'boulevard' that I picked up about a year ago. I was attracted to the graceful, literati-ish trunk line and it had quite a few branches to work with. However, it was a little weak at purchase, with a bunch of brownish foliage. I gave it some TLC and got the foliage healthy and growing, then did some wiring to bring the main branches down and separate them a bit for better light distribution. Now I'm thinking about some more substantial work.
Here is a series of photos taken recently, the tree was rotated clockwise for each new photo. It's a bit messy because I didn't wire out the smaller branches, instead just allowing the tree to grow last season after wiring the main branches. But I think the basic structure is pretty evident.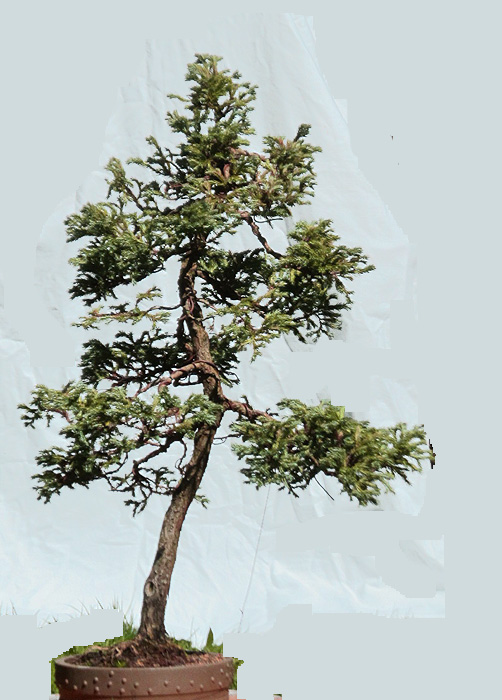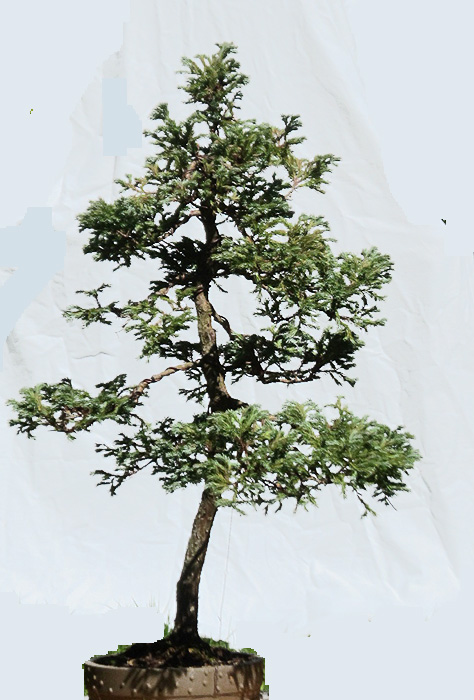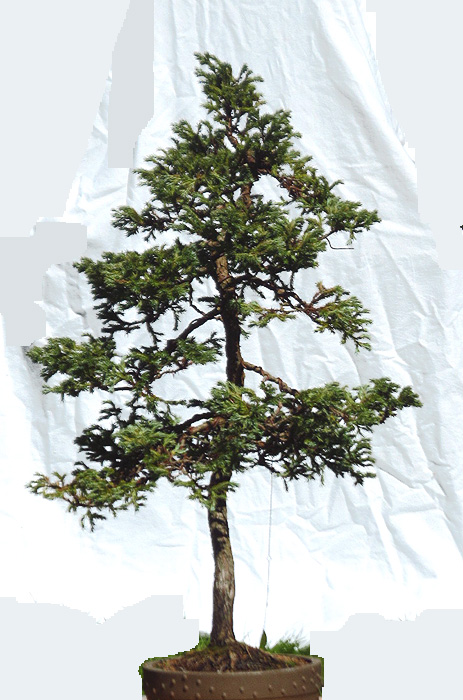 I haven't picked a definite front but photos 1 and 4 seem to show the trunk to best advantage. I'm a little uncertain about how much to reduce the foliage/branching...whether to go for a sparser literati style or leave more branches for more of an informal upright type look. I'm interested in thoughts on this. If anyone feels like producing a virt, that would be much appreciated.
Thanks in advance,
Chris

coh

Member





I like the views in #2 and #4 for different reasons. As for styling, I'd pull the branches closer in to the trunk and shorten most of the branches to be more in tune with the trunk diameter. The view in photo 2 has bunjin potential and view 4 has informal upright, and a fuller appearance potential for sure.

Watch out for spider mites as 'Boulevard' is especially susceptible to infestations and the aftermath is not so good. Many of the shoots in the lower half of view 4 can be re-oriented to fill in pads and then shortened for more of a "hamburger bun" appearance. IMO view #2 as the curves are subtile but that's coming from a bunjinji addict.....
Owen, thanks for your thoughts...much appreciated!
I wanted to bump this thread to see if anyone else might want to comment on (1) potential styling for this tree, and (2) care of chamaecyparis pisifiera in general, particularly in regards to pruning, pinching, etc. There doesn't seem to be a lot of information on this species, which makes sense...since I don't see them being used for bonsai too often.
In terms of styling, Owen's suggestion is to bring the foliage in closer to the trunk. However...a
thread posted by sunip
contained this virtual image for his tree which I find attractive...featuring a wider crown:
The tree shown above has many more branches than my tree (particularly in the middle section), so I'm not sure if this kind of style could really be effectively achieved here. On the other hand...this species is one that doesn't backbud well (if at all), so it might be very difficult to get the foliage masses more compact and closer to the trunk (and maintain them that way). Any thoughts?
Chris

coh

Member





Hello Chris
Nice potential.
Here a quick virtual, this is not about styling but to get the picture about pinching back.
Try to get light in the inner parts of the tree to secure and develop the green close to the trunk and work from there.
They can grow fast, regular care of the green is a good thing.
Guy wires work well, some extra branch wiring and placement would be good now.
Try to get some flat pads by wiring and pinching the green back but leave enough green (half a centimeter would be the minimum left, depending were you are; apex or bottom, and top of bottom of the branch)
The pot size is good but in this stage a bigger pot would be better.
In the virtual i took the apex out to grow a new thinner one and push growth in the lower branches.
The tree has an elegant line as it is now, cutting lower branches to get a literati is an option that can be taken later
but i like it with those branches, they ad some girth to the trunk in the main time.
Give it a good feed and watering.
Sunip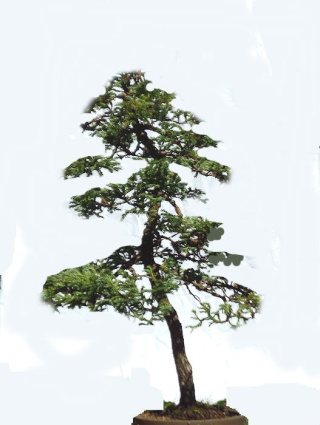 Chris,
Nice tree!! looks like it will have good potential in the future. Your one virtual with the wide branches does not take in the consideration of the trunk thickness. The branches are too wide for the skinny, but delicate trunk.
Here is another virtual for you to think about. I think its closer to the original planned design.
Bill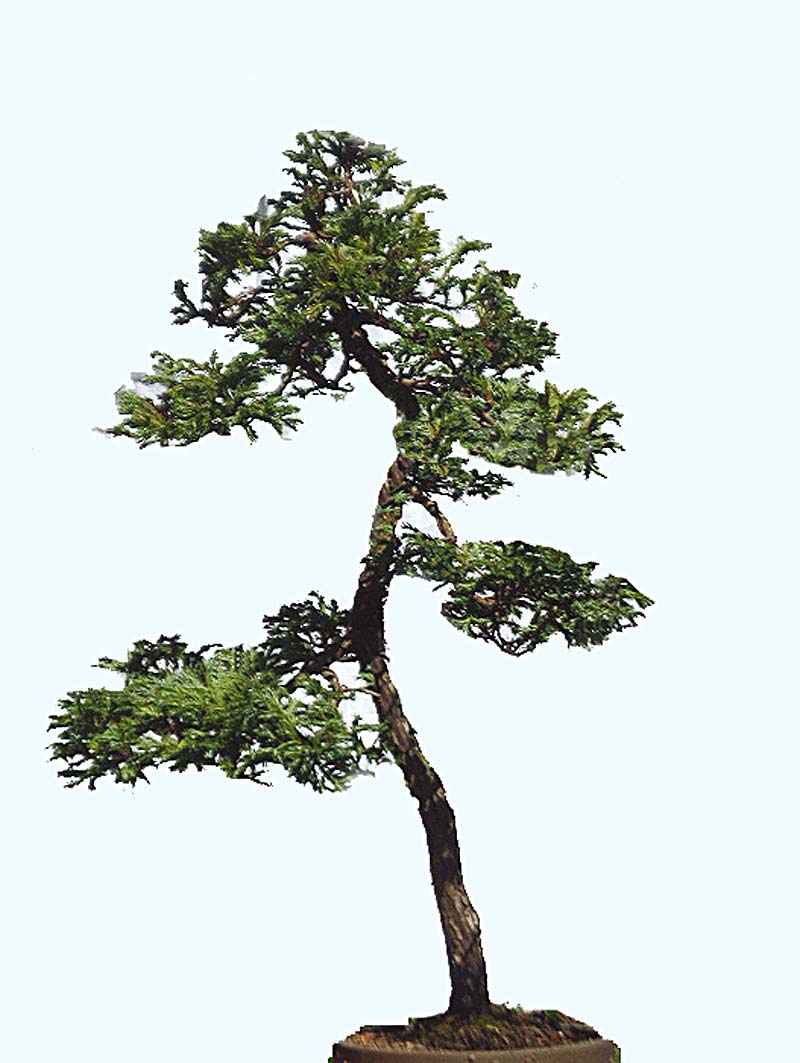 William N. Valavanis

Member





Sunip, Bill - Thanks for your suggestions! I'm not sure what I'm going to do yet, but I will post an update. I do want to get it in a somewhat larger pot for a while. Bill, I appreciate your comment about the relationship between the trunk size and the spread of the branches. I've tried making virts using the trunk on this tree and the type of foliage mass on the virt I posted and it doesn't really work well...probably because of how thin the trunk is.

Chris

coh

Member





Chris,
Heavy trunks are not necessary for bonsai appreciation. Your tree was originally styled in the elegant literati style featuring a thin trunk. Many people keep trying to get fat trunks, but it is actually more difficult to create and maintain an elegant thin trunk for years. Good luck!
Bill

William N. Valavanis

Member





William N. Valavanis wrote:Chris,
Heavy trunks are not necessary for bonsai appreciation. Your tree was originally styled in the elegant literati style featuring a thin trunk. Many people keep trying to get fat trunks, but it is actually more difficult to create and maintain an elegant thin trunk for years. Good luck!
Bill
Oh, I definitely agree - no argument on that! I don't want to get a heavy trunk on this tree; the main reason I acquired it is because of the thin, graceful trunk it has now. My mistake was trying to put too much foliage on it in the virt...I need to figure out how to structure the branches to enhance the existing trunkline.
Chris

coh

Member





I wanted to revive this old thread to see if anyone has any new input on this tree. Owen, are you still around?
I've been working on trying to compact the foliage and get backbudding with little success. I've cut back the foliage as much as I dare, and have wired the branches out and down, spreading out the growth to attempt to get as much light into the branches as possible. While I really like the lowest right branch (in the first image, which right now is my "front"), I'm having a hard time seeing a good bonsai with it in place, unless I can drive the foliage way back toward the trunk. I suppose maybe grafting would be an option to try...
I'm really starting to think that I need to remove the lowest branches and go with a more literati-type appearance. The trunk-line is nice and elegant and seems to be overwhelmed by the amount of foliage.
Thoughts appreciated! One thing I'm pretty sure I'm going to do is slip it into a larger grow pot for a while. Maybe the increased vigor will promote back budding.
View 1, current "front". Subsequent views are rotated clockwise.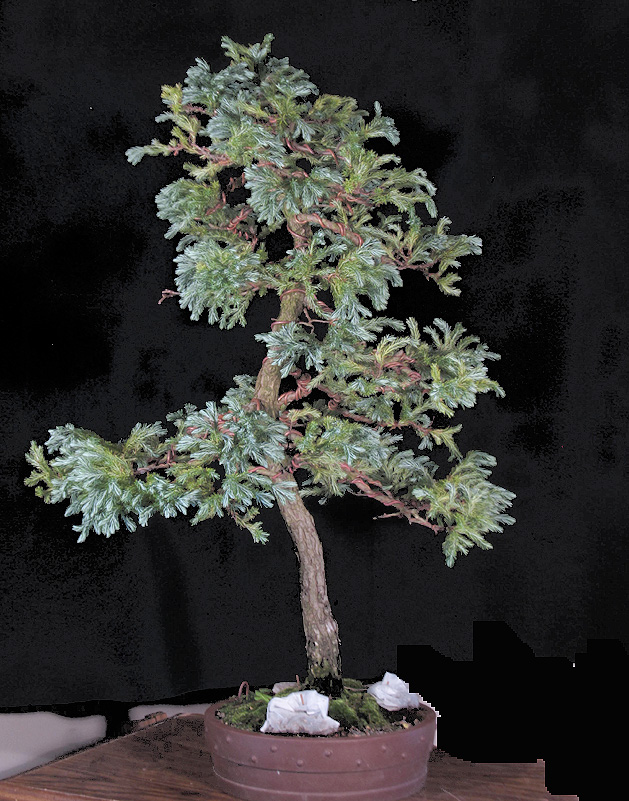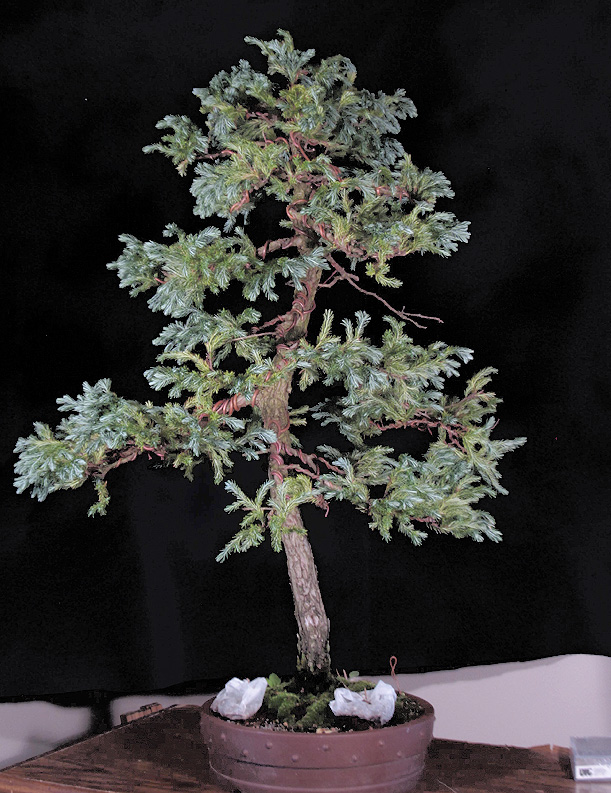 Lowest branch close up, you can see how far out the foliage is (comments on wiring NOT needed
:

coh

Member






john blanchard

Member






---
Permissions in this forum:
You
cannot
reply to topics in this forum