I got this tree at a workshop at Bill Valavanis' last regular September get-together a couple of years ago. I was very skeptical that it would survive in our lowland heat and humidity, but it seems to be doing OK. It's had quite a bit of new growth this year and has been trimmed back twice (including today).
I transplanted it this spring from the pot it was put in after it was collected up in Canada. There are a few small roots showing at the drainage hole. My question (one of them) is when and how often can this species be repotted? I don't remember, but assume because it is planted so off center in this pot that there was a BIG root in the way. I'd like to get it correctly centered in the pot. I have been told and have read, however, that you can lose branches with a too ruthless root reduction done at the wrong time. I have a couple of handouts about the species from the Toronto Club, but know very little about it.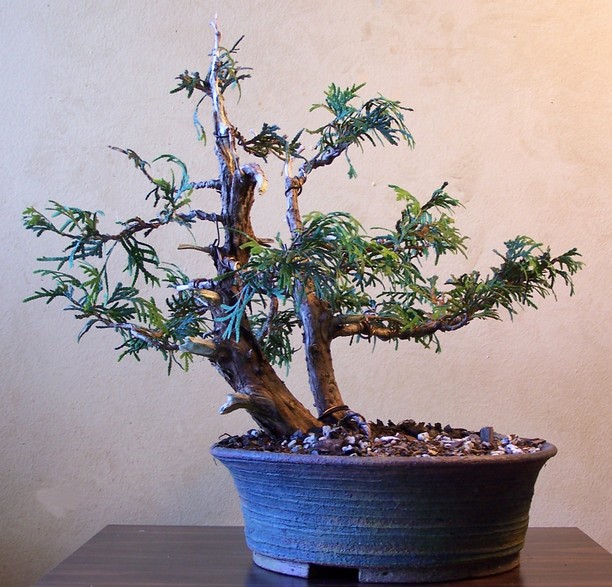 I think that lower right-hand branch needs to be pulled down quite a bit.
Last edited by JimLewis on Sun Aug 26, 2012 7:42 pm; edited 1 time in total (Reason for editing : Add a sentence at the end.)

JimLewis

Member





You are correct. With Thuja's you need to be very careful when shortening the fat roots and cut much less feeders then you would when handling other species. Placing it more in the center ( next repotting) will take a slightly bigger pot to promote feeder roots on the left side. In any case you will need to cheat with feeders on the right side (anyway) and place them in the pot as best as you can for them to have room to spread.
Since the tree looks healthy, promoting left side feeders should be no problem, but wait with wiring of the right branch - tree will need all the strenght it has. (bend only when tree is OK rooted - takes some time time to be well rotted IMO
)
Very nice little twin trunk though
Best...
Gašper

GašperG

Member





My point; even when chopping Thuja you risk loosing branches, prunning roots I would be very picky... But in your temperature zone it could be thriving as I will never se it...

GašperG

Member





Jim.
I love that tree, a real charmer.
Nick Lenz's book deals with this species in depth and I've had good results following his approach. He addresses three phases [I paraphrase/plagiarize shamelessly herewith]:
a) initial care: the "peat-like" dense root system itself will hold a lot of water, plant in medium grade loose soil, carefully extracting foreign rocks and roots. slip bonsai soil into the root mass where channels can be created with minimal destruction. one can [should] be more [or less] aggressive with the insertion of bonsai soil depending on the collected specimen's vigour.
b) first re-pot [Nick calls this "second transplanting"]: once collected specimen is establish and showing vigour [anywhere from one to three years]. New feeder roots will have grown long and outward [not much growth within the original root-ball] --- these are the roots to save [even if it means wrapping them within the training pot]. Open up and clean out the old root ball. Many older heavier roots will now be dead. There will not be many feeder roots within the ball --- opening it up will encourage them to establish in advance of the next re-pot.
c) thereafter: quote from Nick's book, CAPS are mine "White cedars are prolific root growers ONCE THEY ESTABLISH..." "...you must transplant cedar bonsai about twice as often as most collected conifers". Nick indicates rather than simply removing a third of the periphery roots, to instead lightly prune the tips & then concentrate on thoroughly cleaning out [designing!] a "quadrant" --- pruning for ramification & root arrangement. I quote again "You can build an excellent root system on white cedar bonsai."

My problems with this species have inevitably occurred in the wake of "B" above. I believe, NOT because I followed Nick's advice, but instead because I did not follow it carefully enough.





rps

Member





Many thanks. Nick's book is one of the few bonsai books I don't have since when I lived in Florida I never expected to see any of the trees he discusses.

Maybe, now that I moved a bit north, I need to reconsider and get it.

edit: Ordered today.

JimLewis

Member






Similar topics
---
Permissions in this forum:
You
cannot
reply to topics in this forum