Hello all. First post to the site.
I came across an overgrown, neglected, gnarled thuja o. teddy the other week. Got it from a nursery I frequent far too often for next to nothing. The teddy has juvenile foliage for its entire life. It's typically a smaller, globe shaped thuja o.
[img]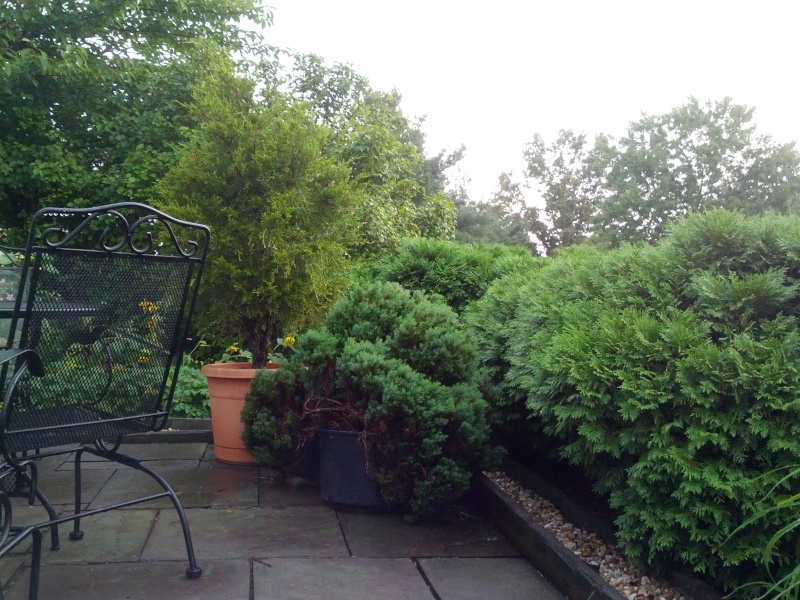 [/img]
Shorter plant, center of image
Portion of the trunk I plan on retaining... There are several different leaders aside from the ones shown.
I've read on here that the thuja o.s are susceptible to root rot and might not necessarily respond too well to manage root work. I wanted to see if anyone with experience, preferably with the teddy specifically, but if not at least with thuja occidentalis'. The main questions I have are how well do they respond to minor and major pruning/trimming, root reduction and also how well do they backbud? I'm looking forward to getting in there late winter/early spring and doing a little work on her.
Last edited by Hoosteady on Thu Sep 06, 2012 2:30 am; edited 1 time in total (Reason for editing : spelling)

Hoo

Member






yamasuri

Member





Definitely these are not thuja's scale foliage with flat branchelets pattern.

my nellie

Member





It's supposedly a dwarf arborvitae... A hybrid of sorts that only puts out juvenile foliage for the entirety of its life. I'm nearly positive it's not a yew, yamasuri.

Hoo

Member





Ok, just never seen foliage like that on Thuya

yamasuri

Member





yamasuri wrote:Ok, just never seen foliage like that on Thuya
Nor I... That's why I posted on here, trying to figure out if the plant will respond to wiring, pruning, etc like a typical thuja before I do something that both teddy and I will regret!

Hoo

Member





I wouldn't worry much about wiring. Just observe tightness and don't let wire cut to bark.Bigger branches support with wrap [raffia]. As pruning I would follow evergreen general rules and watch how plant will react.

yamasuri

Member






Similar topics
---
Permissions in this forum:
You
cannot
reply to topics in this forum