I've got a thuja occidentalis that is exhibiting some foliage issues. I'm pretty unfamiliar with this species, having only one plant that I obtained last summer. A little history: when I acquired the tree it had obviously not been repotted in a long time...and the pot was too small. I was advised to repot right away and did so last July. The tree came through the repotting OK (i.e. it's still alive and has most of its foliage) but has been kind of "sulking" ever since.
This season I'm not seeing much new growth and some of the existing foliage is developing a slowly progressive brown/brownish-red discoloration. I've posted some photos below. At this point maybe 10-20% of the foliage is affected. I did lose one small branch earlier this summer, I wasn't paying a lot of attention at the time but believe it exhibited a similar discoloration before it finally dried up.
Any opinions/advice would be greatly appreciated. Is this cultural (too much sun, water issue, fertilizer issue) or fungal/disease? Many thanks!
Chris
Photo 1: Healthy-appearing foliage:
Photo 2: Foliage with a small amount of discoloration: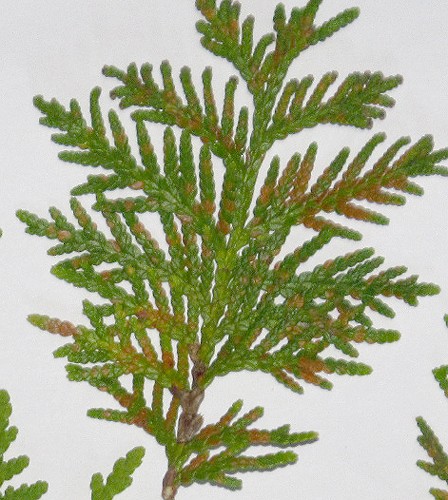 Photo 3: Foliage with more extensive discoloration:

coh

Member





If it helps, I can say with some confidence that this is not Cedar leafminer. This looks quite different.

Repotting in July is unusual and probably stressful. Thuja are normally repotted in April-May in our neighborhood. Thuja can sulk for a LONG time... sometimes taking over a year to die.

Summary: I have no idea what is wrong with your tree. Based on occam's razor, the repotting probably had something to do with it. I would avoid 8 hours of scorching sun, spray with a systemic fungicide, and monitor watering very carefully. If there is anything close to a mucky dense rootball remaining from the old soil (very typical for thuja) it can be challenging to water as it takes so long to dry out.

Did you bareroot with the hose when you repotted? This is a must for any thuja that was growing in an organic mix.

Best of luck.
Thanks for your reply. In hindsight...I probably should have waited until this spring to repot, as the tree was in no obvious distress when I got it. Lesson learned there.

I did not bare root...didn't think that would be wise in the middle of summer. I removed it from the old pot, removed a couple of miles of circling roots from around the edge of the rootball, teased out the edges of what remained, and re-planted into similar bonsai soil in a slightly larger pot. The old soil looked pretty good, not mucky.

Nice blog, by the way!

coh

Member





Any update on the health of this tree?

Hoo

Member





Steve,

Sorry, I didn't notice your question until today!

I was able to get the tree to a local thuja "expert" and his assessment was that it was most likely a fungal problem. I've been using a fungicide at regular intervals since the first post and the problem does not appear to be spreading. However, a significant amount of the older foliage was affected and that which I did not remove is gradually yellowing and dropping. Fortunately there is a lot of healthy looking newer growth so I'm cautiously optimistic for the future. I will definitely be using fungicide the rest of the season as well as when the tree goes into winter storage. If all goes well I will post an update...next spring would probably be the time to do some significant styling work on the tree.

coh

Member





What fungicide did you use? Mine is displaying the beginnings of similar symptoms. I think my problem might be a water and light problem however. But if you are having good results then I'd like to know what you used if my problem persists.

C. S. Budzi

CSBudzi

Member





I've been using daconil.

Maybe you could post a photo of yours and describe your cultural conditions (amount of sun, fertilizer, etc). I'm not convinced that the problem with mine was a fungal infection, it could easily have been something I was doing wrong that I've since corrected.

coh

Member





I will do that in the morning (Sitting at my desk at work right now, darn night shift). The plant was bought from an actual bonsai nursery 3 weeks ago. Pretty reputable place. I have no doubt that if i came back with it they'd help me out. But they are 40 minutes to 60 min away. Trying to avoid the drive.
I'm in the Chicago suburbs. So mid 70's in the day low 50's at night (Fahrenheit) I have it on the back porch table now. Filtered southern exposure, a couple large trees in back yard filters the light. Been trying to Mist the foliage every day. Watering mostly everyday if not then every other day. Maybe too often? Maybe not enough light?
This is the fertilizer i used about 10 days ago
https://www.dallasbonsai.com/ProductDetails.asp?ProductCode=F131
It suggested 4 pellets I used 2. I figured start small and move up. Especially if the nursery I bought from had used something else before me.
I know old foliage that doesnt get light on interior turn brown and drops to make new foliage at tips. Maybe its that?
Again I'll post pictures tomorrow of the tree and location.
Thank you for the time and help. I really do appreciate it.

CSBudzi

Member





Took me a few days but here are the pictures.
First pic is the lighting situation in the yard. In picture I'm facing south I only get direct sunlight for a few hours. in mid-late afternoon.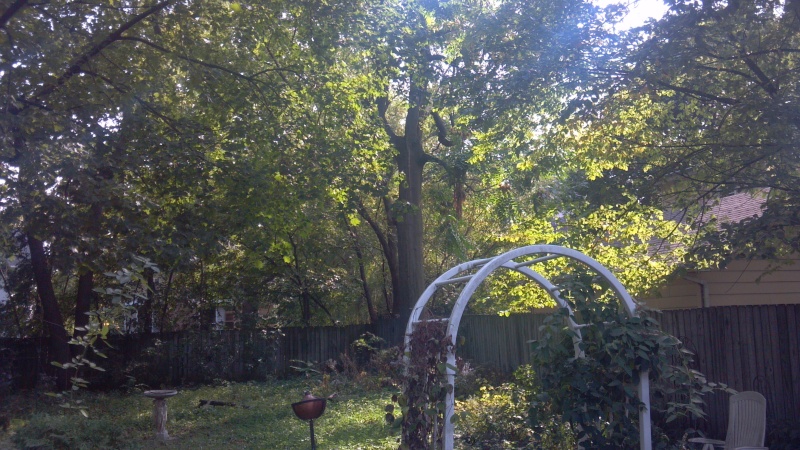 https://i.servimg.com/u/f30/17/80/41/58/yard_l10.jpg
next 3 is the damage so far.
https://i.servimg.com/u/f30/17/80/41/58/2012-010.jpg
https://i.servimg.com/u/f30/17/80/41/58/2012-011.jpg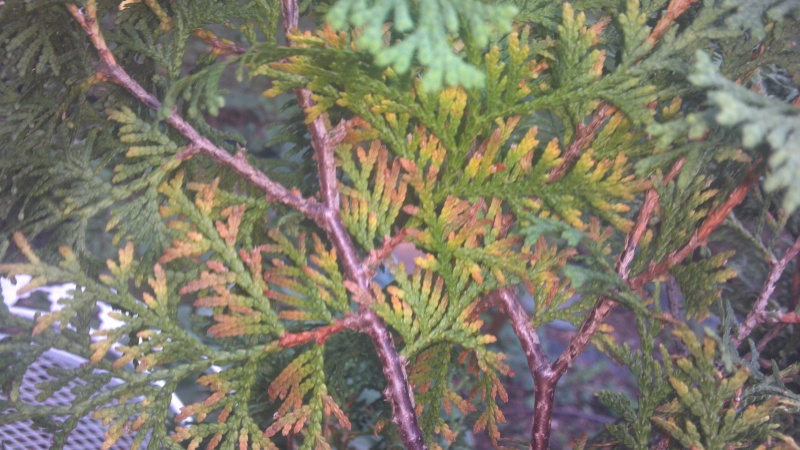 https://i.servimg.com/u/f30/17/80/41/58/2012-012.jpg
I hope the pictures are close/clear enough. Thanks again for any help or suggestions.
C. S. Budzi

CSBudzi

Member





Keep in mind that I don't have much experience with these (I've only got the one tree and only for about a year), but that looks more like the kind of yellowing that one gets when the foliage isn't getting enough light. What I can't tell from the photos - what part of the tree is showing this? Is it only the lower/interior sections, while the upper and outer foliage remains green and healthy (suggests light issue)? Or is it dispersed over the whole tree (could suggest watering problem)? And, has all of this discoloration developed since you acquired the tree?

Watering every day could be a problem - with the amount of light and the cooler weather, that might be too much. I really think you should talk to someone where you got the tree, and it probably would be good to take it there if they are willing to help...much easier to evaluate in person.

Can you post a photo of the whole tree?

coh

Member






Similar topics
---
Permissions in this forum:
You
cannot
reply to topics in this forum