Hi all

I'm still very new to bonsai and have been learning a lot through the fantastic group here at IBC.
I've come to the realization that shohin and mame are what I should be focusing on right now in my current situation. I live on the 17th floor of an apartment building and have very limited space. I've been totally preoccupied with my fascination of large specimens. I have several shohin and a couple large trees (all in development, and none ready to call bonsai). I also started many seedlings that are mostly in their second year. When I planted them I envisioned 3+ inch trunks but I now see how stupid I was. With nowhere to plant in ground or even keep large containers, it's a no go. So I want to train them as mame.
So if anyone can turn me onto any good sites or books specifically about the differences and challenges about training mame, I would greatly appreciate it.
One point I'd really like clarification on is life expectancy. I read that it is greatly shortened by the size. But considering that a couple of my shohins are 25+ yrs of age and growing vigorously, what is shortened?

Thanks in advance, Mike


MikeG

Member





Morten Albek
is close to the center of the mame universe and he's written a book about it. Scour this forum and others and don't forget 'the Google'. IMHO, mame is very challenging.
Good luck

0soyoung

Member





hi,

i dont think the tree life is shortened if they are maintained perfectly - but many mame trees probably die sooner from a forgetfull moment, missed watering, weekend away etc. Also they will not all remain mame indefinitely for decades - they outgrow the size and get too fat, the branches too thick etc, so become shohin - then many shohin eventually outgrow the size as well - especially evergreens.......

concentrate on articles & web pages for shohin......at least they look like trees, where many mame are just a little airlayered branch with a few green bits that suggest branches to the viewer. There are a smallish number of mostly tropical species that make microscopic leaves and make convincing mame....but many 'normal' species you can grow from seed etc will not look right as a leaf bigger than 1cm is too big really.

shohin opens up use of pines, tridents, acers & many flowering sp.

cheers Marcus

marcus watts

Member





Morton Albek's excellent book is
Majesty in Miniature - Shohin Bonsai - Unlocking the Secrets of Small Trees
. Stone Lantern published and sells it.
Herb Gustafson has written several books. One is
Miniature Bonsai
, Sterling Pub. I don't know if it is still in print, but it is readily available online used.
If you can find it, there's nice little mini-book,
Bonsai Miniatures
, by Zeko Nakamura. It is long out of print and a bit hard to find.
For real inspiration, Kyosuke Gun and Sachiko Iwasaki have a web page --
http://www.mini-bonsai.com/indexe.html
-- that merits a lot of study. It is updated too rarely.
As for any size bonsai, growing UP from seed isn't the best way to proceed. Mini bonsai (mame) design is, like other sizes, predicated on showing the image of an "old" and weathered tree. That means, in addition to trunk size and overall size, having branches and bark that appear to be that of mature trees. That takes a LONG time from seed or seedlings.
Most successful mini bonsai are either cut-down larger trees or (more often) air layers or cuttings from mature trees.
It probably goes without saying that mini bonsai are best from species of plants with naturally small leaves, or leaves that reduce especially easily. There are those who say a mini bonsai can work with larger leaves if you let one, two or three leaves
represent
a tree's entire canopy. That may work for them. It hasn't worked for me yet and I've been doing mini-bonsai for many years now.
If you are growing your bonsai indoors, maintaining proper leaf size on species that don't already have tiny leaves is likely to be a problem. Leaf size is to a large extent related to the amount of light the leaf receives. Unless you have a large and expensive indoor lighting set up, you are unlikely to be able to provide sufficient light of the right kind. If you have a sunny balcony, however, you probably are fine.
As for life expectancy, my oldest mini is probably 18 years in a tiny bonsai pot. It certainly pre-dates any real record keeping on my part. Most are nearing 10 years (recorded).
The first question on many minds regarding minis is watering. It is a fact that if you miss one or two scheduled waterings of a tree sitting by itself on a shelf, your little tree will be in serious trouble, especially during a hot summer like this one has been. But, except when a tree is on display somewhere -- at a show, or in your home, or for a club meeting, etc. -- it usually is
not
sitting by itself on a shelf. It's usually placed with others in a large shallow tray of sand or Turface, or mulch that is easier to keep damp. The major issue with this, of course, is "out of sight, out of mind" and the little trees will quickly push roots through the bottoms of their pots and start to grow -- which you do NOT want. So they require at least weekly maintenance -- trimming those pushy roots and the obnoxious new branches. Otherwise, as Marcus says, you soon have something other than a nice mini.
You also will discover that finding decent tiny pots for tiny trees is the most difficult thing -- at least in North America.
Maybe this will get you started.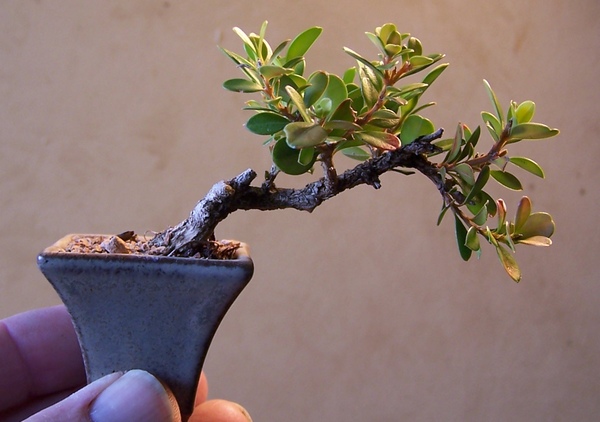 Buxus mycrophylla

JimLewis

Member





Thanks for the info guys. Great websites and I'll check out those books mentioned asap.

MikeG

Member





Send IBC members Bob Bailey and Mark Cooper PMs and ask their advice as I'd consider them the experts these days. Also use the search facilities to look at the posts these guys have put up for some inspiration. You can also find some shohin examples is my own gallery in the Personal Space: Galleries section. For tropical stuff, find posts by Vinh (username lnvinh - [lease note that starts with a lower case "l" and not an "i") as some of his mames are stunning.
Some websites to try:
artistic bonsai circle
British Shohin Association
Morten's website
There are many others as well.

fiona

Member






Similar topics
---
Permissions in this forum:
You
cannot
reply to topics in this forum