hi is been a couple days since i post something but i got this pine tree from a lady yesterday she had this pine for about 13 years i just need to know what kind of pine is and what pot i should get to repot it a rectangular one or a round one and what size you guys recomend for the pot the tree is only 1 foot and 1 1/2 inches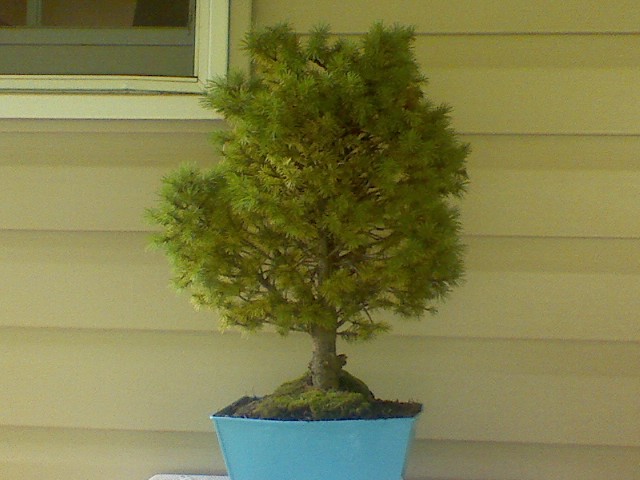 if you guys need more pictures let me know thanks a lot for the previous advise and help
Jonathan Rivera

jayevilrott

Member





First of all, it is hard to tell what it is from your picture. Can you post a clear close-up? Secondly, it is nowhere near ready for a bonsai pot. You need to style it first. Next spring, put it in an oversize training pot. (It can be a bonsai pot, but a couple of inches larger than show size.) The following year, you can think about a bonsai pot.
Iris

bonsaisr

Member





I suspect this is not a pine (pinus sthg) but an abies. But it's hard to tell without a close-up of the needles...

AlainK

Member





I am feeling sorry for the Lady....thirteen years is a long time.
Hello Jonathan –

Your tree is almost certainly Picea abies cv. conica, the Dwarf Alberta Spruce. It is very frequently chosen as a "first bonsai" because it is widely available in garden centers and is naturally very dwarf. However, in reality it is not an easy species to work with. I have had one for 15 or so years and it is only now getting to be something I could think of showing. As you have seen, their branching habit is very dense on the main truck, so developing good structure requires careful branch selection. You've got an abundance of possible branches to select from; however, these trees do not bud back readily on older wood, so you have to choose branches with a good distribution of foliage. This also is not easy, since this variety tends to only have foliage at the tips of its branches.

The technique I have used is slow but has been effective over time for both ramification and reduction of the needle size. Each spring, when the new growth is still very tender, I nip out every single bud on the tree with forceps leaving only a whorl of two of new needles. The following spring this nipped bud will produce four or so new shoots, and the process is continued. Eventually you will have a good pattern of fine branches from which to begin designing your tree as well as needles less than half of the original size.

The other thing that makes this variety difficult is their dislike of root disturbance. In repotting you must leave a good about of the root ball undisturbed or you will get sever die-back above. I use the "wedge" technique. At repotting time I only remove and replace about 1/3 of the soil in wedges between a few of the major roots, like a pie from which several slices have been removed randomly. If you keep track of which wedges were replaced in each repotting, you will be able to change all of the soil periodically without ever upsetting the major part of the rootball.

I hope this is helpful. Many new to bonsai have been scared off because they selected this as their first tree and found failure or frustration. It will be a challenge, and it will be slow. But they can make very beautiful bonsai, so have fun! If you have Deborah Kershoff's classic book; Bonsai It's Art, Science, History and Philosophy, you will see there a photo of a beautiful Abies picea conica that was already quite old when the book was published in 1984. That same tree is still around today, and still beautiful. So there's the proof – it can be done, and done very well. I wish you the best with this one.

David Brunner
Jonathan -
I have done it again and used an "old" name, sorry. The best name for your Dwarf Alberta Spruce is Picea glauca cv. Conica. Sorry for the error!
Also I found a photo of my tree that you might be interested in seeing. This picture is a few years old, but the tree has changed little (they are slow!)
David Brunner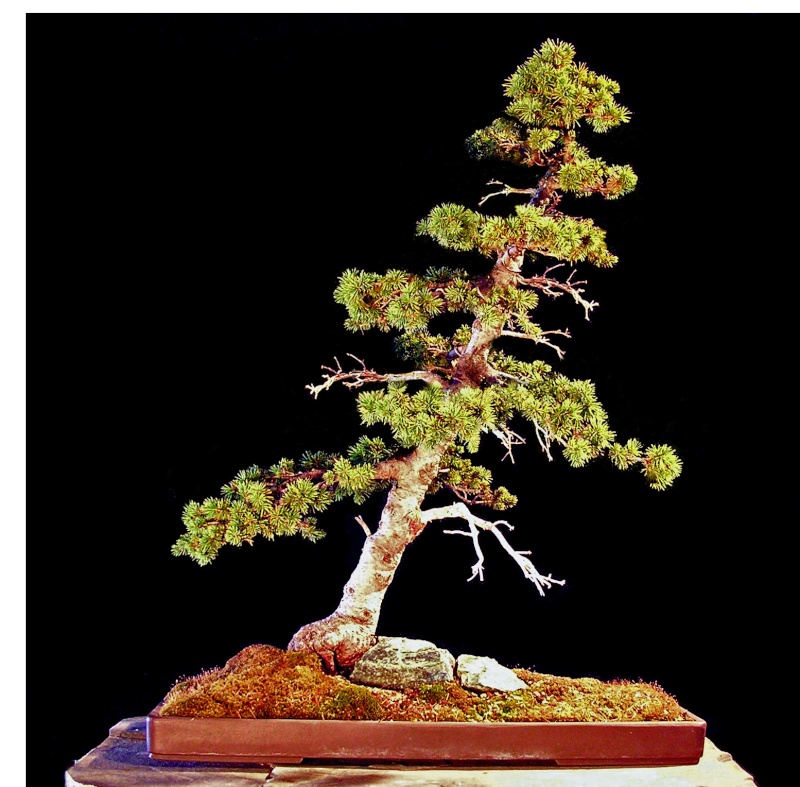 Similar topics
---
Permissions in this forum:
You
cannot
reply to topics in this forum