It's not often I have the photos to create a progression, but I started this tree in 2009 (first pic is in 2010) and "finished" it yesterday. So, FWIW and comments are accepted.
First thought 2010: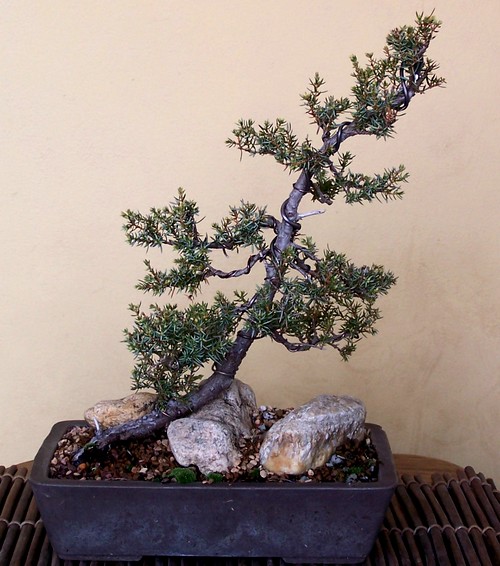 Which didn't last long. This is July 2011, planted on a piece of floor tileing: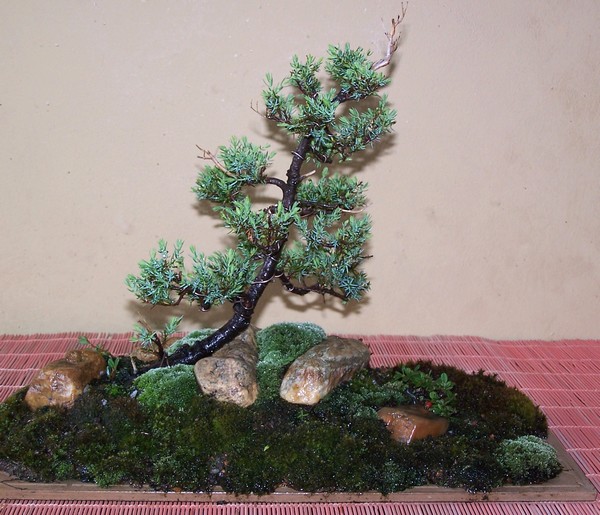 Which only lasted 2 months. This is Sept 2011 (note the very long smooth rock):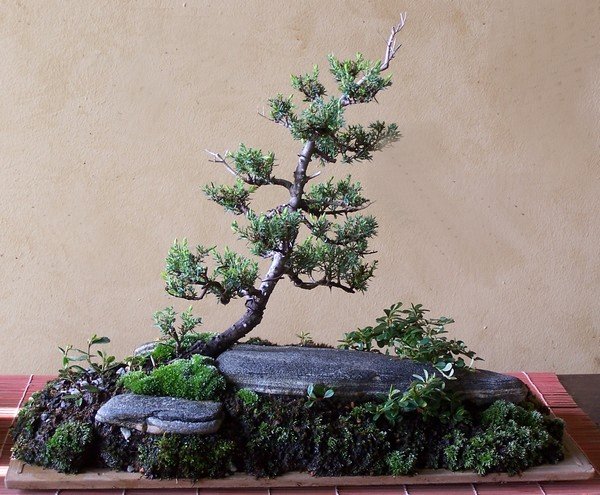 Another month passed. I changed it again -- and for the better, I think: --
By December 2011 it had changed again. The long rock ws replaced: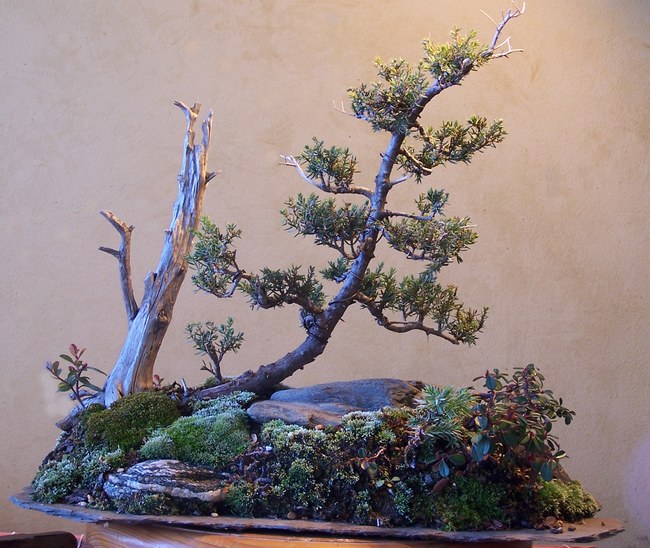 Then, in March 2010 I inexplicably changed the angle of the dead tree when I transplanted the whole thing to a slate slab (which was a good idea):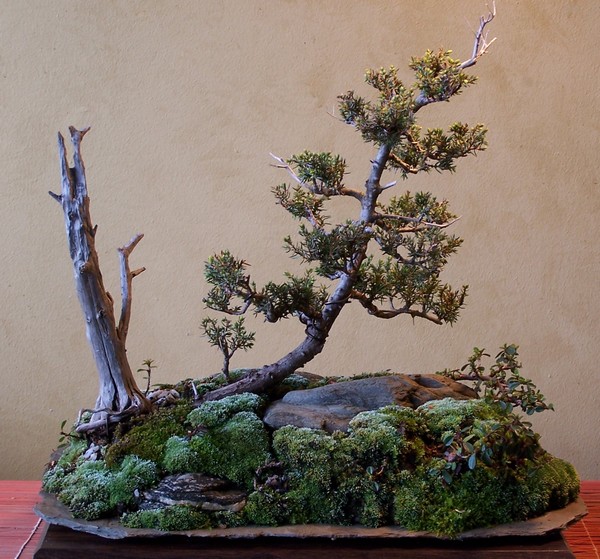 By the early part of may, it had grown into itself (I had eliminated that annoying little upright branch near the base) but the dead tree was still wrong. It overwhelmed the landscape.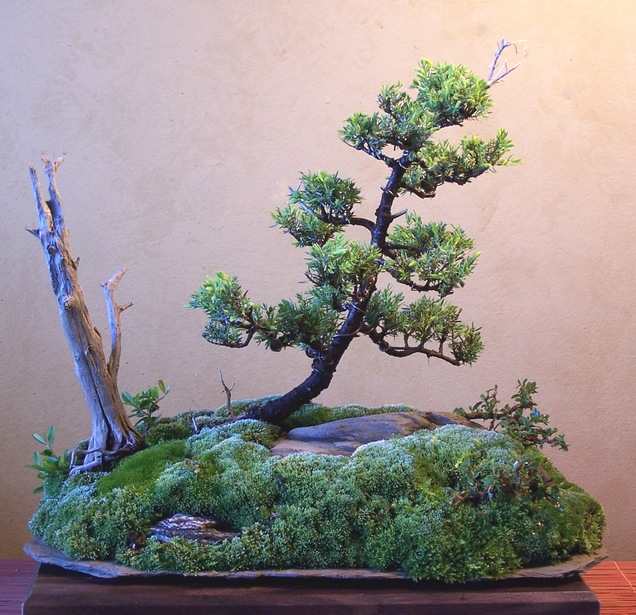 The solution as of May 29 (and again, Thanks Lennard!):
I don't plan anything more for this little landscape (the whole thing is 13 1/2 inches wide).

JimLewis

Member





Lovely composition, Jim...I enjoyed the progression series....to me it is very reminiscent of the Dolly Sods area in the mountains of West Virginia (near Seneca Rocks)....really nice.
Tom

Tom Simonyi

Member





I've always had a soft spot for saikei. Yours has obviously gone through a thoughtful development. I think you did a fine job.

lordy

Member





TNX to both. The tree itself obviously wasn't gonna amount to much alone.

JimLewis

Member





While we are on the topic on redcedars. (Nice composition by the way)
A friend and I were discussing red cedars earlier today and the topic on rust on these came along. It brought to mind the protential dangers on exposing these species to other prone species. So having that said, would these ever be acceptable in upscale shows if they were very well styled ready considering the possibility of spreading rust to other show trees.

Mitch - Cedarbog

Member





It is very unlikely (if not impossible) for the rust to be spread at a show -- especially an indoor show. The spores are spread by wind. AND, the red cedars only infect Malus (and a very few other close relatives, perhaps -- like hawthorn) and become only infected FROM Malus.

AND, any exhibitor worth his or her salt would not show a tree that had an infection in any event. The rust is very visible on juniper -- less so on apple.

Red Cedar (Juniperus virginiana) are regularly shown at the Carolina Bonsai Expo, if not in any great numbers.

Besides, J. virginiana isn't the only juniper that is susceptible to Cedar Apple (and related) rusts -- though J. chinensis seems to be relatively free of it.

JimLewis

Member





Are you getting mature foliage yet ? Around where I live these are every where and I wanted to know how long it took to become mature. (They poke the hell outta me when I try to mess with them.
)

Jake16

Member






abcd

Member





I love the 'silver' moss - it makes any composition look so much older....this scene is also very real and believable.

cheers Marcus

marcus watts

Member






---
Permissions in this forum:
You
cannot
reply to topics in this forum