Hi IBC,
Collected in March or April this year. Root drenched every day for two weeks with a dose of Rhizotonic, then on to a two weekly feed of Green Dream fertiliser. As leaves start to extend they are cut back to promote back budding. This tree is completely made by Mother Nature and has had nothing done other than light pruning. It contains no man made scars.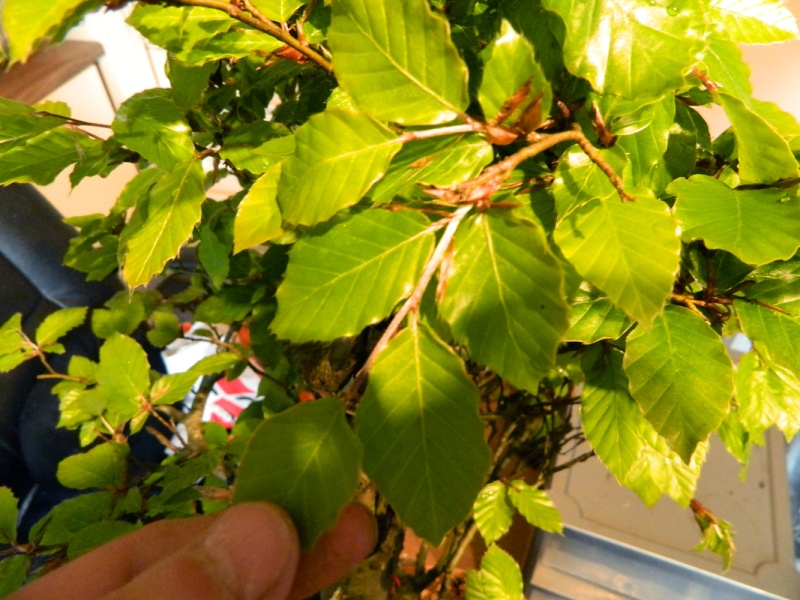 Mr Miyagi

Member





Looks like a bit of sun and/or wind scorch on some of those leaves (indicating your root system is impaired). If it were mine, having been just collected, I would just let it grow for this year and move it into a bit more sheltered spot. This is one of my favorite collected Beeches so far on the forum. Are you getting addtional foliage flushes as your cutting back?
-Jay

drgonzo

Member





Hi Jay, The tree is kept in my Polly tunnel and will be for the rest of this year. I've that pruning like this from the start works well on prompting strength in the inner branches.
This technique can be read on Harry Harrington's web page
http://www.bonsai4me.com/SpeciesGuide/Beechadvancedpruning.htm
Thanks Sam

Mr Miyagi

Member





I think the browning is just bad lighting.

Mr Miyagi

Member





I have read Harry's pruning advice for Beech and it does work well for some members of the species. However it's important to remember that tree was just collected, Harry no doubt is working on a well established tree. Beech are not Elms of course and judging by the limited extension from your bud break (2-3 tightly bunched leaves on some of the lower buds) I would judge the tree to be weak. As we only get one "maybe" two flushes with Beech this years spring growth will indicate LAST years vigor in the setting of the buds. As I say (and it's only for myself) if it were mine I would just go easy and let it grow roots then begin training next year, Its too nice of a piece of material to rush it in my opinion. If you find through your own experience with F. sylvatica that you can push them a bit harder in the same year they are collected then by all means. I have pushed F. grandifolia hard in its first year and wound up only weakening the tree in its NEXT year...I feel if Beech could give us multiple flushes of growth throughout the season it would be easier to gauge their overall vigor, unfortunately we must wait until the next springs bud extension to see how well we did in our horticulture the previous year.

I also would remove it from the poly tunnel and put it in shade.

good luck with it and keep us updated !!
-Jay

drgonzo

Member





Thanks for the sound advice Jay Think I will do as you say. You sound very well informed.

Sam

Mr Miyagi

Member





It sure is coming out very nicely. I love it.

Poink88

Member





Mr Miyagi wrote:Thanks for the sound advice Jay Think I will do as you say. You sound very well informed.

Sam
Thank you for your kind words. I have more Beeches then any other species so I have a little experience with their various foibles.
Once that tree is well rooted in its pot it will reward you with a strong spring bud extension that you can then apply Harry's techniques to and you'll have MUCH better success without risking the vigor of the tree.
Marcus Watts also knows a great deal about Beeches and was very helpful to me regarding one of mine.
-Jay

drgonzo

Member





I remember seeing this collected Beech when you first posted; very nice. My experience with beech as follows; also just from looking at your tree. Beech are apically dominant - so the top of your tree is already much stronger than the bottom. For this size tree - I feel you will need a wide base with some long branches wired with movement. The number of buds at the lower branches is much fewer than upper branches. As the current crown fills in - beech leaves get bigger and shade out the lower branches; these get weaker and slowly die. If you do anything - take a very sharp pair of scissors and cut the strongest leaves in half (on uper branches only). Not every leaf. Do not defoliate a beech esp. a newly collected tree. When you cut the leaves - you get more light into the tree interior - then you get more buds.

Also - I do not like this training pot - sorry to be blunt. This is an azaela pot - somewhat shallow with only (1) drainage hole usually; lots of moss and algae growing on sides - so pot is always wet it seems. Eventually you want this tree in a wider shallower pot - so you need a wide shallower root mass. When you collected this tree - perhaps it had deeeper thicker roots ? Take a look at an Anderson training flat; check out Wee Tree Farm website. Screw a few pressure treated 2 x 4's into the bottom of the flat. Now with Anderson flat you get tremendous drainage and root growth - beech roots are much slower growing than say a Trident Maple - so you need something shallower - but better drainage. If you don't like Anderson flat - or do not live in USA - you make or use something else. Long term - this terra cotta pot won't work in my opinion. You have a great beech tree here - but need a few corrective actions - so in 2 to 3 years you have much fuller stonger tree - then you style a real beech masterpiece....good luck Tom

---
Permissions in this forum:
You
cannot
reply to topics in this forum