Hi guys! I found this site today, and have been reading through, as I was going to pick up a bonsai today from a friend who works in the local garden centre. Anyway, have just got it home, and was wondering how short to prune it?
It's a good old Chinese Elm, approx 2 years old. Would love any advice!
[img]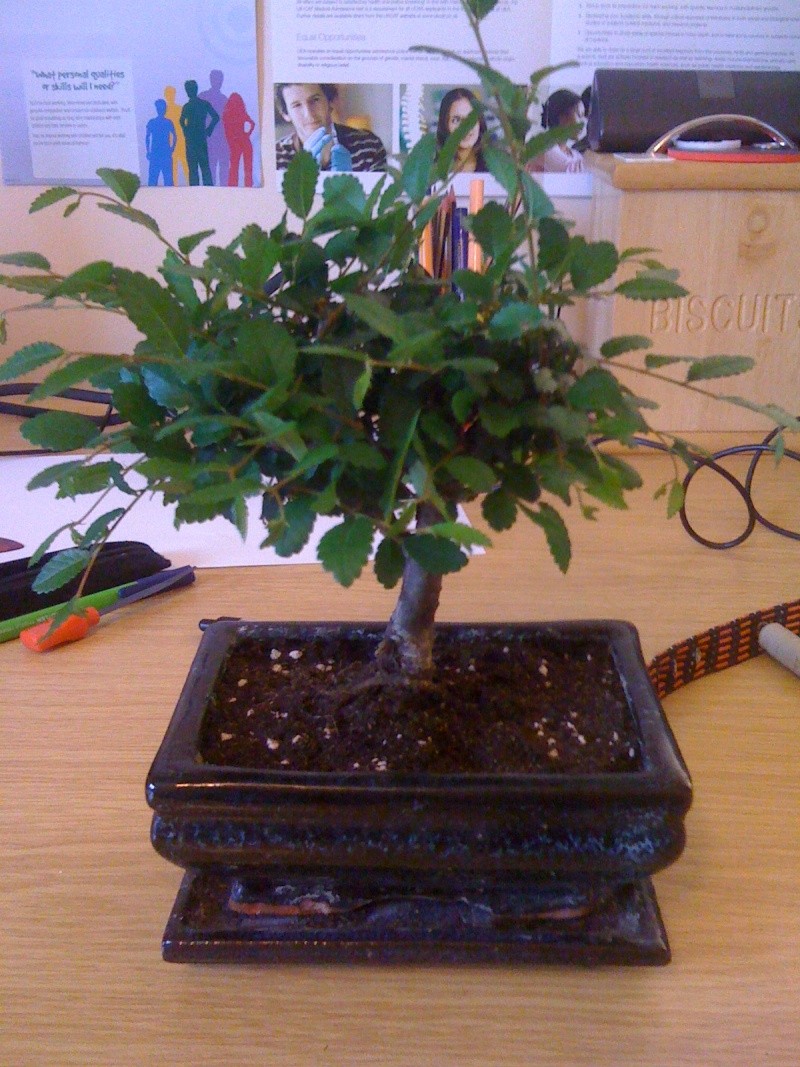 [/img]
Last edited by drspecs on Sun Jun 05, 2011 7:25 pm; edited 2 times in total (Reason for editing : Adding a picture)
To begin, be very careful how you water. That soil looks to be entirely wrong for bonsai. Do not allow the soil to stay wet. Water when it feels dry -- not just the surface, but into the soil.

I'll let the UK folks give advice on proper soil and when to transplant/repot. If you lived i the eastern USA, where temperatures are scorching hot, it wold NOT be a good time to repot.

As far as trimming it goes, you can start by cutting those long branches back to two or three pairs of leaves. Then, pictures from a couple of other angles would help us help you. It looks like the canopy needs quite a bit of thinning so you and we can see the branch structure.

As you say, it is "a good old Chinese elm" so it is impossible to hurt it be trimming too much away.
_________________
Jim Lewis - lewisjk@windstream.net - Western NC - People, when Columbus discovered this country, it was plumb full of nuts and berries. And I'm right here to tell you the berries are just about all gone. Uncle Dave Macon, old-time country musician

JimLewis

Member





Welcome,,I think you picked a good tree to start with,,but i like elm trees,, you will find lots of help here the people are great... jim started you off trim it out so you can see the branch placement..post it again good luck take care john

---
Permissions in this forum:
You
cannot
reply to topics in this forum