Hello, about 2 months ago I recieved this bonsai as a gift. It is Barbados Cheery. I read several books and tips on the internet, but they all seems to me very general.
Here are pictures: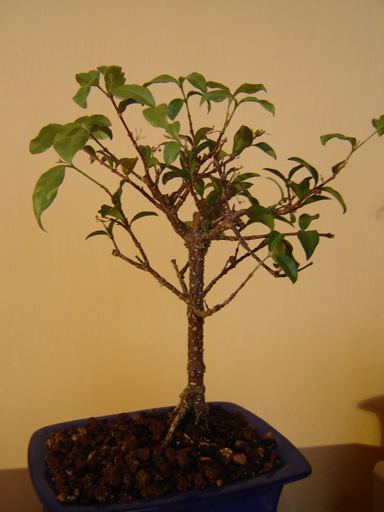 Now my problem is that firstly when I placed it home, it dropped several leaves. I fertelized it, then it started to grow new leaves, but only on the top of branches. These new leaves are growing fast, but they are big. I tried to prune some of them, new ones continue growing on the top.
But as you can see, there are still many branches with only 2 leaves, some of branches are completly without leaves and im a little bit worried if they start to grow at all.
What should I do to make the leaves smaller and how can i force my tree to grow leaves back on those "naked" branches?
Thanks for your advices.
This is a tropical tree and will have to be indoors in your area until spring. There is not much you can do until then, but keep it warm and don't overwater. Check the soil with a meat skewer before you water, it the skewer comes out wet, don't water. Give the tree as much light as possible, but protect from temps below 40 F.
When you can safely leave the tree out overnight. Night temp. no lower than 50 F, get back to us.

Billy M. Rhodes

Member





I just noticed the tray under the tree. Don't leave the tree standing water, water from above, allow the tray to catch the water, dump the tray. You don't need the tray when you are not watering and leaving it off will improve air circulation.

Billy M. Rhodes

Member





Thank you.

So I shouldnt prune any leaves now?
Right now your tree needs to be healthy. It will never survive indoors all the time. It will not be healthy enough to work on until it gets outdoors and some time to grow.

Billy M. Rhodes

Member





katatm wrote:So I shouldnt prune any leaves now?
No, you want to let the tree grow and get healthy. The more leaves, the more growth and that is what you want at this stage.
Good luck and welcome to the forum
Ok, thank you very much, Frank and Billy


---
Permissions in this forum:
You
cannot
reply to topics in this forum