Hello Community~
I am very new to Bonsai and wanted to share the photos of the trees that I am beginning with.  I have a Chinese Elm, a Jade, a Buttonwood, a Boxwood, and a Ginseng Ficus.  I have repotted all except the Jade and the Boxwood so far.  At this point I believe that I should just fertilize them and let them grow for at least a month... what do you all think?  I have attached a photo of these trees: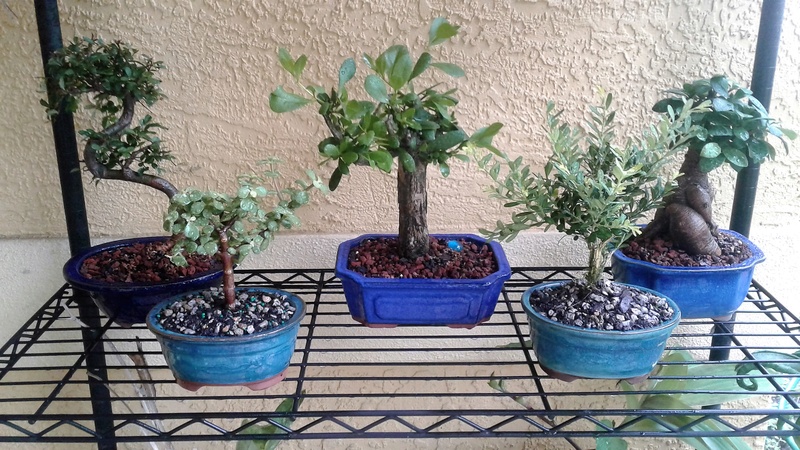 Thank you,
Madcat1776
Welcome.

I don't know about your climate but here in 7A we repot tropicals in the summer so you may be able to repot the jade.

However boxwood is repotted in late winter/early spring when it starts to come out of dormancy. (Is that December/Jan in Florida?)

It's best not to fool with your plants too much esp. when you get into the hobby

Best,
Welcome to Bonsai, the more the merrier!

Nice selections.
From whence did these trees come?
How long have to had them?

When I first started (6 months ago), I did the same thing as you, and promptly proceeded to kill a few trees from doing too much too soon.

Although there are some similarities, each of these varieties carries some significant care and handling differences and there is a TON of resources for each.

For the 3 you repotted, were they complete soil replacements?
If so, I'd keep them in the shade and use an organic root stimulator for at least the next month.

The other two, I'd suggest leaving them in their current pots until at least next spring to allow them to get accustomed to you, and you to them.
There are some GREAT videos about repotting bonsai on YouTube, and I suggest watching many as the basis for all good bonsai are their roots.
I really like watching Nigel Saunders' videos.

If you wanted to do some initial light shaping on the Boxwood, perhaps, but for the most part I'd suggest considering sitting on your hands.

If you're anxious to do things, I can EASILY relate, but suggest you limit that to watching and learning and perhaps new acquisitions.
Some new varieties or some more of each of what you've already got.
Thank you so much for your replies. I am in Zone 10A, pretty much sub-tropical. I got these trees from nursery stock. I am so glad to hear this reminder to not go crazy on these plants, as they are new, despite my excitement. I will probably repot the Jade, and wait for the Boxwood as you've suggested. I have only had these trees for a month or less, some are only days old- (arrival date). The Boxwood could use a little pruning, but I have only had the Jade and Boxwood for 2 days now, so I think I should let them adapt/acclimate to their new home before I go poking around and harassing them, right?

Thank you again,
Madcat1776
if you are in SW florida then you are luckily not too far from Wigerts in Fort Myers...

if you dont already know of them, then you should...
they do lots of classes and demos and such...

also i would seek out a local club to join...

lottsa great great ways to learn !
_________________

AAC Original Milwaukee Wi. Chapter - North America
aka beer city snake
link to ARBOR ARTS COLLECTIVE BLOG

kevin stoeveken

Member





Actually my very first Bonsai was purchased for me by my husband, the Buttonwood in the middle picture, at Wigerts. Their customer service is impeccable, and their nursery is absolutely stunning. Going forward I believe I will purchase my trees there, instead of online. The great benefit of going to the nursery is that you get to actually choose the tree that you want! While purchasing through Amazon can be relatively cheap, you have no say in which tree you receive. I will plan on classes there as well. Thank you so much for your advice!
Kind Regards,
~Madcat1776
yes... i would advise against ordering anything live through amazon...
too much of a crap shoot, especially when you have access to wigerts...

and yeah, andrea & erik are really good folks.
_________________

AAC Original Milwaukee Wi. Chapter - North America
aka beer city snake
link to ARBOR ARTS COLLECTIVE BLOG

kevin stoeveken

Member





Since they were just repotted I would let them sit for more than a month.
Also if they are indoors take them outside and leave them there.

---
Permissions in this forum:
You
cannot
reply to topics in this forum