I am emboldened by a recent thread regarding Eastern Hemlock and thought I would come out of the shadows and admit that I have been working on one. I got this tree and another from a nearby nursery in February. I got them both for $10.00. I purchased them in early February. I have only worked on this one. I have not messed with the roots. As you can see still in nursery pot and original nursery soil. I attempted to do some initial wiring and I was able to successfully shape the trunk a bit. It used to be straight out the back. I pulled it up and have gradually bent it down and forward with the guy wire. I also TRIED to wire some branches but it was like trying to put wire on uncooked spaghetti. I found that it took very little pressure to completely snap the branch. Other than the one I snapped off, the only limbs I have removed have been dead ones that looked like they would be of no use. Then I stopped. This photo shows the only front option I can see. I'm afraid to get anywhere near this tree with a piece of wire. Any shaping/styling suggestions would be great. Thanks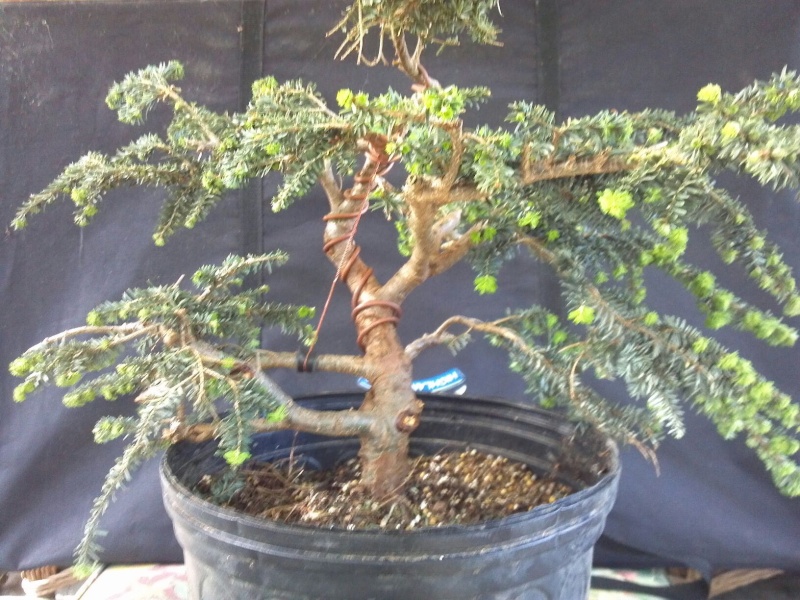 Some pruning might be called for. That straight branch that your guy wire is fastened to ought to go eventually. And much of the foliage tips should be brought in closer to the trunk.
Something, perhaps, along these lines:
It would be nice if you could manage to keep some green in closer on the remaining lower branch.
_________________
Jim Lewis - lewisjk@windstream.net - Western NC - People, when Columbus discovered this country, it was plumb full of nuts and berries. And I'm right here to tell you the berries are just about all gone. Uncle Dave Macon, old-time country musician

JimLewis

Member





Thanks for looking at it Jim. Appreciate the advice.

Similar topics
---
Permissions in this forum:
You
cannot
reply to topics in this forum