In the photo books for Kokufu 84 and 85, most of the flowering cherry bonsai are labeled with the scientific name "Prunus campanulata var. spontanea". That name doesn't show up on any search engine. The closest thing I found was "Prunus serrulata var. spontanea". Can anyone confirm the actual variety or varieties?

The kanji was "寒桜", or "kan sakura", which translates as "cold cherry". That is appropriate since they were blooming in February alongside the flowering apricots.



William Feldman

Member





I always translated "kan" as winter, but cold works too.
P. campanulata is what we call Taiwan cherry here on the coast. It's the first to bloom (now), almost red, then comes the campanulata hybrid "okame cherry", followed lastly by the traditional 'kwanzan' and 'yoshino' cherries (cherry blossom festival cherries).
Here's campanulata, the double form...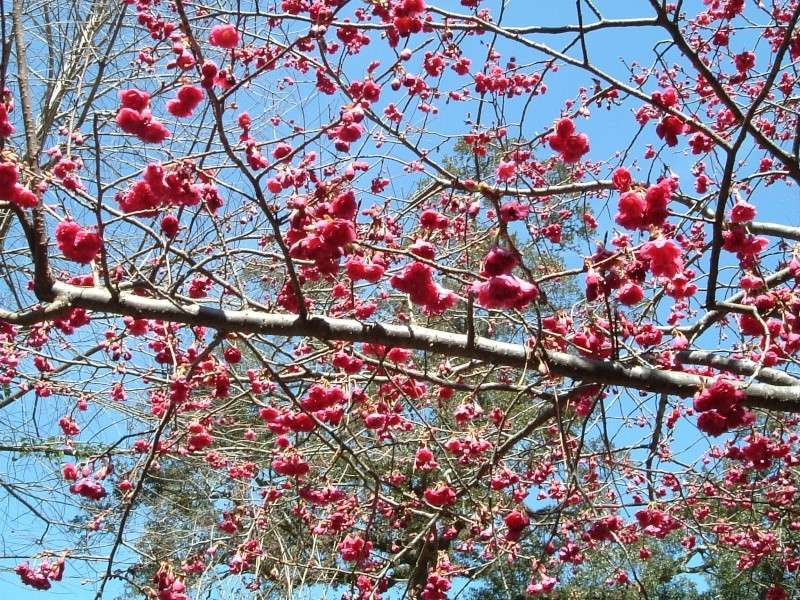 Russell Coker

Member





William, a couple more thoughts...

The Japanese are really bad about grabbing a Latin name and using it very liberally. After all, those Latin names don't mean anything to most plant/bonsai people there. Remember "Pinus pentaphylla var. Himekomatsu"? They used that one on any and every Pinus parviflora that was shown in a book or magazine for years.

I have a great little book, "Japanese Plants, Know Them and Use Them", by Betty Richards and Anne Kaneko, that has a great breakdown of the cherries with Latin and Japanese names. Interestingly, they don't show anything listed as "Kan zakura/sakura" or "Taiwan cherry".


R

Russell Coker

Member





Thanks for the reply. I do remember "Pinus pentaphylla var. Himekomatsu".
The cherries I saw at Kokufu tended to be a much lighter pink than the Prunus campanulata species. I could only find one photo online:

William Feldman

Member







I don't ever recall seeing campanulata where I lived in Kanuma, I guess we were too cold. I remember hearing names like "yama zakura", "sato zakura" and "yae zakura". "Yama zakura" was obviously the wild one that grew in the area hills and mountains. The one you pictured doesn't have anything to do with the campanulata bunch, maybe Bill V can shed some light on what those pale pink ones really are.

Russell Coker

Member





In Japan I've observed that when the Winter flowering cherries blossomed outdoors in the full sun the color was darker than when they flowered indoors in poor light.

Bill

William N. Valavanis

Member





i will now sound like an idiot, or not, because this is the only one i could think of, and i myself have a little one in training.

"http://en.wikipedia.org/wiki/Prunus_subhirtella"
- its japanase
- pink flowers
- can bloom from nov/dec upto febr/march (here in belgium), but commonly known as winterblooming when its not freezing too much.

'autumnalis' and 'autumnalis rosea' are beloved varieties.



---
Permissions in this forum:
You
cannot
reply to topics in this forum