This is a tree that is difficult to photograph. It is really quite sparse with little foliage. It was originally part of a bigger tree and was cut from the parent because it was the most interesting part and could be a tree on its own. Some people think that a bunjin should not be a deciduous tree, but I tried it anyway. The angle is not correct, the tree survived a terrible storm this year that tore it half out of its pot and sent it flying 30 feet across the yard. Next year I will repot to correct angle, tilted about 15 degrees more to the right. I hardly ever let it flower, maybe just one or two blooms. The pot is a 4 inch round, the tree is about 15 inches tall.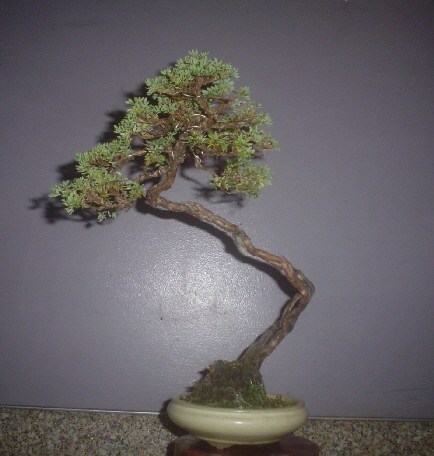 Last edited by davtree on Fri Oct 21, 2011 10:39 pm; edited 1 time in total (Reason for editing : sp)
davtree wrote:Some people think that a bunjin should not be a deciduous tree, but I tried it anyway.
So who cares? It's BEAUTUFUL. Not only did you try it, but you have succeeded very well. But I do think they are probably referring to more normal trees like beech and maple. To me it makes it all the more interesting.
I wish I could grow pontentilla.

Russell Coker

Member





Have you tried to grow it, Russell ? Is it too hot there ?
I think the summers are too long, hot and wet. I'm playing with some native woody hypericums though.

Russell Coker

Member





I like it too...good for you for thinking "outside the box". I haven't seen many potentillas in person, but from photos it looks like their best attribute is usually the trunk/bark, so why not feature it this way?
I tried a little photoshopping to remove the shadows and make the background dark...unfortunately the process affected the tree itself a little, but here it is anyway:
Chris

coh

Member





Nice Tree! You created a nice bunjin. I don't see anything wrong with it; possibly removing a few branches might appease the "bunjinophiles"
, but I think it works as it is. I like your choice of pot. I imagine a few flowers would make this tree "sparkle".
Best,
Todd

Todd Ellis

Member





Thanks for the nice comments. I wonder if the tree appears too top heavy, but it is about as light as I can make it. I would like to allow a branch to extend and flower 1 or 2 blooms as you suggest. This tree turns a beautiful yellow orange in fall, I will post a picture soon.
Hello Davtree,
I like it.
The crown is nice developed.
The trunk of the tree moves in three steps upwards with almost right angles,
but because of the fine movement the tree solves this problem on his own.
That i feel, says much about his character.
I wonder how it would be if the upper part would be cut down by half of its size,
the three parts would have nicer proportions together?
Sunip,
I agree Sunip. I think that I will try to cut the branching way back next spring to reduce the canopy. I may remove a branch or two at that time as well to really make the tree look stark and simple. Thank you for your suggestion.

Similar topics
---
Permissions in this forum:
You
cannot
reply to topics in this forum