Hi,
Well, I finally plucked up some courage to post a couple of pics, so here goes...
I got my first tree about a year ago, an S-shaped chinese elm which I still have (i.e. I didn't kill it!), and very quickly became totally absorbed and obsessed with my new found passtime. With my new found enthusiasm and a bucket load of naivety, I spent months cruising local garden centres and plant nurseries collecting what I thought was decent material to style into my own bonsai ... how little I knew!
Consequently, despite my wife thinking that I was trying to create a new botanical garden, all I ended up with is a load of material which may or may not make something like a bonsai in 5 years time! Hey ho, we all have to start somewhere and I have read with interest other posts on this site discussing these issues.
Even so, I have had a lot of fun over the last year trying out techniques on material that didn't cost me very much! I thought I'd just put up a couple things I've been working on. Here are a couple of potentillas.... the first is 13 cm from the rim of the pot and the second is just 10 cm from the pot rim.
Like I say, I'm just starting out and would appreciate any comments/suggestions, I know I have a lot to learn!
Matt
p.s. I know the pots are not ideal, but they are all I had available at the time. Most of my stuff is in terracotta pots!

matt addie

Member





Hi Matt.... welcome on board
You are now an 'official' member of the biggest and best forum on the web, lets look forward to many postings and comments from you.... hope Manchesters Show goes well at the weekend. We will have a glass of wine and burgers as a toast to you
Hi Tony,
Yep, I finally took the plunge to post
!! You gotta start sometime...!
Hope the weather stays dry/sunny for you at the weekend, just wish I could be in two places at once
. Anyway, thanks muchly for the toast, I'll be sure to return the favour when I settle down with my own bottle of vino later in the evening!
Matt

matt addie

Member





Hi Matt thats a great start whereabout in Cheshire are you. You`re more than welcome to come up to the Wirral any time. Here`s a pic of my little Potentilla. I love these trees.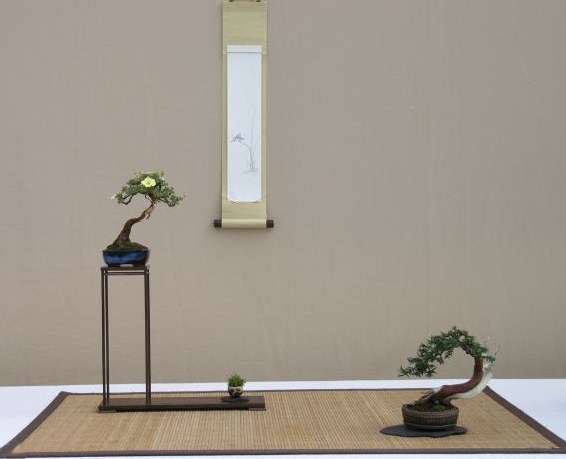 Hi Matt,

Good start with the Potentillas. They are a nice species to work on. If you have any more, they thicken quite well if planted out in the ground.

It's a shame you left it a while before posting. You missed our club event with demo's in Hawarden last weekend. Ah well there's always the next one that we'll be running at Jacksons Garden Centre, Trelawnyd, on July 25th/26th. All are welcome.

Kev Bailey

Admin





Thanks for the nice comments on my early trees.
Ian - I'm in the Macclesfield area of Cheshire - the wet bit! I'd be delighted to take you up on your offer of a trip to the Wirral sometime. Thanks for putting up the pic of your potentilla too, I think I recognise it from having seen it before? I also recognise the Yew!
Kev - whenever I first posted, I was bound to have something
! Thanks for the heads-up on the July event - I'll put it in the diary and try to get along.

matt addie

Member





Very nice.
Mattadie, have you considered removing the trunk on the left on the first one ?
Ian, I think your tree is beautiful, but I find the repetition of the same pattern between the different elements a bit boring. Coming back to the tree, the single flower gives a stunning effect, I find it very "zen"

AlainK

Member





Hi Alain

I had not considered removing the left branch on the first tree. However, having just been out to look at the tree with this in mind, I think it could work well. I'll certainly keep it in mind.

Thanks for the suggestion!

Matt

matt addie

Member






Similar topics
---
Permissions in this forum:
You
cannot
reply to topics in this forum