I've just spent a brilliant weekend with Tony, scouting new sites on Saturday and preparing his show trees for Bonsai Masters on Sunday, along with helping to design and create a couple of beautiful new accents. I've done a 'Prepping trees for show' report before, so I won't repeat myself here. Instead, here are a few pics with brief descriptions.
(Sorry about the quality of the pics, it was gloomy and wet and I was trying to take pics whilst on the move!)
First off, we prepped and repotted Tony's Blackthorn '50'. In order to do that we first had to repot the tree that was already living in this lovely pot. We had a laugh redressing the soil with new moss, it looked like Tellytubby Land at first, lol.
Next up was this gorgeous Blackthorn cascade. This is the first time it has been shown and I think it will impress. The bark is wet from cleaning in this pic, but when you see the show pics you'll be able to see the natural shari that runs the full length of the tree. Another 'to die for' pot!
While Tony was doing a bit of 'furtling', I redressed his tree through rock Yew. A combination of blackbird thievery and our reclamation of flat moss pads had left it looking rather bare.
Once the trees were done, we moved on to creating some new accents for them. First up was a suiban, finally using the amazing bronze dragonfly sculpture Tony bought a while ago. The suiban itself is the very first one by Stone Monkey. The planting is a combination of Dwarf Bullrushes, moss, a couple of little weed-things from the path, and a random stone (that proved to be the hardest component to get just right). The wings of the dragonfly are cut from single pices of metal and are so delicate that the slightest breeze sets them moving so realistically that you would swear it's just about to take off!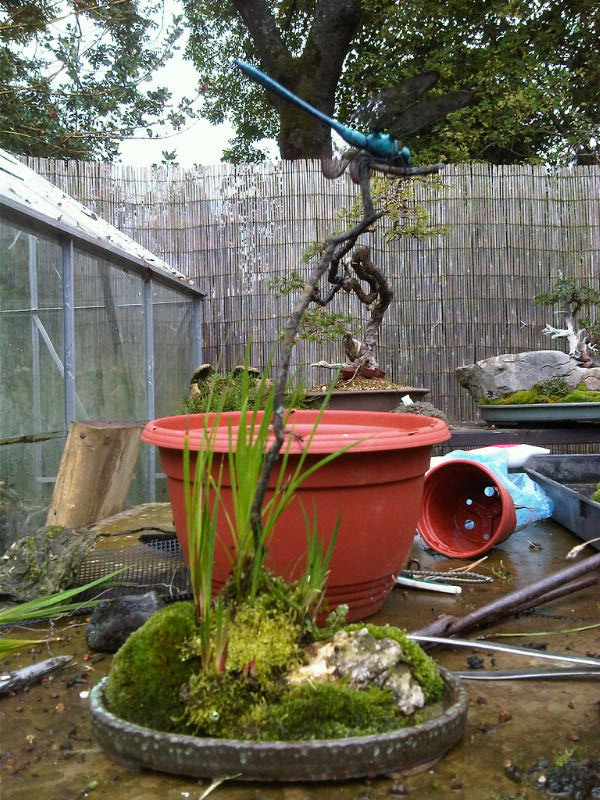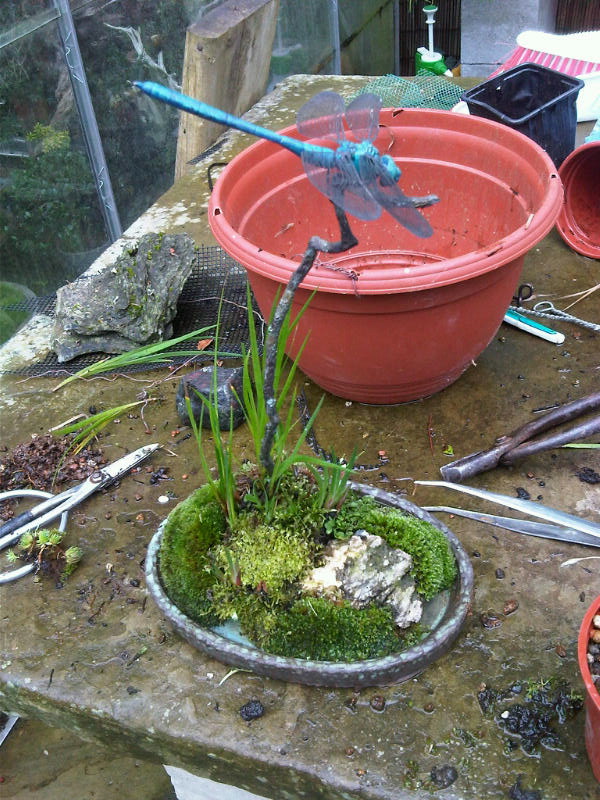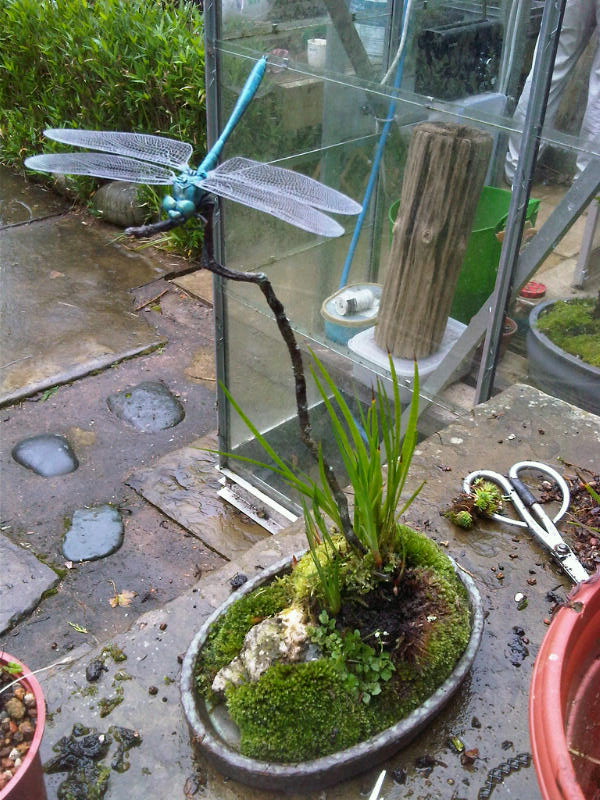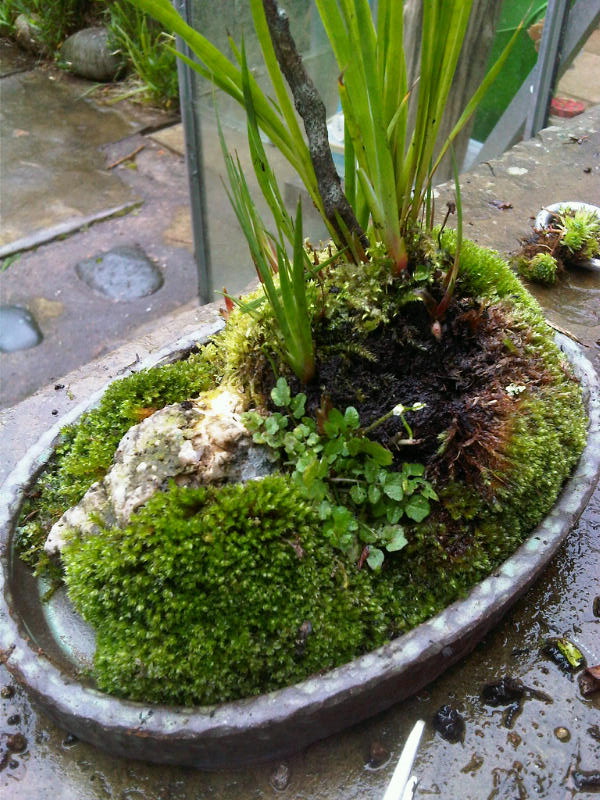 Here's the finished display image.......maybe.
Again, my apologies for the poor quality of the backgrounds etc, but I was snapping on the fly!
Next up, we wanted to create a new accent for the cascade. After much humming and hawing, this is what we came up with. The addition of the moss to this piece really made the image and story come alive. I blatantly take full credit for that little piece of inspired thinking!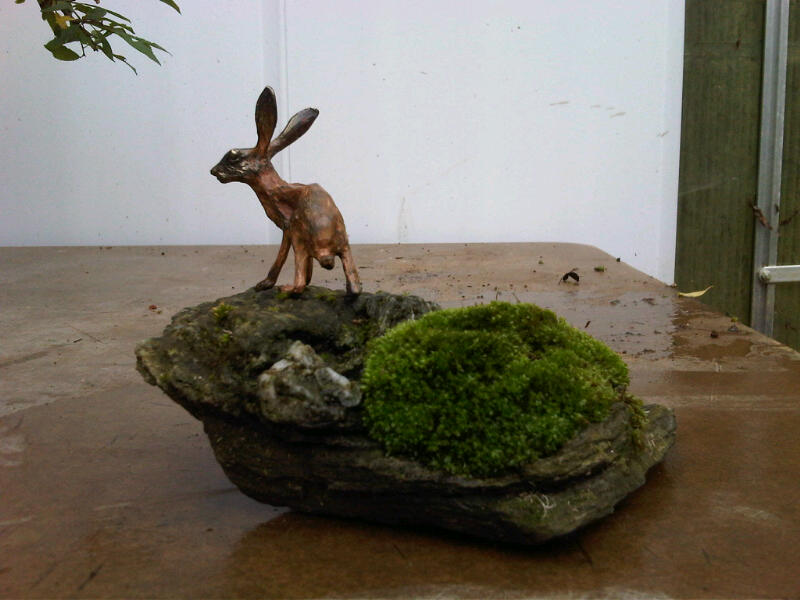 And the display image......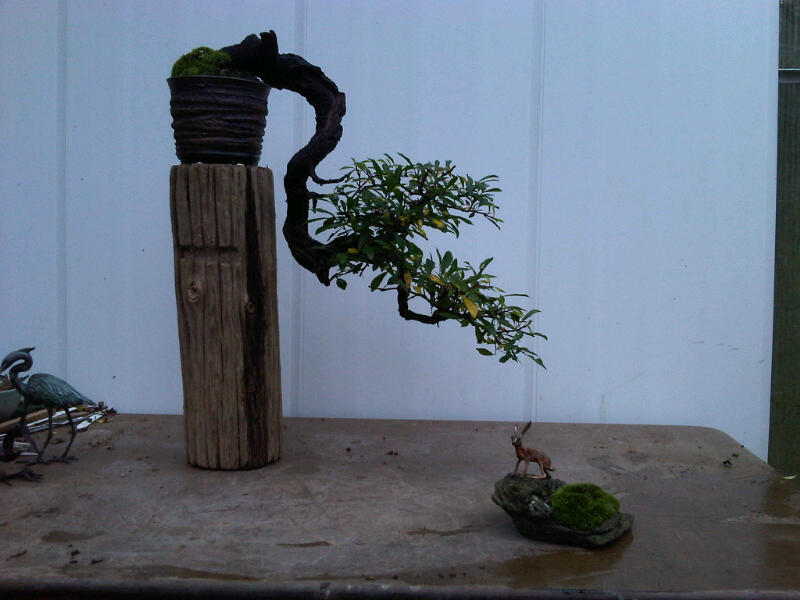 The Fat Guy is also going to France, so he was given a bit of spit and polish as well as a new accent. Well, not new exactly....more like 'different'. It was one Tony already had in his garden, but the glaze on the pots matches perfectly. Also, the tree and accent are both showing signs of Autumn colour.
Finally, we prepared the tree that Tony will be styling in his demo. Having seen it sitting in his garden for a couple of years, I can't wait to see it when it comes back.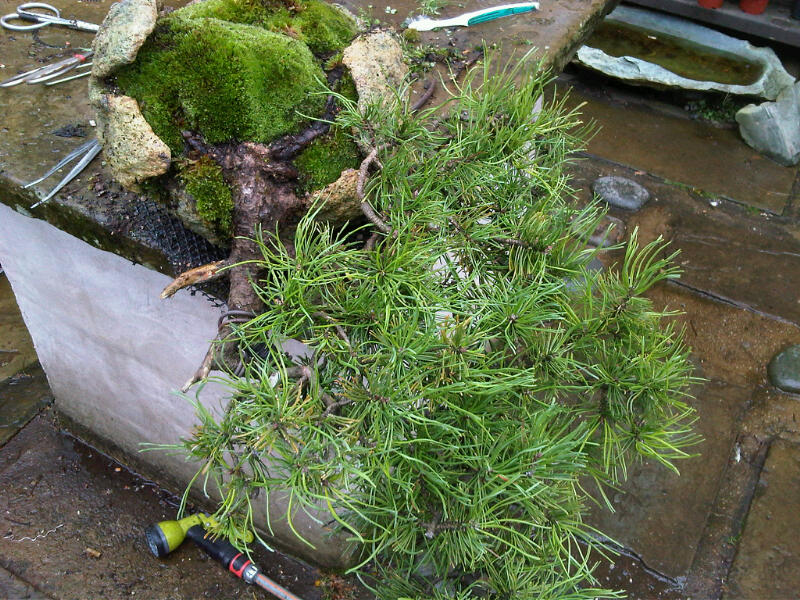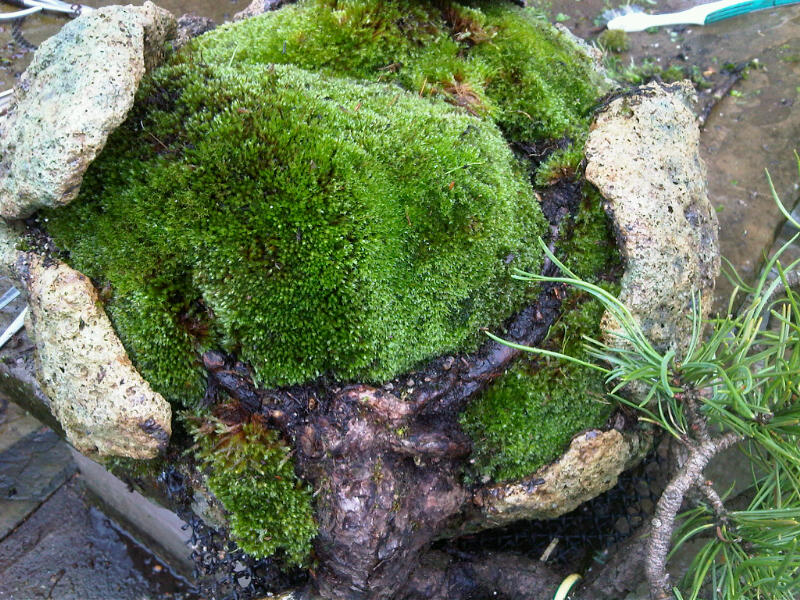 Well, there you go. Another action-packed, fun-filled weekend at Tickle Towers. It was the first proper bonsai weekend I've managed for a while and I enjoyed every minute of it. It's got me champing at the bit for Burrs. Only a matter of weeks now!!!

Harleyrider

Member





Thanks again Steve for another interesting report. This one was short and sweet this time round haha. The blackthorn 50 and dragon fly looks like a great pair Tony. And the gloomy weather realy adds to the theme. England's Winter is just around the corner. Enjoy the exhibition and i will be seeing you both at BURRS.

Mikey P

Member





You can see these trees and accent 'creations' at
http://www.festival-bonsai.com/
this weekend, The international Bonsai Exhibition will take place on October 8th and 9th, 2011, at the PARC DES EXPOSITIONS, SAULIEU (21) in the heart of Burgundy, France. I am also taking some Yamadori and rare accent plants for sale. OH... I am doing a Demo on a Mugo Pine from Pavel too
so a busy weekend for me.
Bet you didnt have to paint Tonys kitchen
Good luck at the show, Bear
Hi Steve,
Thanks for the progress report. Super trees (and Accents) as usual – the least that I would come to expect from young Tony.
Sorry I can't catch up with you guys at Burrs this year but sometime soon I promise!!

I'm really looking forward to seeing them first hand on route to t'tunnel. Thai Green Curry with Lime & Coriander rice OK for supper Tony??

Ook, Ook,
Simon


bonsai monkey

Member





very nice combinations ...lovely to see some quality natives off to the show - good luck with the mugo styling - i feel you'll create something looking very 'real' and believable for the species

best regards Marcus


marcus watts

Member





bonsai monkey wrote:I'm really looking forward to seeing them first hand on route to t'tunnel. Thai Green Curry with Lime & Coriander rice OK for supper Tony??

Ook, Ook,
Simon

You will be the first to see these Simon, oooh Thai Green Curry....mmmmum. did you get my breakfast order
expect to be with you around 5.00pm
A lot of the 'final' preparations will take place at the show as I will have driven 1067 Kilometres (667 miles) and negotiated the Paris Ring... lets just hope that there will still be some autumn leaves on the trees.
Thanks for the report. Nice to have assistants document stuff
The Yew growing from the rock has really developed into an amazing concept. It looks so much like the area Tony took me to to see the trees in the wild a few years ago. Well done. I like the little accent on it - is that heather?
The dragonfly accent is way cool and nicely presented. It's always tricky trying to display carved aerial animals (or fish- I went through a fish carving period several years ago) without out making the support too obvious.
The rabbit looking at the cascade works, seems like he's trying to figure out how to eat the foliage.

Rob Kempinski

Member





It will be great to see the "Fat Guy" again as it's been a couple of years ago, at Noelanders I think, that I saw it. Loving the little "stories" thet the Accents bring to the whole composition. Lets hope that your journey doesn't dislodge too many leaves!!
Regards,
Simon
PS
Your breakfast order has been received, just struggling with the hash browns

bonsai monkey

Member






---
Permissions in this forum:
You
cannot
reply to topics in this forum