hello ibc!
i picked up this buxus in the hill behind my house two or tree years ago
this spring...we (with some of the kodama art studio's members)made a wood work to test the new samourai machine i bought
it will surely be smaller in the future...it is too wicked and maybe too experimental also
and so ...i made this first shaping two days ago
[img]
[/img]
[img]
[/img]
[img]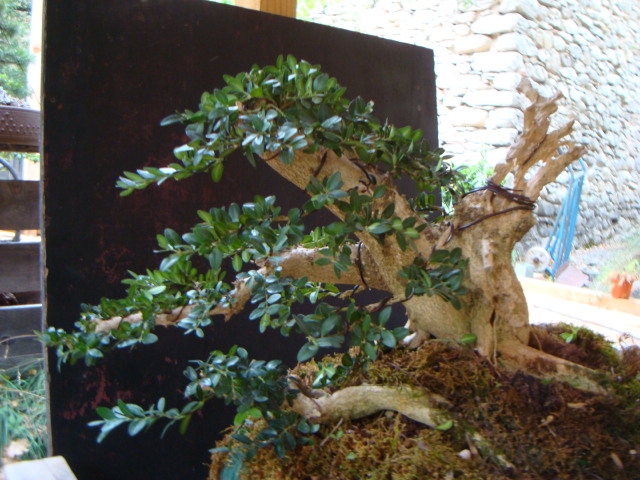 [/img]

cram

Member





Nice movement in that tree! Its a toss up for the best front IMHO.
Best,
Todd

Todd Ellis

Member





Hello Cram. Great first styling and good that you have two fronts to choose from. I've just driven back from Spain and couldn't believe the ammount of Box in the Languedoc region of the Pyrenees.

will baddeley

Member





That´s great to have such a supply behind the house!

thanks to both of you
well it is true that i don t have any preference about the face
i don t know if it comes from the tree or from me....a lot of my trees get two main faces
i will let the tree grow...and i will make with what it will want to give me
yes will...in languedoc there is very nice buxus...with incredible moves
in my place they are very less twisted....but with time i ve found some nice ones
but ...yes ..it a chance yet
will...if you come into my place one day ....we should make a deal...
english ulmus with french buxus
how does it sound for you?

cram

Member






cram

Member





thanks
should i keep this jin or transform it inna kind of hole?

cram

Member






Similar topics
---
Permissions in this forum:
You
cannot
reply to topics in this forum