Sometimes I bring in a bonsai to enjoy in my house. I always do this when we receive guests. At a
small table specially arranged for this purpose, there is room for a scroll and painting, a small bonsai or kusamono. The old small table itself fits well with its aged appearance to the mood of displaying a bonsai.
In this display the scroll painting (a printed Japanese postcard) shows the mood of late summer, with small flowers and grasses and a bird looking for food. The gently flowering Potentilla fruticosa `Kobolt` gives the display a clear (late) summer feeling together with the dark lacquered bamboo flat board.
Regards
Morten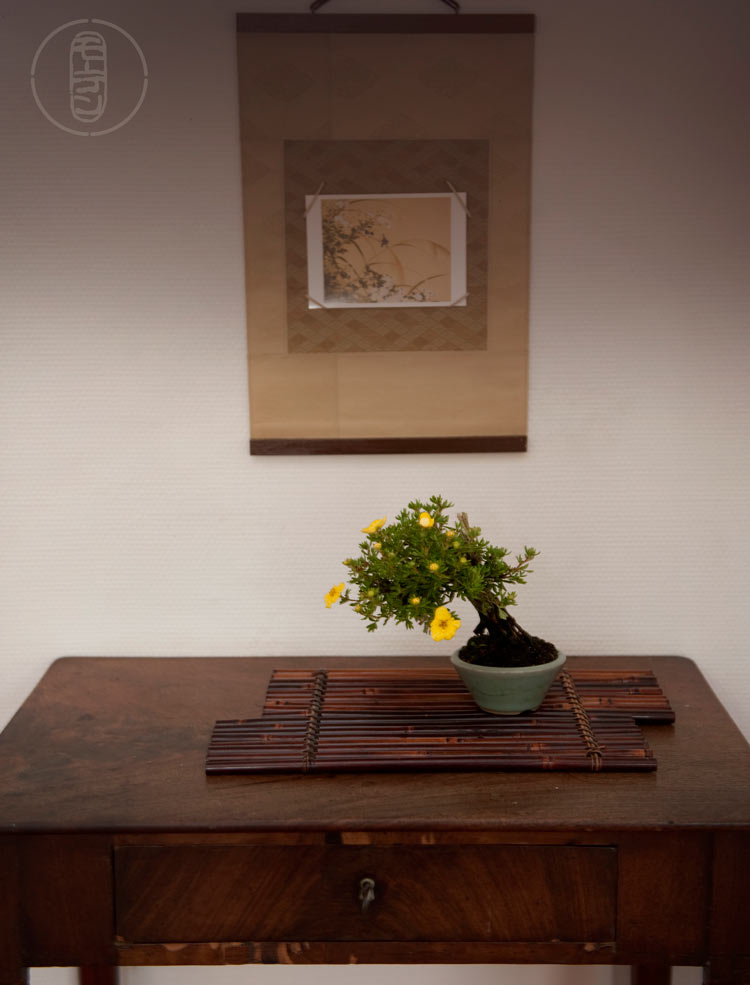 Hi Morten
A very peaceful and tranquil image,very nice
Bob
Very nice Morten.
May I ask, how long do you risk having a tree inside at once?

Storm

Member





Hi Storm

At this time of the year (from late spring to midd autumn app.) were the house is unheated I normally have a bonsai or kusamono in the house for between four to eight hours or more, depending on the circumstances. It could easily be there for two days without damaging the tree at all if it is just watered.

In winter time it is different. A bonsai brought into a heated house must first be acclimatized if it is very cold (freezing e.g.) outside. In less cold periods of winter, autumn and spring it is safe to just bring the tree inside directly without further preparation. It will be safe during the colder periods of the year to store a bonsai in the house for some hours. I have done that plenty of times. It just have to be placed away from heaters of any kind, and from direct sunlight that will heat up the tree further during its dormant period. So it is safe to display trees in the house for a few hours even in winter time if just a little care is taken, and too dramatic sudden temperature changes are avoided.

The shown display is very informal, and my way of enjoying my bonsai in daily life. It is important to do so, because there is only one or two occasions a year to display the trees publicly and I want to enjoy my trees besides the fun working with them.

Best regards
Morten

That table it's resting on IS beautiful as is your Potentilla

drgonzo

Member





Thank you Morten.
When I started with bonsai, I wanted to have all my trees inside. Then I learned I couldnt.
Now I only associate bonsai indoors with death, so I think it will take some time untill I know enough basics about them to try it.
Good it works out for you!

Storm

Member






---
Permissions in this forum:
You
cannot
reply to topics in this forum