Before the IBC was hacked and archives disrupted, a thread on Japanese classification included material from charts published by one author using two names. It might be instructive for discussion on suiseki. Note that the charts change in terms of including or excluding stones other than scenic landscape view stones as suiseki.
The "Ei chart"...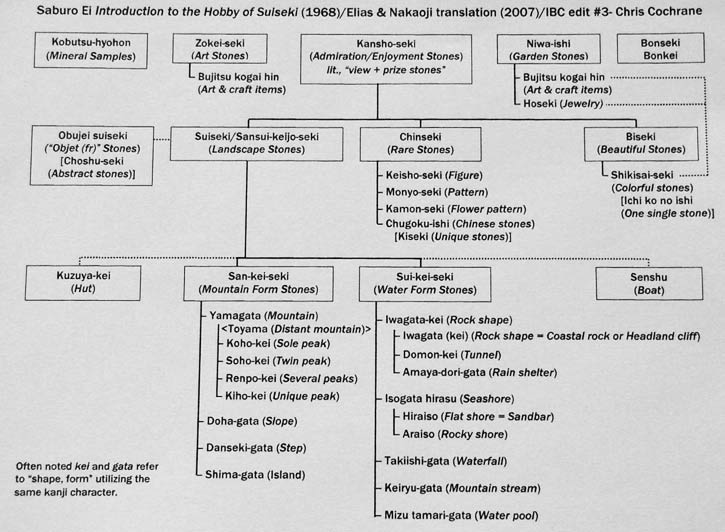 "Ei" regarding distinctions among suiseki, chiseki, biseki...
First published in the following year, the "Nagase" chart: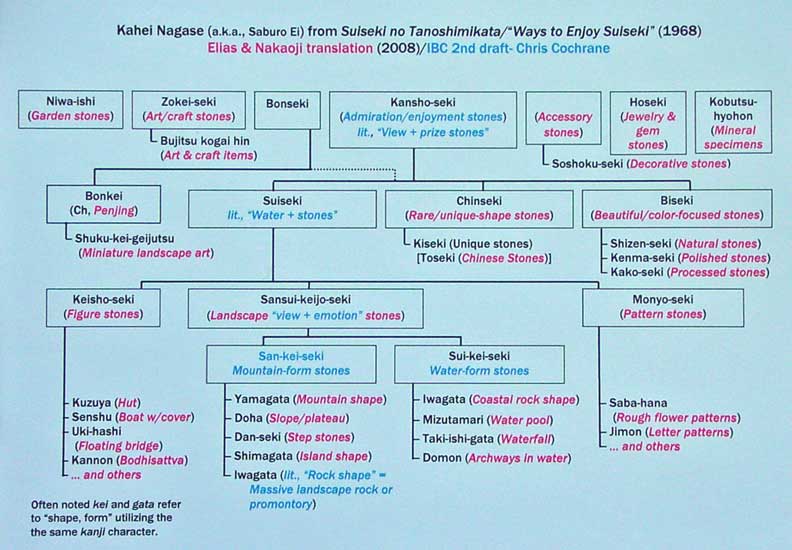 I thank Larry Ragle of
California Aiseki Kai
for sharing the earliest version of the Ei chart in English-- he has explained its history in a CAK newsletter. Thomas Elias & Hiromi Nakaoji offered both charts (and a description of stone distinctions) in issues of the California Aiseki Kai's newsletter. Thanks, Tom & Hiromi. I tried to make the material easier to follow several years ago on IBC. I am not sure the illustrations chosen are exactly the illustrations from the original thread as there were many subtly revised versions.
I have reservations about breaking words into literal character translation-- combined characters have new meaning separate from individual characters. Nonetheless, translators of artistic material occasionally share a description of Kanji characters which make-up a word. If it helps the reader gauge feeling expressed by a word, it has potential merit. Read the "literal (lit.)" translation as no more than a flavoring, which might (or might not) assist expression.
Jesus Quintas generously published versions in Spanish on IBC adding his reading. If he wishes to re-post, it could be helpful. Chiara Padrini has published a version on her website in Romanized Japanese & English-- it is close to the early version shared by Larry Ragle. The only version published on the internet with the original Kanji characters used by the author are the Thomas Elias/Hiromi Nakaoji versions in California Aiseki Kai's newsletters.
I hope these lead to discussion & understanding... and welcome suggestions for improvement.

Chris Cochrane

Member





Hi Chris

Really usefull information...many thanks.
A pitty the right side is missing a little...is it possible to send file again.

Kind regards Yvonne
None of the images is clipped on my screen, though I have a wide screen. You may need to adjust the resolution or display settings on your monitor to get them to display fully.

John Quinn

Member





Hi Yvonne... I am not sure why the images are clipped. I think you can right-click the image on a PC & choose the option "view image" in order to see each image separate from the post. If that still leaves a clipped image or you need text revealed, I'd be glad to email the text with attached ".jpg" images.

John's advice is probably correct in adjusting your screen resolution or display width. You are also right that sometimes images are posted too-wide to be viewed, but that is not the case here. I see the images on a 13" laptop. The images are at a width of 800 pixels or less. I used 800 pixel width rather than my normal 640 pixel width because reading was difficult at the lower width. These are both supported sizes.

Hope this helps. We'll figure a solution.

Is anyone else finding difficulty with the width of illustrations in this thread?

Chris Cochrane

Member





Hi John and Chris
I solved the problem, with sending the photos as E-mail to myself. Thanks for the help
Chris....I love the japanese names for the stones. But again, I run into my schism, ( of reasons decribed in other treads)....These wonderfull names should only be used for japanese stones.
To all other stones, do we have the translations, wich I find very usefull and fitting.
IF other stones should carry theese japanese names, will they have to be fitted in a japanese taste daiza.
Kind regards Yvonne
Hi Chris.
Thank you for posting the charts of Japanese classification.
I have no problems with the width of the illustration.
regards, Sunip

---
Permissions in this forum:
You
cannot
reply to topics in this forum