I acquired this ginkgo about 25 years ago. I was in Los Angeles on business, and instead of flying, I drove my pickup truck just in case I found something good.
There was a nursery near my hotel that advertised bonsai, so as soon as I was able to escape from a boring seminar, I hit the road. Almost as soon as I walked in the nursery, I spotted the ginkgo. It was a large landscape collected speciman in a large nursery pot. I forget what I paid for it, but it seemed very reasonable.
Come 1990, the GSBF convention featured the great Kimura. I landed a spot in one of his workshops. I took the ginkgo and my electric chainsaw. Fun was had.
The height including the Shigaraki pot is about 43 inches,and it is HEAVY!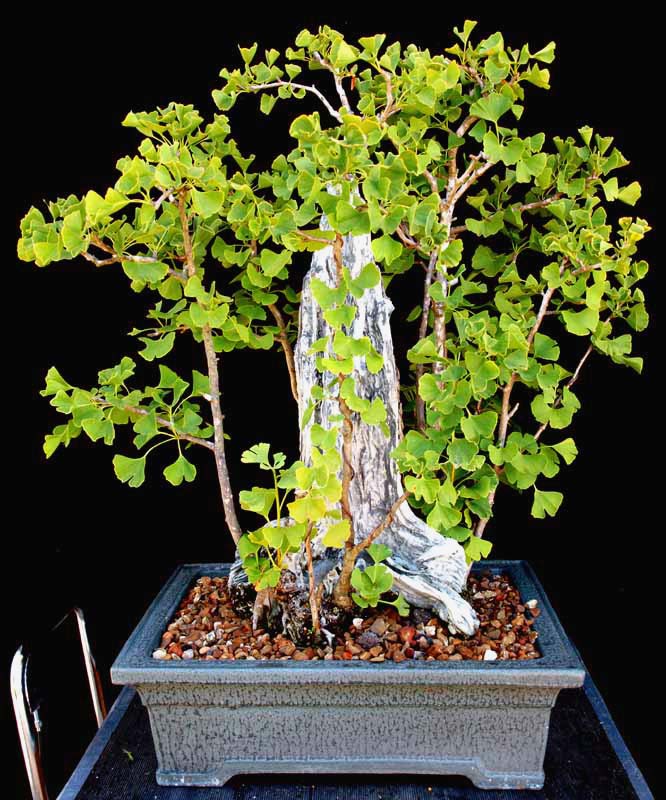 mike page

Member





I admit that the "flame-like" traditional design of ginkgo as bonsai has never been my cup of tea.
Maybe that means something for Japanese pêople, they must have some kind of references to appreciate this kind of design, but to me, a bonsai is an evocation of a tree.
there are a few old ginkgos over here, one of them near where I work, it even has some "chichis". Looking for a way to translate that for those who've never seen that kind of thing, I found this page with a photo of a 2,500 yr-old ginkgo :
http://kwanten.home.xs4all.nl/thetree.htm
It's much more the idea i could get from old trees I've seen (in europe), and has nothing to do with the sort of shrub-like specimens that seem to be "the norm", at least, the Japanese vision of the tree.
I even suspect that this shape became a style because when you prune it hard, a ginkgo will backbud profusely, even low on the trunk.
This being said, it's a matter of personal appreciation of what the image of a tree is.
but this is how I would see the future of this one, if it were mine. With branches going more upright, sthg in-between straight and broom :
But it's your tree, and there can be other opinions than mine

AlainK

Member






_________________
"Eschew obfuscation"

John Quinn

Member






---
Permissions in this forum:
You
cannot
reply to topics in this forum