......out of the nursery bag...
Hi All
I've bought more that a few new (nursery material) trees recently, so I've got all these trees waiting to be killed in the move to a development pot come spring (late August here)
I've had a hard battle to stop myself from buying a Crabapple, I want one bad but they are expensive, and the fact that they are pest-prone stopped me so far.
So yesterday I bought a Ginkgo Biloba
This is a species I've considered (and wanted) for a long time, very much an accident that I found some for sale, and it was marked with a tag marked "120".....which is the price....and that's it
Sorry for the ramble...
I've done some reading, I know what to expect, and if you'll excuse me for saying so, the fact that this tree will likely never be a bonsai in my lifetime is obvious, I just want it in a bonsai pot, healthy and come fall it must put up a show.
I saw that they tend to have a tap root when young and develop side roots later in life.
-Can I safely bare root come spring?
-how much root work will they tolerate?
I'm likely going to over-pot it anyway, but since I can't expect much development/growth I want it in a bonsai pot, therfore the roots are a concern.
The tree is about 1.5cm in diameter at the base, good movement in the trunk, low branches and buds, and a very apparent new leader.....so I've chopped it already.
Thanks
Gerhard
GerhardGerber wrote:

-Can I safely bare root come spring?
-how much root work will they tolerate?


Probably, and usually quite a bit. But many factors influence the answers to those questions.
How about a picture so we can see what you're working with?
R

Russell Coker

Member





Hi Russel
It's now officially winter here and thanks to daylight savings time I get home after dark so photos are problematic, I can make a plan this weekend.
I understand the request for a photo
, but I have to admit it's a stick, and if the last 3 yellow leaves fall off it'll be 100% stick for 3 more months.
I'm a bit stressed about my newest purchaces (Gingko, Prunus, Melaleuca) still in nursery bags, August is not that far away and I'm unsure of the strategy since I don't know what the roots are like.
It comes down to root pruning and a shallower development pot, or wire tourniquet and deeper pot.
I killed 5 x Liquidamber and 2 x Canadian plums recently getting them into development pots, The Melaleuca is heavily rootbound and the other species are new to me.
Will get back with that photo, thanks
Gerhard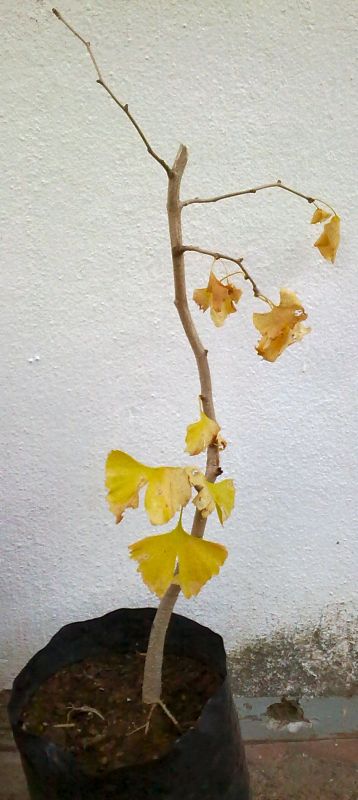 Here's the photo.
As you can (just barely) see there are some feeder roots close to the surface.
Problem is I don't know if they're still alive, I topped up the soil as soon as I got home, but these roots were sitting exposed due to rough watering at the nursery.
Not much I know, like I said I's settle for a stick in a pot with nice autum colour, not much other choice for now.
Cheers
Gerhard
How is this ginkgo going on so far?

Rui Marques

Member






Similar topics
---
Permissions in this forum:
You
cannot
reply to topics in this forum