Hi
I should have introduced myself from the start, to be honest I was unsure of how far I was willing to get into a Bonsai forum so I stayed kinda low key. I have found this forum to be amazing. I have been mutilating (styling) trees since age 13 when my mother dug up a juniper from her garden and let me play with it, I Knew nothing of bonsai but tried my best and turned it into a whirling looking thing and used nickel/lead solder for wire! (it's all I had-what did I know?) I have 60 acres of northern hardwoods to choose Yamadori from so many of my trees are natives in big wooden boxes. I also love to cruise nurseries for the hidden gem with a thick trunk and good roots. I'm from Rhode Island USA and have a small but demanding collection of about 25 trees in all states of development. Most of you have already met "Ed" the Beech. I practice Bonsai in relative anonymity and few people ever see my trees so for me joining this forum is the first time I've really been able to discuss my trees, show them, or have any sort of contact with other enthusiasts, and I have found it to be really inspirational!
Buxus in second year of training a nursery find, and a big project!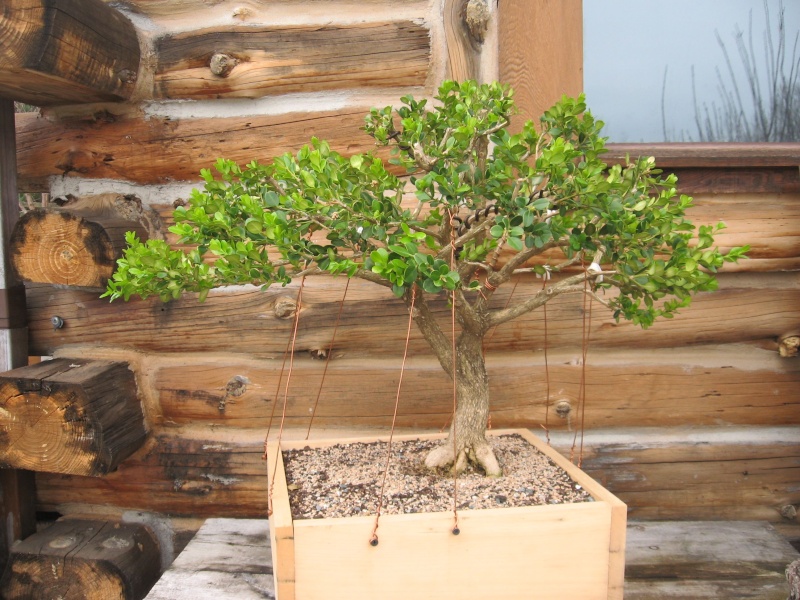 Juniper pro-nana basically a dumpster throw away Mallsai that was given to me, grown out for 6 years, then re-styled this spring (finally)
my silly little chinese elm-just going crazy after a complete re-working this spring
[url=https://servimg.com/image_preview.php?
i=26&u=16408820]
[/url]
Eunymous compactus alatus, another nursery find with a single main trunk! major branch work to be done, only 2nd year in training.
Northern lights Azalea after a major pruning back and initial shaping (this tree is 6 inches high and started off last year at 2 and 1/2 feet)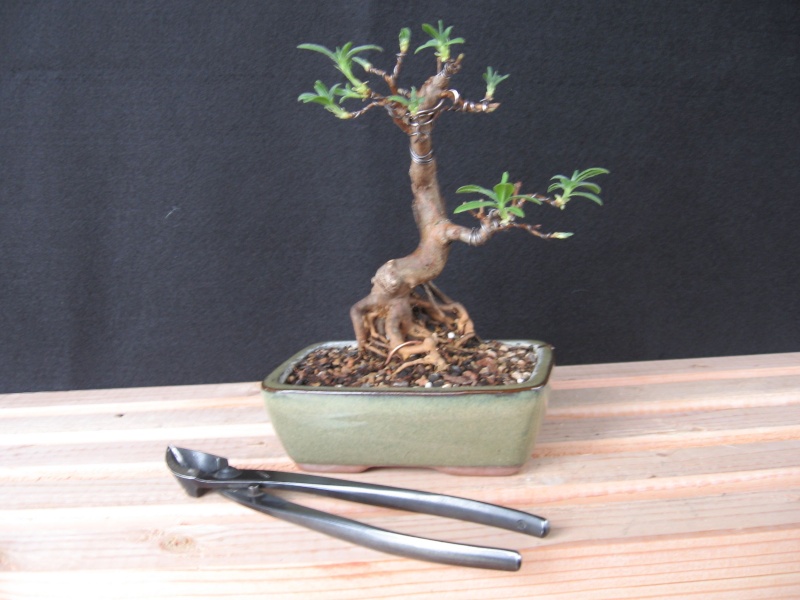 Thats enough for now, many of my other trees are in boxes! I dont want to bore you too much! Again I'm grateful to have found this community, Its a joy to have folks to talk to about bonsai!
-The Man On The Mountain
should have put this in "Bonsai" rather than "bonsai questions" wasn't paying attention and am not too good yet with internet forums! oops..you all get the idea anyway!
Thankyou and welcome to the forum. You have some very good trees in training there. The mods will move this to bonsai for you I'm sure.
Would be good to have a first name as well though.
If the mods could move this I would defintely feel a little less silly.
man on the mountain wrote:If the mods could move this I would defintely feel a little less silly.
OK. But I'll move it to "General Discussion."

JimLewis

Member






bonsaisr

Member





Thank you for moving that Jim, Will requested that I Introduce myself so I felt "yeah I probably should at this point."

Iris thank you for the recommendation.
Also think about joining a national or international society like ABS or BCI.

BCI would welcome you and you'd have the benefits of BCI membership.
With more members we can continue to help grow the art for our members and around the globe.
In the interest of full disclosure, I am the current President of BCI and we would welcome all forum members to join if you haven't already.



Rob Kempinski

Member






Similar topics
---
Permissions in this forum:
You
cannot
reply to topics in this forum