Hi Folks,
I got this Jacqueline Hillier Elm (JHE) a few years ago and repotted it (spring 2010) into a much larger pot hoping to reinvigorate it.
The basic story was that due to the original owners declining health his collection got somewhat neglected (the finer trees were looked after - by a local club -but not the majority of "in progress" ones and it appears that this tree was basically ignored.
I think that I can correct some of the many flaws but the main branches are very stiff and brittle (I might have to re-grow some main ones).
I'll try to re-shape it as much as I can (perhaps moving a few main branches over a number of years/sessions) and can see that I might be able to air-layer one of the top leaders and perhaps even the main trunk or if now the nebari need work (approach grafts with seedlings that I struck last year).
I don't think it will ever be a show stopper but I'll enjoy leaning with this tree.
I'm also not sure as to whether or not it is a JHE as the dried leaves seem a little different shape (not as pointed) than the leaves on photo examples I found on the web (an interesting story of how this Elm came about).
Any thoughts or comments with a future design would be much appreciated.
Cheers
Graham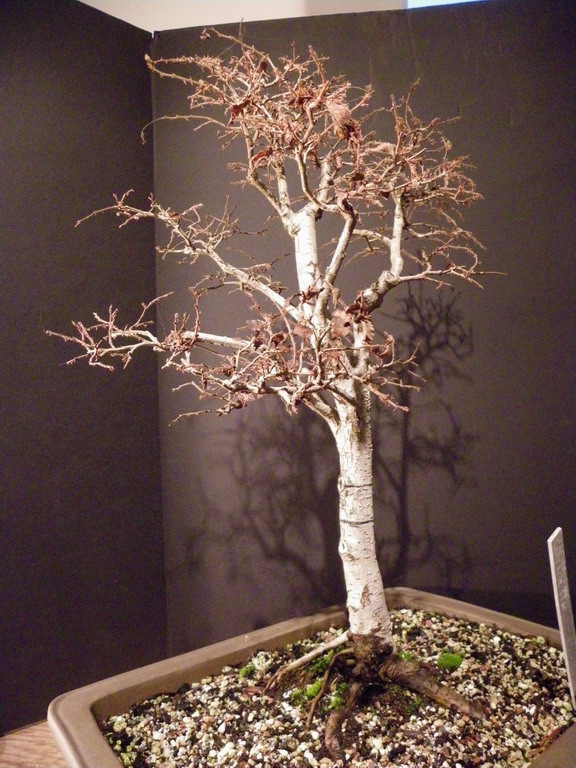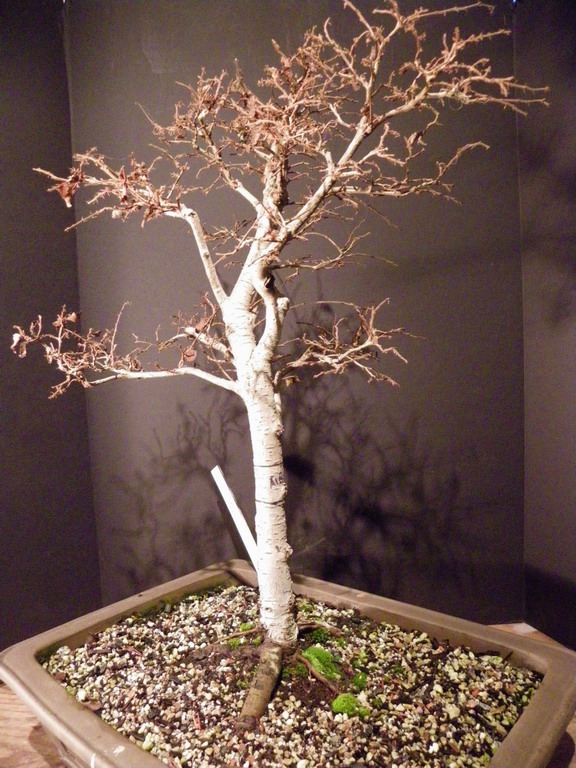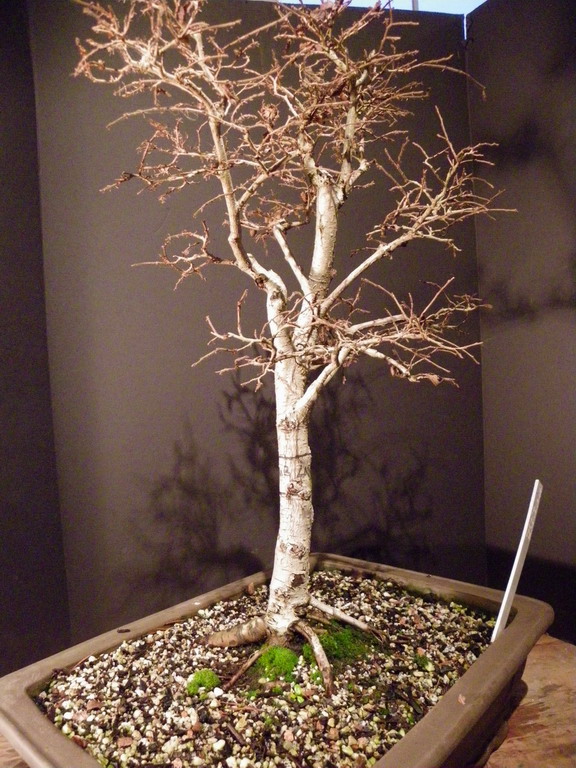 gman

Member





A layer an inch or two below that sudden bend about 2/3 up the tree might give you an interesting multi-trunk tree to work with.

The bottom 2/3 has LOTS of issues, from the too-fat roots, to the taperless, straight trunk. I'd suggest you chop this close to the base, and use the trunk to make 3-4 cuttings. It's possible that something then might sprout from the base.

But I'd work on the top 1/3 now.
_________________
Jim Lewis - lewisjk@windstream.net - Western NC - People, when Columbus discovered this country, it was plumb full of nuts and berries. And I'm right here to tell you the berries are just about all gone. Uncle Dave Macon, old-time country musician

JimLewis

Member





Thanks Jim,
As I said I know that it has a lot of flaws but I'll try air-layering the top this spring and then the bottom in 2012.
Here it is after some work…for such small branches they are really stiff.
Cheers G.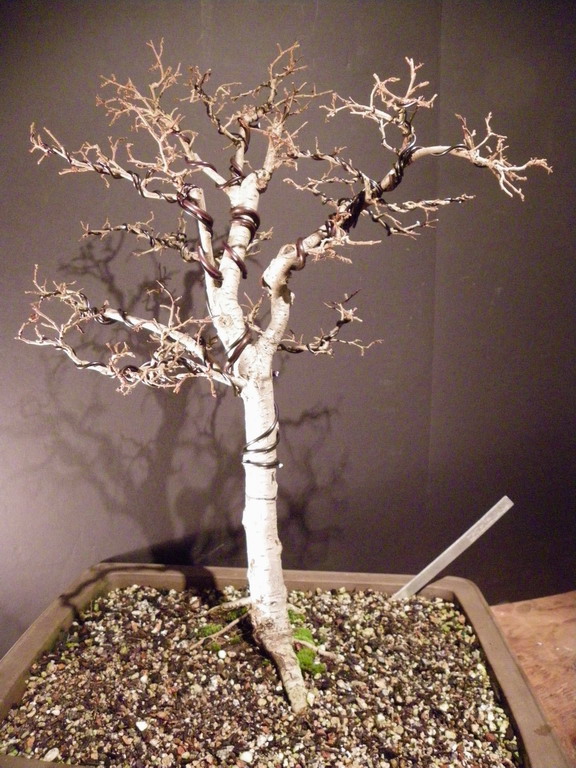 gman

Member





How do you plan on fixing the nebari?
Ryan wrote:How do you plan on fixing the nebari?
Hey Ryan,
If I air-layer it (where the line is on the trunk) then I hope to get a better nebari. Then with the lower section maybe put it in the ground (ground layering more roots and turn it into a broom style. Or if I only take off the top section off I'll try approach and/or through grafts with seedlings struck last year and then.......time lots of time

gman

Member





[img]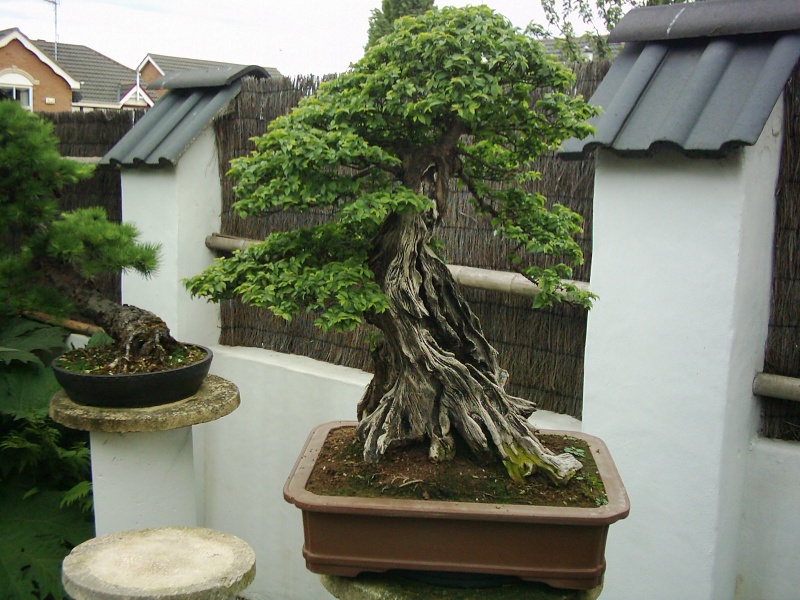 [/img] hi, this might give you some inspiration , this is a JHE that i did many years ago. the tree came from a local nursery when i lived in england , it was growing in a display bed in the car park the owner told me it had been in the bed for 15 yrs , he knew this because it was planted when he first opened and he,d been there exaclty 15 yrs. he sold it to me because it had got too big and he had to keep cutting it back because customers could,nt get to the cars. when i dug it out it was 20 foot high. the point to the story is they grow quick and fatten up well, so take it out of its pot put it in the ground and leave it a few years then all the little problems < nebari etc> will sort themselves out .this tree was carved by kevin willson it was the first workshop i had with him and he changed my life, the detailed carving and styling was done by myself later and the tree won a major award in the gingko 3 yrs after being dug up . regards john

---
Permissions in this forum:
You
cannot
reply to topics in this forum