Page 2 of 2 •
1, 2

Thanks a lot for the inspiring suggestions and virtuals.
It`s interessting to see that rather everybody sees something different in this tree. From quite classic solutions as from Hans van Meer or Pavel Slovák with a trangular larch like shape to a very elegant looking semi cascade as from dorothy, to wild solutions with a strong character as from Andrija, to my own solution with a very melancholic nearly depressive impression. Todd ellis statement of a haunting-type tree for a graveyard setting is very appropiate i think.

Karl, your virtual that really looks good has one problem, the trunk comes frontal to the viewer.

PS: I never saw any disrespect for the tree, because of "piss arch". I simply had to laugh as I read this...funny:D. And I have a name for the tree.

Regards,
Marco
MerschelMarco wrote:Thanks a lot for the inspiring suggestions and virtuals.
It`s interessting to see that rather everybody sees something different in this tree. From quite classic solutions as from Hans van Meer or Pavel Slovák with a trangular larch like shape to a very elegant looking semi cascade as from dorothy, to wild solutions with a strong character as from Andrija, to my own solution with a very melancholic nearly depressive impression. Todd ellis statement of a haunting-type tree for a graveyard setting is very appropiate i think.

Karl, your virtual that really looks good has one problem, the trunk comes frontal to the viewer.

PS: I never saw any disrespect for the tree, because of "piss arch". I simply had to laugh as I read this...funny:D. And I have a name for the tree.

Regards,
Marco
Hi Marco,
I am glad you never saw any disrespect for you or your tree! I know for sure that Tony never meant it in a bad way, because "piss arch" realy is/was widely used among the bonsai enthusiasts from yesteryear. Especially among the group, were Tony and I belonged to, that did not care to much for all those formal traditional Japanese terms that no one could or care to remember!
We just loved to make fun out off everything and we gave nicknames to everything and anybody, some of them like "Piss arch" were realy funny and appropriate in the same time. Bonsai in those days was a bid less seriously than it is now. But we had lots of fun and nobody got hurt! And our work never suffered because of it!
Marco you got a lot of ideas from a lot of great artists, so that only means that your uniquely shaped Larch is very interesting and tickles the fantasy of all of use.
My quick virtual was nothing more than what you had all ready don, I only removed that long cascading branch and made the branches a little longer on top! It was just to give you a idea of how powerful the tree could look as a shorter version! For me to make a more realistic virtual, better close up pictures would be useful.
What bothers me a bid in your design, is that there are to much branches on your long cascading branch. Especially when your Larch will have all its foliage on, the tree will look out off balance, because it will be pulled over to the left by the weight of all that foliage! Something like Dorothy made would stabilize your tree and would tell a more believable story!
But that is all up to you! Remember it is your tree and if you feel that you like your future bonsai with that long cascading branch, you should work to find the best solution to accomplish that design. Thake your time, you can always cut things off, putting them back on is a bigger problem! And if you are stuck, their are more than enough folks around here to help you with fresh ideas or a other approach! We will have you pissing straight in no time!
Have fun with your tree and keep us posted!
Cheers,
Hans van Meer.

Hans van Meer.

Member





A new round.
The branches of the reversal point of the trunk were pushed down and lightened to acentuate the trunk. Also I have tried to defuse the "Piss Arch" a little bit. Maybe "octopus" appropriate now.
Regards,
Marco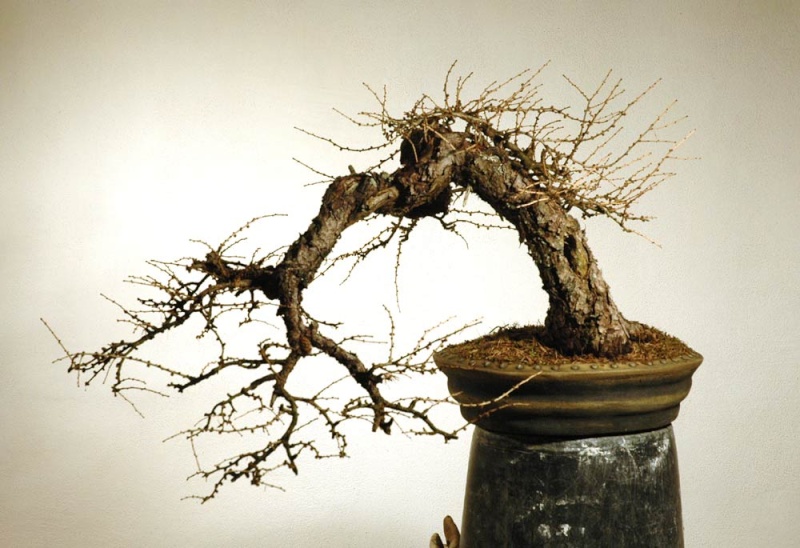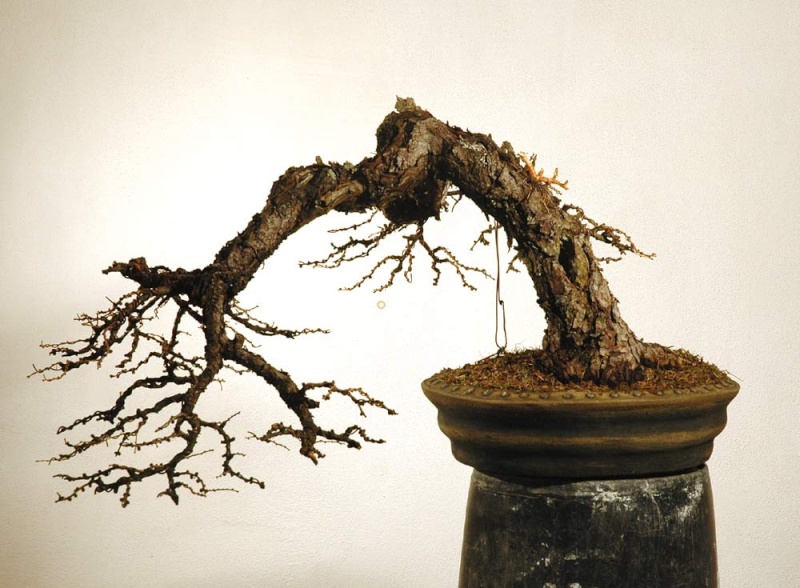 Beautiful! Of the virts, I liked Karl's the most. But I'm really glad you didn't change it too much.

R

Russell Coker

Member






-Daniel-

Member





Page 2 of 2 •
1, 2

---
Permissions in this forum:
You
cannot
reply to topics in this forum