Hello all,
I'm new to the forum, I discovered while researching information about my bonsais, by far this seems to be the most active forum I've seen about bonsais
I have always love bonsai's but it was until a few weeks ago that I decided to jump into it and give it a try.
This is the second bonsai I owned, the first one its a nice looking Juniper (will post pics later)
This one was sold to me as a Japanese Maple (can any of you confirm this for me please and will be possible to estimate the age of it just by looking to the pictures?)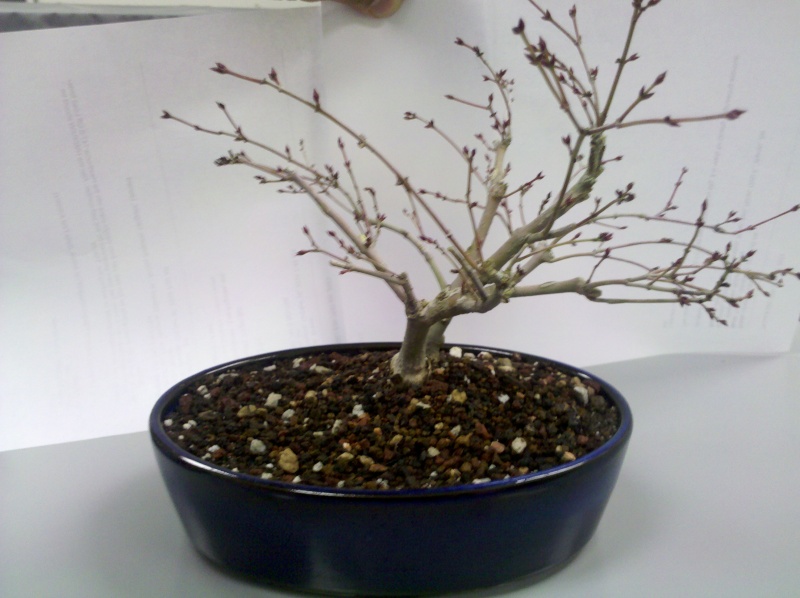 There is a few things that I'm concerned, mostly that I probably did wrong due to my lack of information about this specimen.
First I'm in Southern California (early fall on this side of the world) , I just re-potted it yesterday, I washed off all the nursery soil and added new bonsai mix, but in my search for information I've found that the best time for it to be re-potted its between late fall~early spring, does this mean that my tree is in danger? Is there anything that I should do to try to protect it for what I have done to it?
Second, should I have cut the roots back a little, there were hundreds of small tiny hair roots, (I've read those are the most important roots) so I've tried to keep them moist while I was re-potting to avoid any damage to them, but there was one thick root (which to me seems to be the original cutting of this tree) should I just leave it alone?
I will appreciate any information that anyone could provide me about my bonsai, care, food, fertilizer, pruning, etc..
I know there is lot of information online but I will like to learn by your personal experiences if possible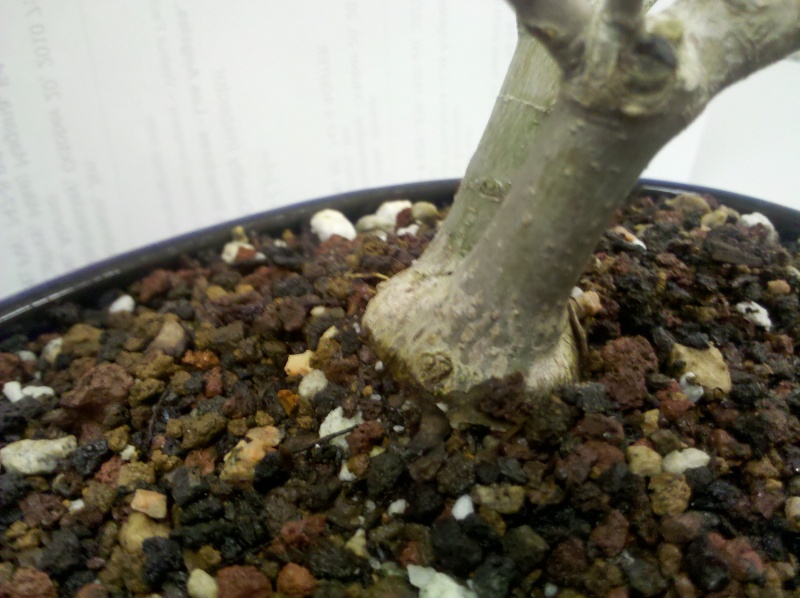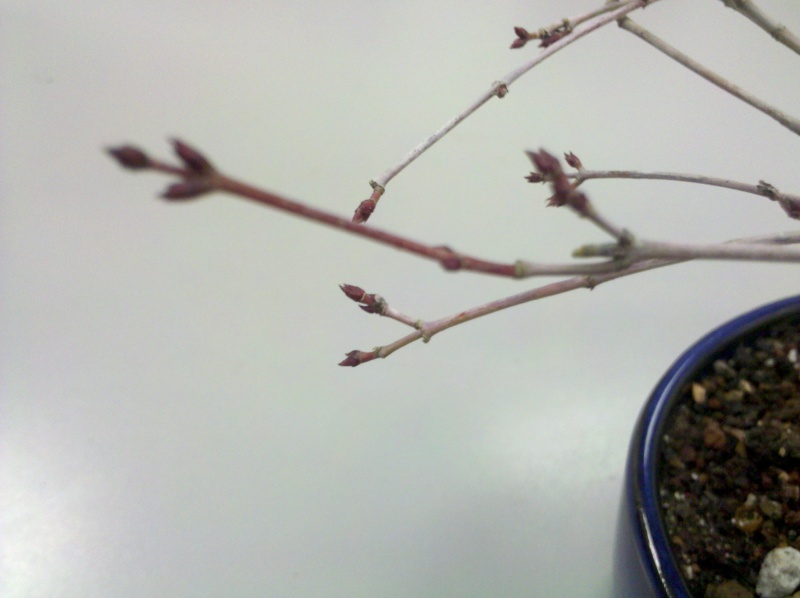 Thanks is advance.
Alonso

alonsou

Member





It is hard/impossible to determine the species of a tree when it has no leaves. The buds could be maple and so could the trunk. Your tree is probably grown from a cutting (maybe seed) and is only a few years old at the most. The repotting may have been a mistake, but it is too late now. Do not overwater, use a meat skewer inserted about one inch deep and 1/2 way from the trunk to the edge of the pot. If the skewer is wet, don't water. Test the skewer against your cheek to detect moisture. You have a lot of small branches with new buds. You might think about removing some of the branches and shortening others, this will help the tree recover from the repotting, especially if you took off many roots. It will also begin shaping the tree. Where you have two small branches from the same area remove the largest. Shorten the branches to two buds each. This is an outdoor tree.
Southern California is a big area, but there are a number of Bonsai Clubs, consider joining one. I will visit the net and send you a list of clubs.

Billy M. Rhodes

Member






Billy M. Rhodes

Member





It appears to be a maple, but without seeing leaves we can't say definately that it is o is not a Japanese maple. I'd guess that it is.

If you cut no roots and simply repotted, you are probably OK. Be very careful how you water, though. The tree should be kept just damp, not wet or soggy. Trees with no leaves need very little water, but they don't want to be bone dry, either.

It should be kept outdoors at all times. Joining a nearby bonsai club is a very good idea.

JimLewis

Member





Jim/Billy,

Thanks for your reply,

I didn't cut any roots, I just tried to keep the tiny hair roots wet while I was re-potting, I'll try to do everything that you guys recommended to save this bonsai.

One more question, if I want to grow Japanese maples from cutting, how long it will take for them to have this size (this one its about 10-12 inches tall) a couple of years? or maybe more?

alonsou

Member





How fast a cutting gets some thickness depends upon the cutting you start with. Small cuttings are easier to root but will take longer to get some size. Larger cutting will not be as easy to root (the guys that do this for a living have tricks such as rooting compounds and mist systems).
Where did you get the tree? Can you ask the seller?
The measure of age is more the thickness of the trunk than the height of the tree.

Billy M. Rhodes

Member






Similar topics
---
Permissions in this forum:
You
cannot
reply to topics in this forum