Hello all - I am new to bonsai and this forum and have found a wealth of information here already. So I thought I would get your opinions on how to move forward with two trees. These are not my only trees but both the species are new to me.
Tree 1 - Just bought this willow leaf fig (listed as Ficus Salicaria) from a nursery. It doesn't have any strong branches but lots of foliage. Also I would like to develop the trunk and nebari. How best to do accomplish all of this ( I know it doesn't happen over night)? I bought a bonsai pot (pictured) but after reading a bit more am unsure if it would be a good move to put it in this type of pot.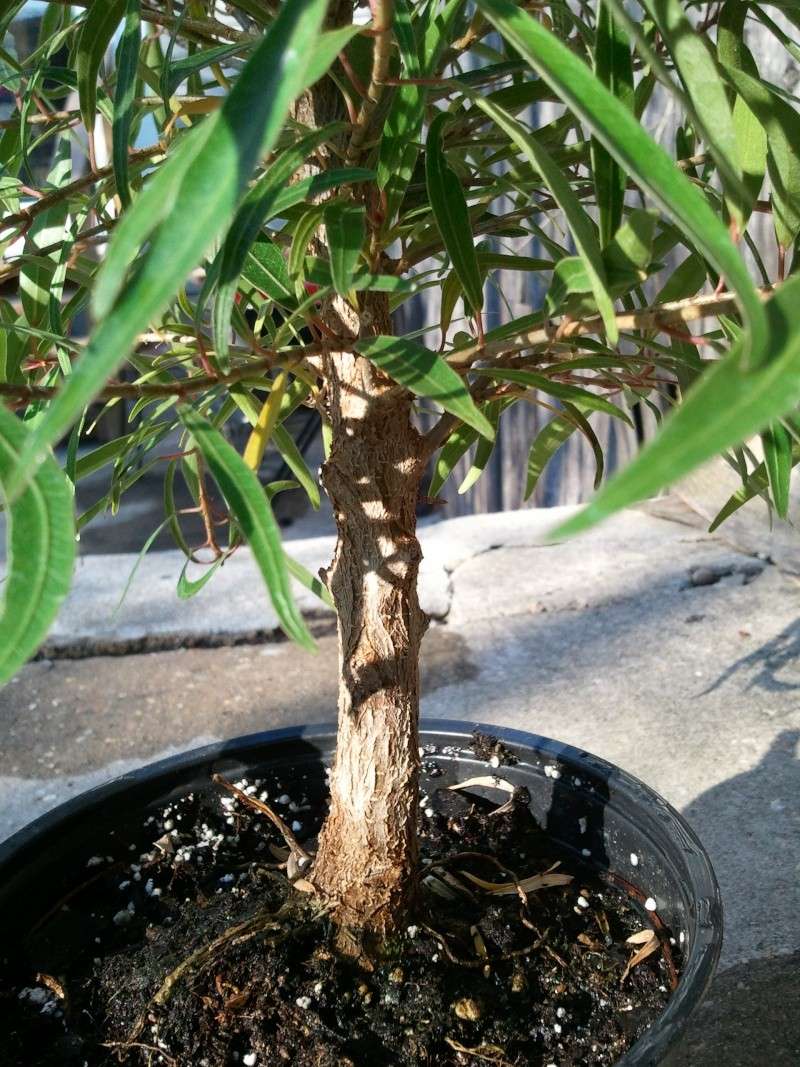 Tree 2 - I've inherited a maple seedling (possibly red maple) from a roommate who left. I'm not sure how she grew it but it is about 3 feet tall. My question is how to best go about growing this into a bonsai (again I know this will take years but I'd really like to develop a tree from this stage). Do you you recommend chopping it right above the V in the trunk? If so could I use this cutting to propagate a new tree? Any other suggestions and insight are greatly appreciated.
The quickest way to improve the maple would be to plant it into the ground for a couple of years, chop it down, grow it out again, then chop it down. That would create taper and movement in the trunk and then you could tackle putting it into a pot.
Ficus salicaria is a good bonsai material. I would check to make sure that not more than two branches are coming out from any one spot on the tree as it will make a bulge and screw up the taper. I would also repot it into some well draining bonsai soil, as it appears it's in regular potting soil. The bonsai soil will help it develop a better root system. The potting soil will hold too much moisture and not supply as much air to the roots, making it more difficult to water properly. Also something to note is that your ficus is a very quick growing material, so when wiring you have to watch out for the wire biting into the branches.
Here are a bunch of articles written by Harry Harrington that you can read to really get an idea of the basic bonsai care and technique:
http://www.bonsai4me.com/bonsai_basics.html

KennedyMarx

Member






Xavier de Lapeyre

Member





Good advice on the maple.

On the ficus . . . whatever you do it should be done later -- when the outdoor temperatures are much higher.

The tree and its trunk are pretty thin and straight now. Before repotting, I'd remove about half the leaves (pluck them off) so you can see the structure of the tree, then carefully select the branches you want to keep, and remove the others. Then you could wire the trunk and branches -- watching the wire carefully as noted.

Let it be until mid summer, then repot into bonsai soil. Your pot will be fine eventually, but if you want the tree to grow a bigger trunk (for example) you will want a pot a bit (1/2 again) larger. You can get cheap plastic bonsai pots on line for a few dollars. The Natn'l Arboretum store may even sell them.
_________________
Jim Lewis - lewisjk@windstream.net - Western NC - People, when Columbus discovered this country, it was plumb full of nuts and berries. And I'm right here to tell you the berries are just about all gone. Uncle Dave Macon, old-time country musician

JimLewis

Member





Thank you all for the advice. The websites were very informative. I will plan on planting the maple in the ground and am encouraged by the progression photos on the nebaribonsai page. One question regarding this...does it matter when I plant it in the ground? I'm in DC and weather is currently beginning to warm up (40 and 50s in the day). Also I'm not exactly sure how the chop back works, but I guess I'll tackle that a few years down the road.

I'm excited to work on the ficus but will try to hold off until the summer rolls around.

Thanks again everyone!


Start growing in the ground for 5 to 10 years a couple of trunks of species you prefer.
ferndinho wrote:
One question regarding this...does it matter when I plant it in the ground? I'm in DC and weather is currently beginning to warm up (40 and 50s in the day).

Hello,
For planting the maple outside in the ground it is maybe best to wait till buds are moving,
because at that time you can do some rootwork if necessary, for a good nerbari in the future you have then a good oppertunity.
Wiring of the trunk to get some nice movement is now possible or at the time of planting
but be sure to take the wire of as soon as it bits in the new tissue.
Good luck.
Sunip
Hey Ferndinho,

One piece of advice I've not seen here is that planting a Ficus in a pot with concave sides can be a recipe for a broken pot. Ficus have VERY powerful roots and once they grow into a pot like that, getting them out can be almost impossible. You may want to consider a pot with a different shape. Of course, willow leaf ficus may be different to the varieties I use here in SA, but you've been warned mate! :-)

Cheers,

Andrew
Last edited by Andrew Legg on Thu Feb 28, 2013 8:10 am; edited 1 time in total (Reason for editing : spelling)

---
Permissions in this forum:
You
cannot
reply to topics in this forum