I'd like to share just a general note with the forum regarding this book. Also a thank you to Bill Valavanis for offering this on his website. I was fortunate in that my wife purchased this book as a birthday present for me this year. Yes, I am a lucky guy to have such a wife!!
I am very pleased with the materials and overall quality of the book. The photography is exceptional. The book is formatted into chapters based upon the seasons. For me, this helps to convey some sense/sensitivity of the display intended by Mr. Kobayashi. In this way it is a great learning tool for those that take the time to thoroughly take in the many pages of wonderful compositions (stands, stones, pots, trees, scrolls & other items). So, while it may
seem
expensive to some, it easily brings its full value as a reference and as casual reading for enjoyment.
Regards,
Neil
Heres a pic of the cover and a link.
http://www.internationalbonsai.com/page/1442819
I have that book. Excellent purchase, although it is not cheap.

Andrija Zokic

Member





didn't saw so many books about bonsai, but that one gave me a lot!!!

Matija Triglav Tijek

Member





Neil,

Indeed, this is a good book. It has many trees, including some belonging to clients of MR. Kobayashi. On another note, two (2) more volumes will be published, one (1) covering antique pots and another for suiseki.

Kind regards,

Jose Luis



jrodriguez

Member





Yes, the book is excellent and inspirational for those who appreciate classical bonsai and distinctive bonsai display.
Mr. Kobayashi printed 5,000 copies and is nearly out of them! In November 2008 my tour concluded with a special two day bonsai seminar with Mr. Kobayashi in his garden museum. During our lunch his books were delivered and my group helped unload the truck full of books. I say my tour because I was not allowed to lift because of my healing foot. The other foot is now broken since May....
Here is a photo of the cheap imported migrant workers unloading the books. Julian Adams (Adams Bonsai and pine authority) can be seen in the center with the hat.
I'm looking forward to the next two volumes of the set. Volume 2 on suiseki is nearly completed.
Bill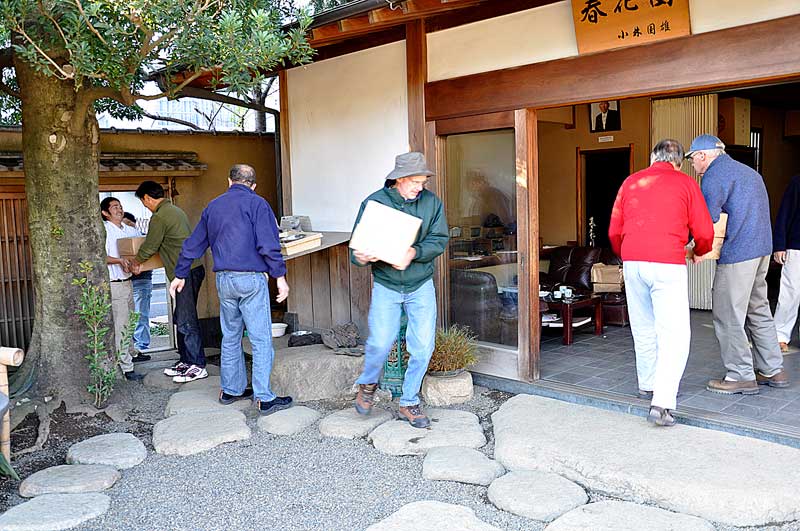 Last edited by Kev Bailey on Wed Aug 11, 2010 8:20 pm; edited 1 time in total (Reason for editing : Swapped thumbnail for full sized image)

William N. Valavanis

Member





Thats great to hear that two more volumes will be published. Especially that they will focus on pots and suiseki. There is so much more to the first book than just the trees.

Bill,
Will your tour this coming year also spend that much time with Mr. Kobayashi? I'd intended to go 2 years ago but was unable to do so. I am planning on making the trip with your group in 2011. Hopefully your foot will be in good shape.

Thanks again,
Neil

---
Permissions in this forum:
You
cannot
reply to topics in this forum