Yesterday I collect my first tree.
Place where I found it is going to be construction site so I actually rescued the poor little tree.
There is also apple trees (Malus Domestica) and some pines (Pinus Sylvesris) as well.
This one was the easiest to collect as it was growing on top of the smooth bed rock on very shallow ground.
When I tried to pull it little, just to know how hard it would be to dig up, it moved few centimetres.
So I knew it was going to be relatively easy to collect.
When I got it off the ground I found out that the tap root was growing roughly 90 degree angle from the trunk.
Got a lot of the surface roots and soil whit it.
I planted it in a ~12l air pot filled 1/2 whit expanded clay pebbles and spaghnum moss.
Filled rest of it whit mixture of coco, perlite and surface soil.
Topped it up whit more moss.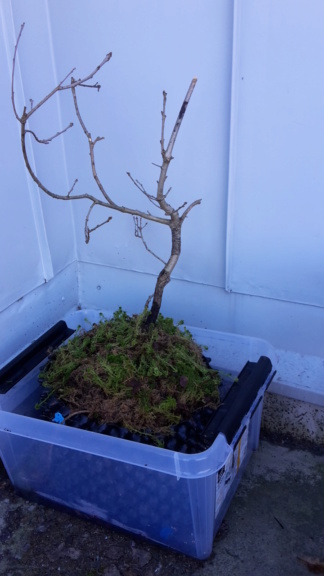 Pictures are not so good and the tree is not big or pretty, but it is anyway my first collected wild tree.
-Gorilla
Last edited by Gorilla on Tue May 05, 2020 12:22 pm; edited 1 time in total
MaryBracken likes this post
Has it survived and put on new leaves? Pics?
Buds are swelling but no leaves yet.
Spring came early this year, but oaks grow at the edge of their natural range so they are still dormant here.
That long straight upper branch does not fit in with the sinuous lines of the rest of the tree.

If you want such a long thin tree you may be looking at some kind of a literati style?

If that's the case then you need to get some thick wire and put a load of bends into that top branch now. Oaks are remarkably supple and can tolerte significant bending. They take a while to set, and the wire bites in easily. You therefore have to re-wire them if you see the wire biting in before the brabch sets. Wiring scars on oaks take ages to heal.
I agree with you Brendan.
It doesn't look good as it is, but I want to see how much I can bend it.
I'm not sure about the style or design yet.
It is good to know that scars heal slowly so I try to avoid making them.
I wait until I see it has started to grow and is in full leaf. Then I try to remove some of the top soil to see where the roots start. There is burl below the surface that I want to expose before any decisions about the style or design.
Today I cutted off the taproot.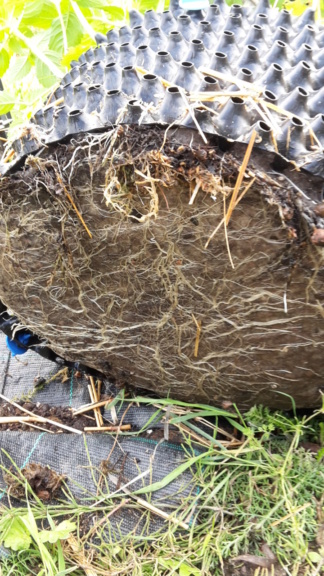 There was a lot of new white root hairs.
I digged out soil from one side just enough to get to the taproot and cut it off.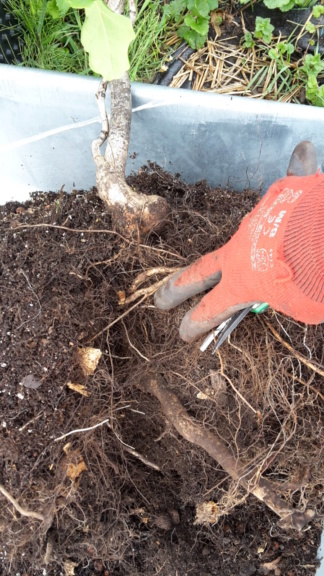 I planted the tree back to the air pot and digged it few cm in to the ground and mulch the pot with thick layer of straw. I did this because I have a vacation and I'm not going to be around to water the tree next week.
14 days after I cutted the taproot off.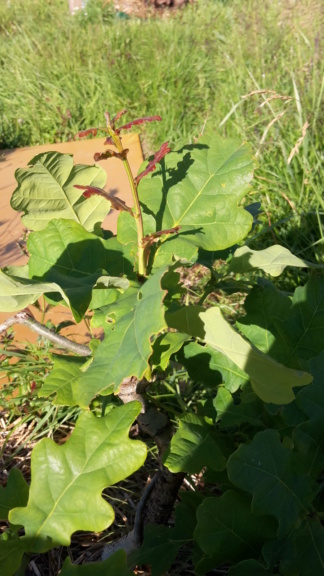 The highest branch have died and the new apex leader have grown with amazing speed.
I found out that there are some small roots around the burl and one that has grown across it is fused to it.
So I'm thinking that I could approach craft some more of the roots in suitable positions around it and make a nice nebari one day.

Similar topics
---
Permissions in this forum:
You
cannot
reply to topics in this forum