I've have a winged elm I collected 40 years ago. It has done well. A few years ago I air layered the top and side branches as they all got too long...
I have issues I noticed a few days ago;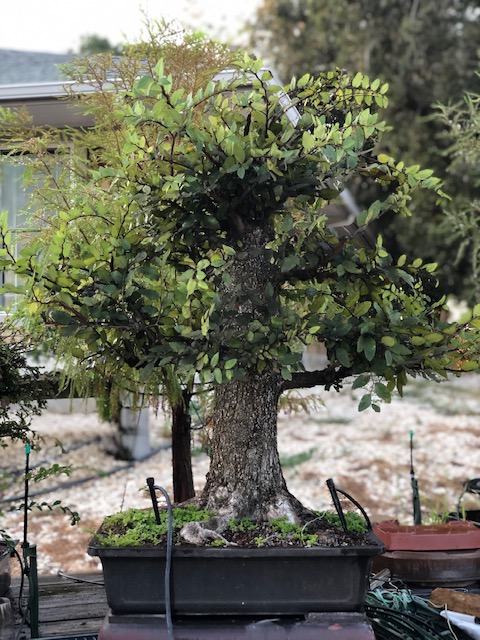 Some 'black stuff' appeared on the leaves
I washed a leaf and the 'stuff' with a toothbrush and water to this effect;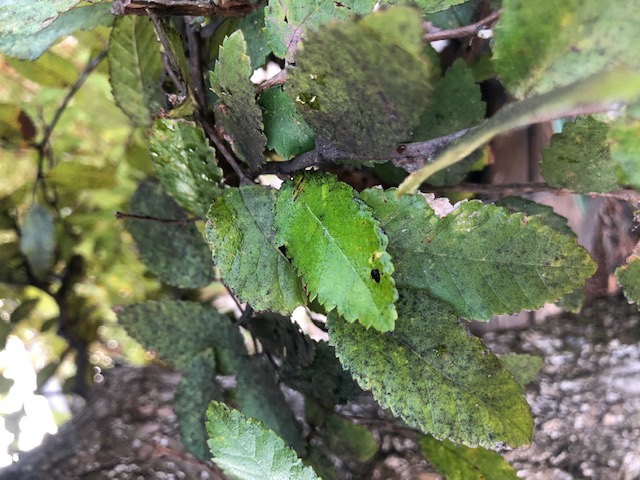 What the heck is it and how do I rid the tree of this mess?
Honeydew! Looks like honeydew. It's a mould that grows on the sugary secretions that aphids and the like produce. The gunk itself is harmless, but somewhere on the tree there will be myriads of aphids, scale insect, or some other Texan bug I have no knowledge of. Worth noting that ants will herd aphids onto a tree - so there's a whole chain of enemies out to get ya!
Hello Ironman redux: I agree with "Ironman" this does seem like honeydew fungus and he is right that the fungus is harmless, but the producers of the sugars that the fungus is feeding upon are not, I cannot determine the "sap suckers" that are causing this from your photos, but my advice is as follows: wash of the foliage as well as you can, your post suggests that you may have already done this, but try again! If that fails a broad spectrum insecticide might be in order, These sorts of fungal outgrowths are almost always due to sap-sucking insects and their "output". In general they are easily controlled.
David-thanks for your input. I'll give it another good bath today and hit the tree with a broad spectrum insecticide tomorrow. Thanks very for your thoughts and suggestions.
'Sap-sucking insects and their "output"...well said
Let us know how this turns out. Your elm shows good promise.

Yours,
David B.
Here we go, David B.
I gave the elm another bath yesterday and noticed that the honeydew can be washed off somewhat. I washed the leaves, branches and trunk. I'm using the stream setting on a gallon sprayer.
Then I spray wash the whole tree with clean water and I think it looks better. Today, I hit the tree with a broad spectrum insecticide.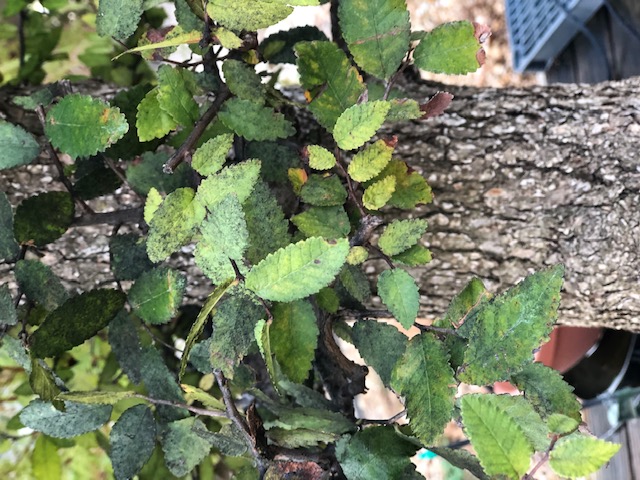 Does this tree go bare in Texas? In winter when without leaves, consider giving it a good coat of winter oil to kill off any leftover eggs and start spring with a clean slate!

Nice trunk on this elm!

leatherback

Member





Yes, it does drop leaves in the Fall/Winter. I'll treat it for pests at that time again.
It looks much better now that I've washed it several times and applied a broad spectrum insecticide.
New leaves have appeared and have no issues.

Update...I took the tree which was still 'dirty' from honeydew to the car wash and gave it a good bath. It looks normal again. I re-potted it a few days later and will post up a picture when time allows...

Similar topics
---
Permissions in this forum:
You
cannot
reply to topics in this forum