Hi All,
I purchased a Grey Pearl Japanese larch in the spring. I haven't trimmed or touched the roots. For three months it has been in very good shape. It has had nice new growth and has been very soft to the touch. About 4 days ago I noticed that it was looking not well.
My bonsais are on a north facing balcony. There has been some high heat. Although it has already been through two heatwaves with no ill effects. The larch only gets evening sun. The soil drains very well although I am surprised how moist the soil is. I have looked for pests, couldn't find any. I water all my bonsais through the summer with captured Air Conditioner water. The needles are all falling off to the touch.
Any thoughts as to why this is happening?
Any thoughts would be appreciated. Will it come back?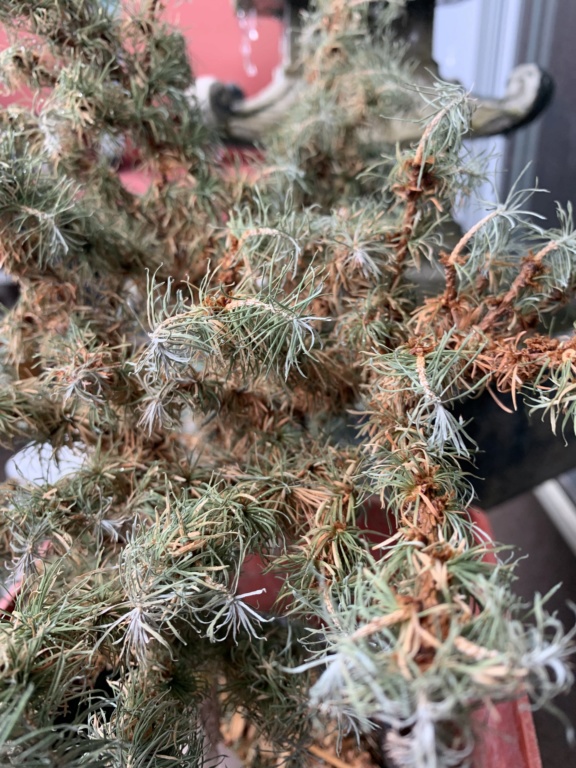 Cheers.
I'm afraid it's dead. Sorry.

AlainK

Member





Hello 1plant1world: I am sorry to say I agree with Alain. This looks like death from desiccation. I know you said the soil was moist, but has it been always? Has high heat or other caused the roots to die? Looks like desiccation to me. Tree death from lack of water can take weeks or more as the roots typically die first and the tree continues to try to survive on its internal moisture but without live roots it cannot replace it.

Yours with some sadness,
David B.

---
Permissions in this forum:
You
cannot
reply to topics in this forum