Hi All,
The novice guy's here again showing you another tree (that I may kill in the future).  
 I had this plant with me for around 4 years now. I think this was the air layered one.. I'll show the mother plant in due time.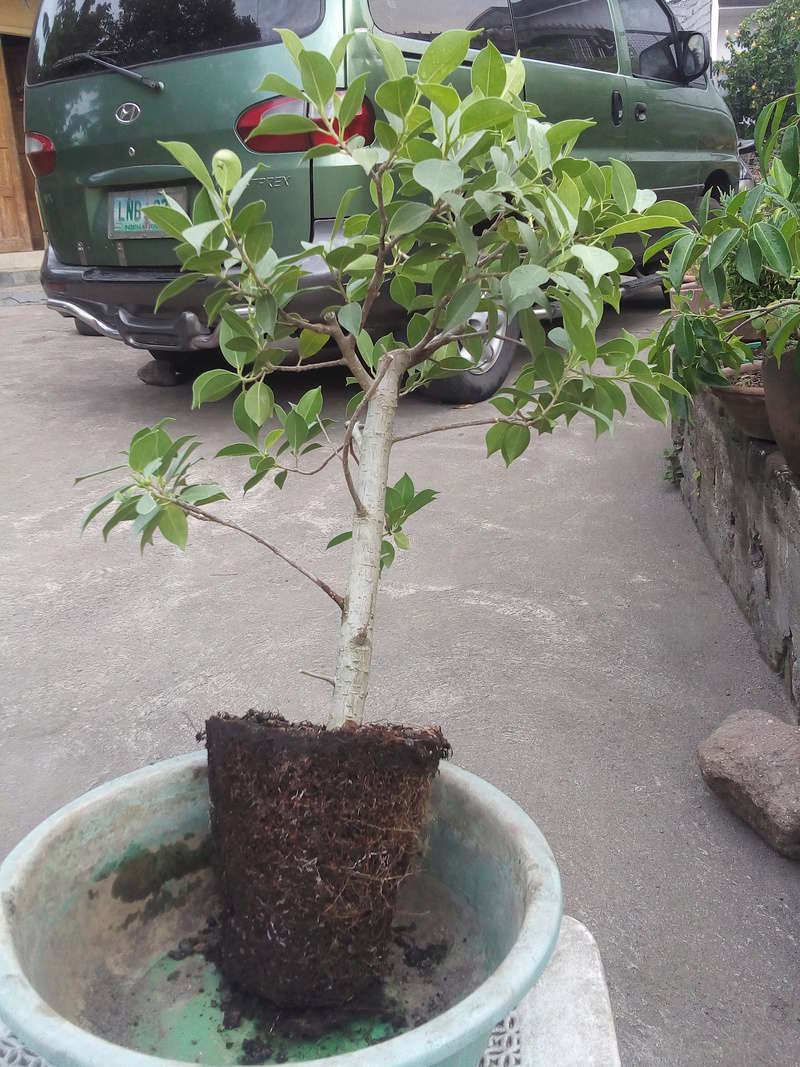 At the image above, I was preparing to transfer it into a bigger pot because I think it was during the el nino (drought) season here in the Philippines so I want it to store more ground moisture. Already lost maybe around 5 or more plants due to the heat even when watered at morning noon and sunset..
This month the canopy got a bit wider and is hogging up all the sunlight it can which resulted to it shading some small plants beside it.. And it's la nina (rainy) time so will replant it again.. I got this soft stone lying around and decided to shape it into a pot.
So here's the result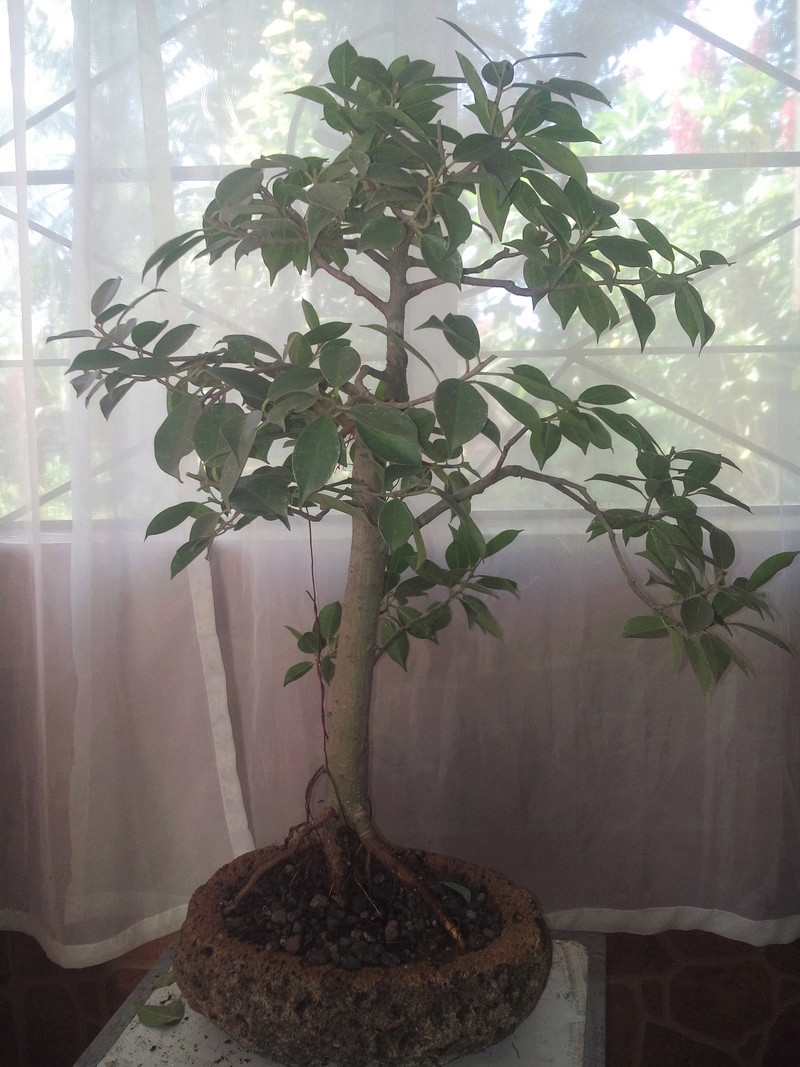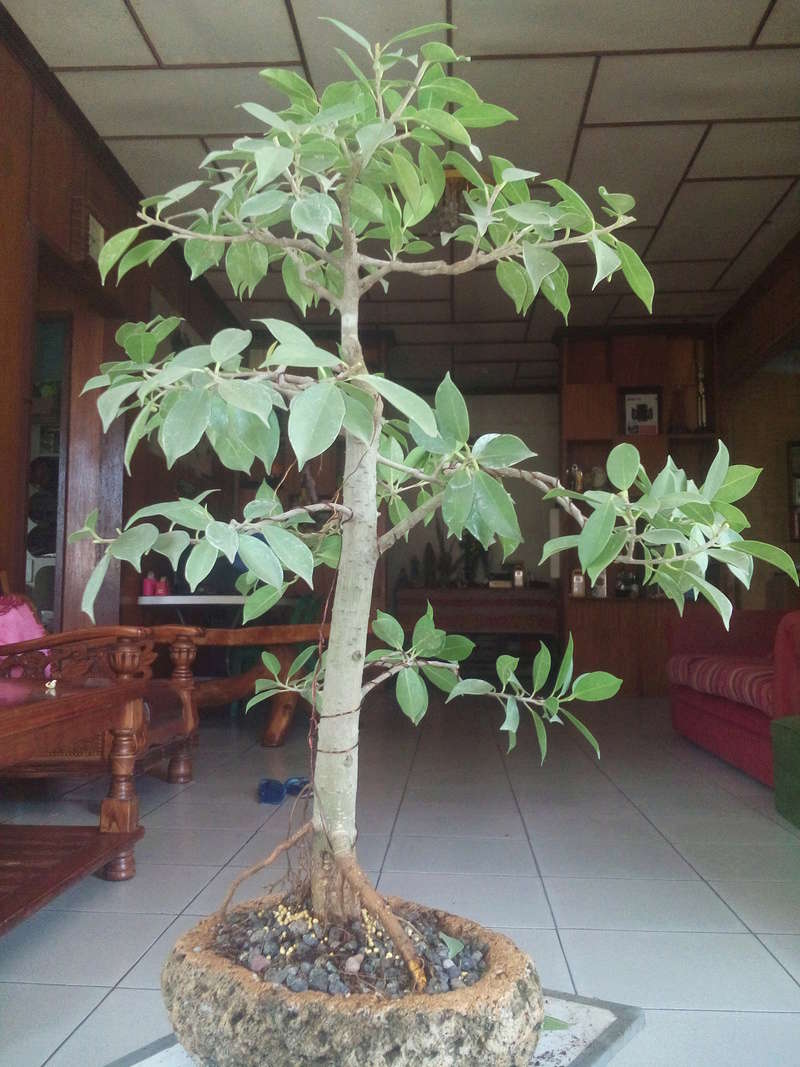 Don't forget that I'm a newbie so no mocking please.. mockery is for bullies and criticism is for teacher.. so you may yell at me like a parent if you want to..

novsai_Koloy

Member





well if you havent killed it in 4 years, you s/b ok
coming along nicely... i like the last picture for a preferred viewing angle as it hides the odd top-chop sudden movement shown in the other pics...
if you are planning on keeping the exposed roots, perhaps you could encourage more of them to develop... ?

Kevin S - Wisco Bonsai

Member





Thanks kev! Yes I will develop more, or should I say, if the plant will decides to make more.. I just brought it back down to it's original soil level..
These plants seems to love doing this as you can see on the pics below which are still on their original soil level.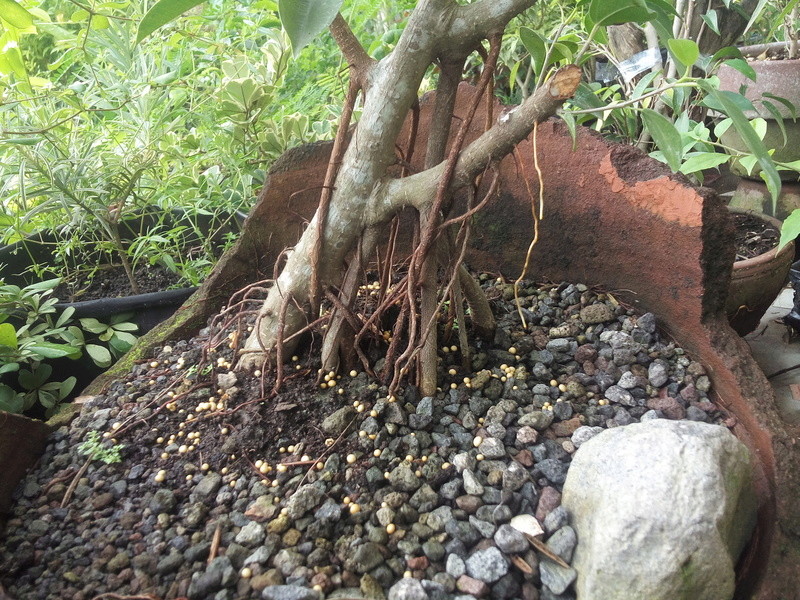 Here's the mother plant's base
and some close up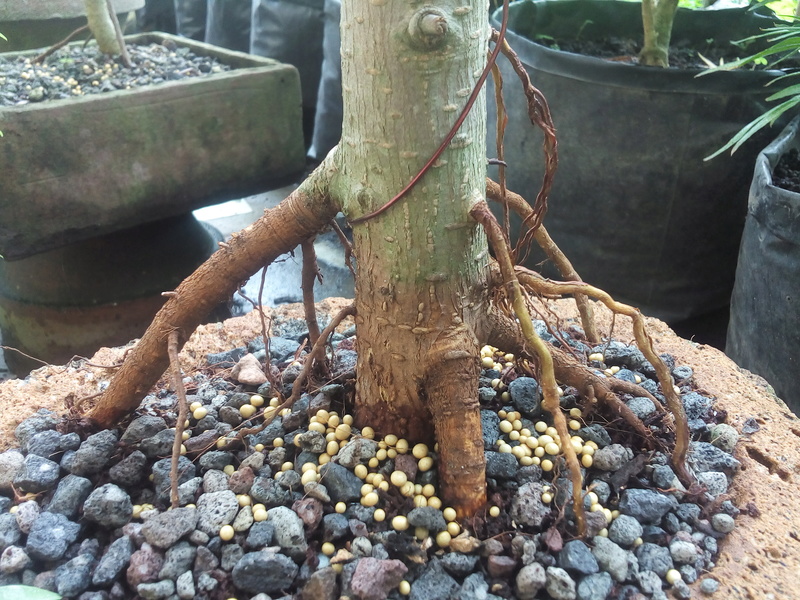 I had heard/read from somewhere that you could wrap loosely the trunk with plastic or something similar to keep it moist and it will produce these aerial roots.. haven't tried it though..

novsai_Koloy

Member





looks like your is already doing so... just let them do their thing !
i think wrapping the base of the tree to encourage aerial roots is something that us non-equatorial dwellers do...
probably not necessary where you live.

Kevin S - Wisco Bonsai

Member





Novsai,

you have probably noticed that Ficus don't need much soil. How much ?
In a 2.5 cm [ in full sun ] of 90 % by volume, inorganic to 10 % organic soil.
Pot is 20 cm long [ 9 " ]
You can grow a ficus with a 8 cm trunk [ 3 " ] using an extension branch of less than 1 m.
Start with the the lowest branch.

So keep on growing and test my suggestion on an expendable plant.

I believe because ficus wood is soft, it can expand very rapidly.
Try for 3 years, 8 cm trunk and 6 branches.

Thanks for showing.
Keep the group updated.
Laters.
Khaimraj


* If adding aerial roots, think decorative / Design, just don't add them on a whim.

Khaimraj Seepersad

Member





Kev,
Yep they're just doing their thing. We usually do the wrapping thingy to some cuttings here like eugenia and other plants for propagation purposes only. Don't really know why they do it maybe just for humidity control..
Khaimraj,
Yes, I have notice that they don't need much soil to live. Found some of them would still grow just by attaching itself on a wall or a rock.
As of now the mix I used on this particular plant is... some sieved river sand and a bit of shredded coco husk.. I just wanted to try this mix on an expendable plant. Sorry no exact ratio but it maybe the same as what you had mentioned 9:1. What we usually use here is the poor man's style because most of the soil materials (used on the videos and forums in the web) are not available in our area and even if they are, they're still expensive. Not just for soil stuff, it also includes pots and tools.
since you only mentioned inorganic and organic stuff, I think I'm on the right track..
When you say extension branch, is this similar to a sacrificial one where you would let it grow as long as needed but instead of cutting it later on you will use it as part of the design..?
as for this:
"* If adding aerial roots, think decorative / Design, just don't add them on a whim."
I'll extend it to the plant..
they wanted to have those roots. haha.. just messing around..
I just didn't removed it thinking they might need it in some way that's why they made them extra thick..
If you think it would be fine to just cut those weird roots then I will but maybe after a month or so..
So yeah.. Thanks for the info and will try it out.. I have plenty of cuttings at the moment (more than 7 months old) and see whether they'll thicken up in no time.
Thanks,
Ryan

novsai_Koloy

Member





Ryan,

I find the organic / inorganic bit avoids arguments.

My mix is 5 mm silica based gravel, and the organic is aged compost. A local company excavates it for crushing and use in
sand blasting. You can buy it by the bags,

The compost is basically, avocado leaves and branches,Chinese bamboo
hedge trimmings, leaves from anything in the yard and weeds.
Sifted and left to age, just moist in a barrel for one year.

We also use sifted 5 mm crushed red earthenware hollow clay building blocks.

As you can see we too use local simple stuff and yes, imports are expensive.

We also make our own pots, vitreous at 983 deg.C and porous around 900 deg.c. Earthenware clay, dug and hand processed.

We can make the pots, similar to Yi Xing, so don't fuss yourself about having to buy, just make it.

The extension branch in the ficus, is done on the first branch, and cut back when not needed, to x cms.
Then secondary finer branches naturally grow out.
Our local ficus is a willow leaf type.

If need be, the same can be done for the secondary, tertiary and so on.
Until.
Khaimraj

Khaimraj Seepersad

Member





Khaimraj
Nice..
will take note on those things you mentioned.
I already have compost here and incorporate it on some of my plants but I use it mostly as medium for my cuttings after they have rooted..
Thanks,
Ryan

novsai_Koloy

Member






Similar topics
---
Permissions in this forum:
You
cannot
reply to topics in this forum