shared by Avery Anapol at the National Bonsai Foundation...
Did you think bonsai was all about trees? Think again! Come visit the special exhibit at the National Bonsai & Penjing Museum in Washington, DC.  
Viewing Stones of North America: An Emerging Perspective
will be on display until March 29. Fridays-Mondays only from 10am - 4pm.
Members from the
Potomac Viewing Stone Group
, a regional organization dedicated to stone appreciation, present an exhibit of stones collected in North America. The stones featured in the exhibit, including five from the
National Bonsai & Penjing Museum
's collection, were published in the 2014 book
Viewing Stones of North America, A Contemporary Perspective
by Thomas S. Elias, a PVSG member, and former director of the U.S. National Arboretum.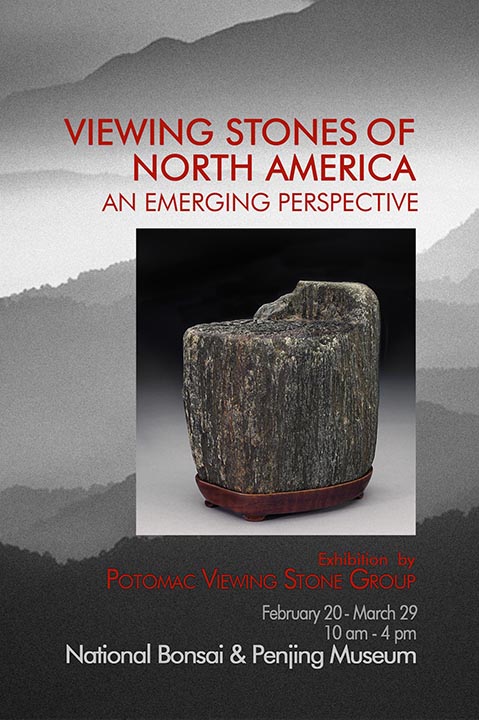 The exhibition was set-up a week before its opening and overhead lighting had yet to be carefully directed.  Hopefully, I (&/or other visitors) can add photos of the complete exhibition.

Chris Cochrane

Member





So sad that I missed this exhibition. Are there any pictures of the stones posted here or somewhere else?

I will be in DC this Sep/Oct. Is there any place to visit except the NBPM, if one is into suiseki? A collector or a seller?
Hi Keifer...
I apologize or not getting the stones & overall display online here.  I photogrphed them all at setup and, again at takedown, but my original photos were dark enough to require adjusting.  I am not a fan of adjusting so many photos as a set, and haven't had the fortitude to adjust each.  I've yet to explore the before-takedown set of photos-- perhaps they will pass posting.  A health setback left me underproductive for much of the past year & continues.
All of the stones in the exhibition are in Tom Elias's text
Viewing Stones of North America-- a Contemporary Perspective.  
The book has been well-received by Amazon reviewers.  I includes a wonderful stone by IBCer Joseph Gayton (a.k.a., "stonener"), who has been absent since his back injury in January 2014.  Hope Joseph has fully recovered.
Glenn Reusch presents an illustrated article (p. 8 forward) on the exhibition in the latest (May 2015) edition of
California Aiseki Kai (CAK) newsletter (LINkED HERE)
.  Glenn's article illustrates sections of the overall
Potomac Viewing Stone Group
display as well as photos of particular stones. 
This edition of the 
CAK
newsletter also includes Jim Greaves's enticing article on whether to water desert stones & Edd Kuehn's article on an exhibit at the
Pacific Rim Bonsai Museum
by the stone study group of
Puget Sound Bonsai Association.
If you can make it to the
National Bonsai & Penjing Museum
 in the autumn season, please give me a reminder.  I will try to meet you or find another stone friend to meet you that has access to more of the stone collection than might be exhibited.  It is also the most likely time for local & regional enthusiasts to go collecting as rivers are at their lowest.  Perhaps, you'll have room in your schedule to join us.
Last edited by Chris Cochrane on Tue May 26, 2015 4:33 pm; edited 1 time in total

Chris Cochrane

Member





Thanks, Chris, for the link to the beautiful newsletter. Tom's book is already on my list, I am looking forward to it.
And: All the best for your health!!! We all need your advice here! :-)
Cheers, Stefan
Hi Keifer... I forgot to add an invitation to consider stone friends in Potomac Viewing Stone Group as friends to visiting enthusiasts.  I was editing that addition to the previous post when you posted (see my previous post)... :-)  Hope to see you, here!

Chris Cochrane

Member





Thanks so much! Do you have meetings in the DC area?

Chris Cochrane

Member





Excellent, thanks! :-) If you would post the dates for fall 2015 here as well, I would love coming if possible.


---
Permissions in this forum:
You
cannot
reply to topics in this forum