Glenn Reusch of PVSG sent me his photo set of the recently completed set-up.
Poster entering the museum area...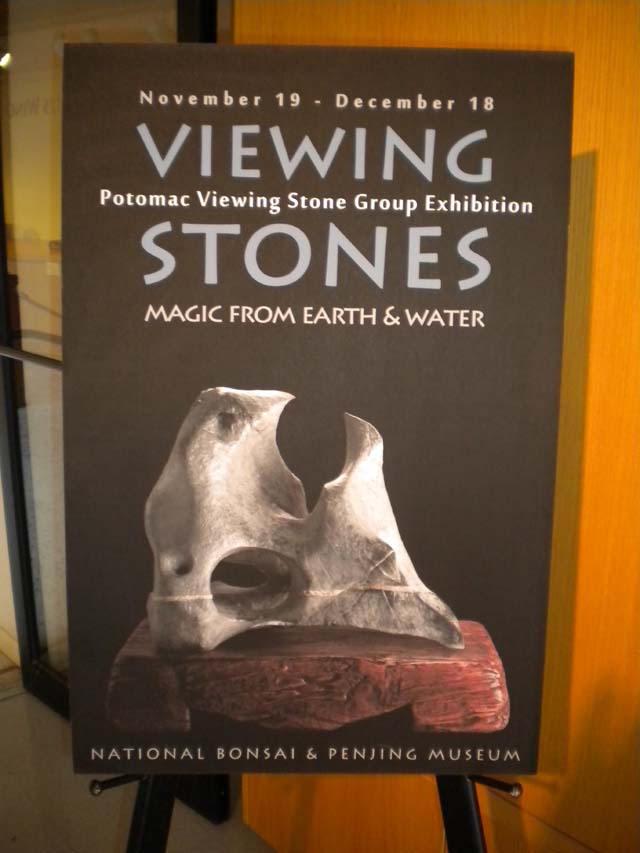 First of three tables...
An extremely large & heavy coastal rock collected in Maryland...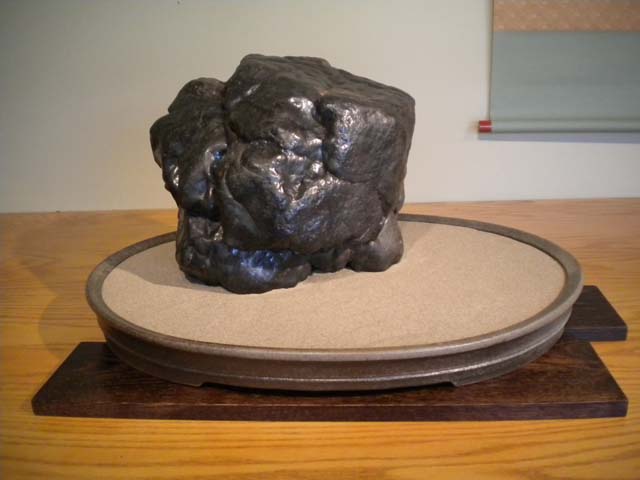 A colorful plateau stone collected in California...
A Japanese
Furuya
stone suggesting a battered coastal rock...
A hut stone from Virginia-- its pattern suggesting stars seen through a torn thatched roof...
A Chinese
Laoshan
stone with blown-thread pattern...
A near view mountain stone from Montana...
Japanese water pool stone collected in Tama River...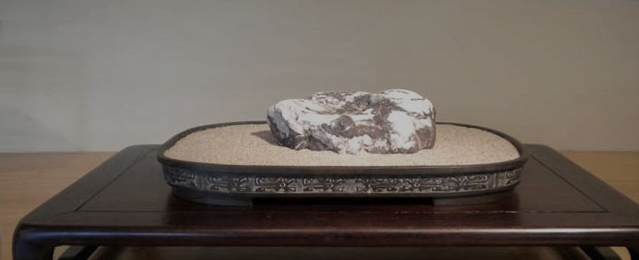 Collected in northern California river-- a celestial view...
Last position on first exhibition
table-- 4 Chinese stones...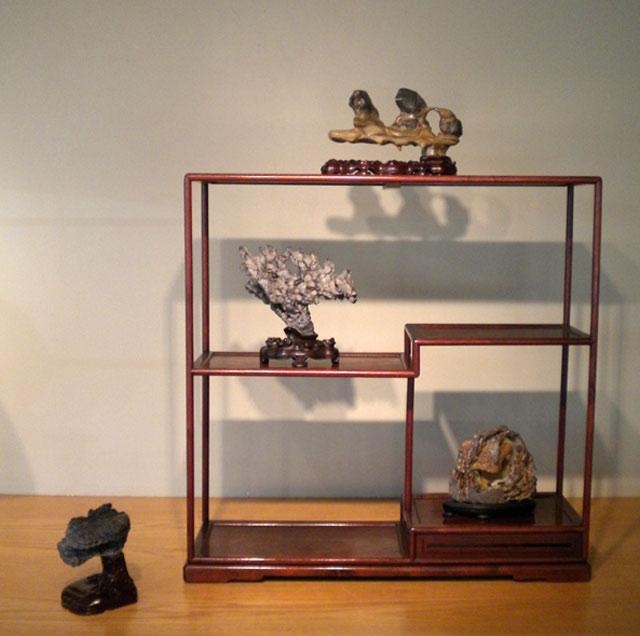 first...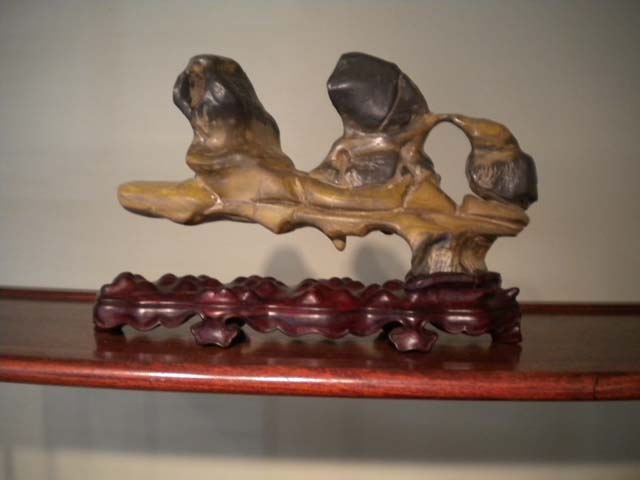 second...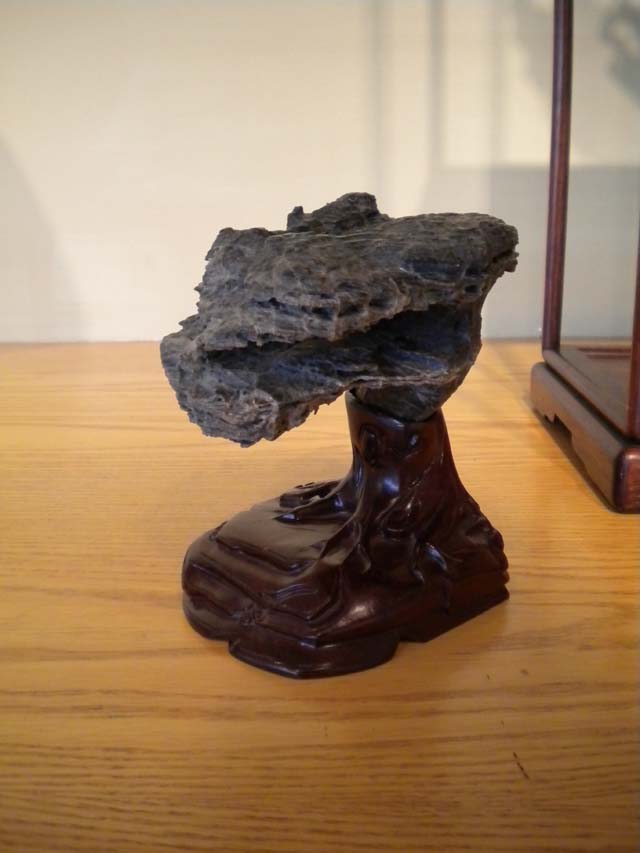 third...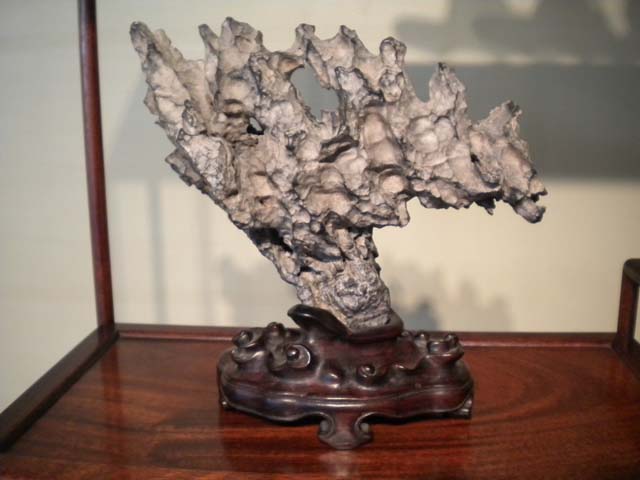 fourth (last on this table)...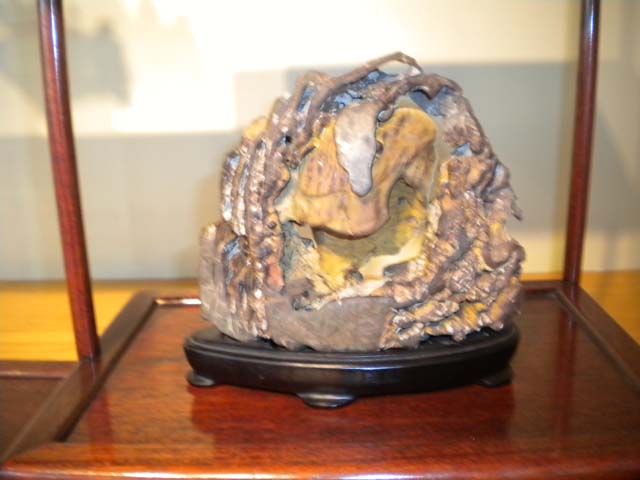 Last edited by Chris Cochrane on Wed Nov 30, 2011 7:36 pm; edited 2 times in total

Chris Cochrane

Member





When the stone on the exhibition poster is large enough to grab attention at a distance, it is often placed at the first position on the second (central) table. It is visible at the far end of the aisle upon entering the exhibition...
National Bonsai and Penjing Museum
exhibit space....
First position on the second central table-- Chinese
gongshi
on an old Northern-style stand accompanied by a lingzhi fungus and a Japanese scroll...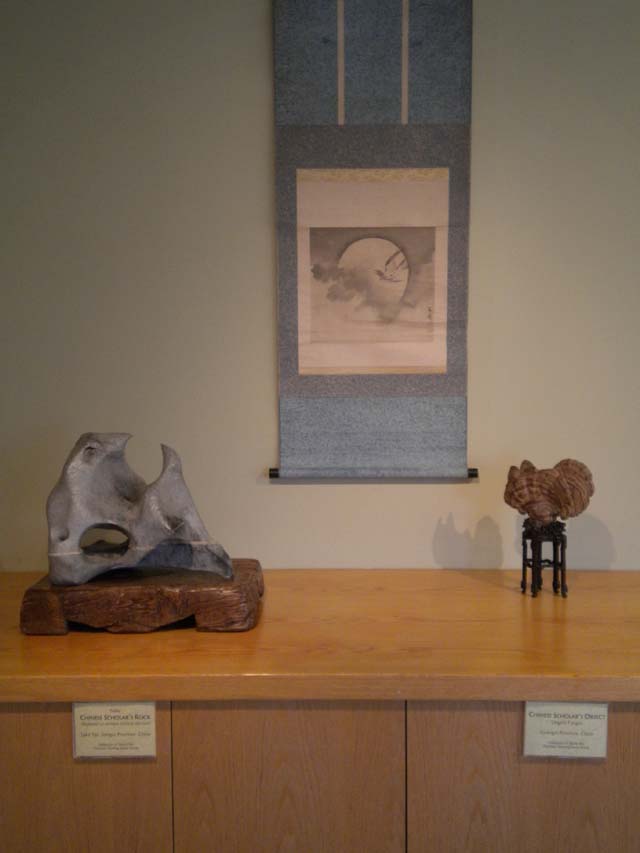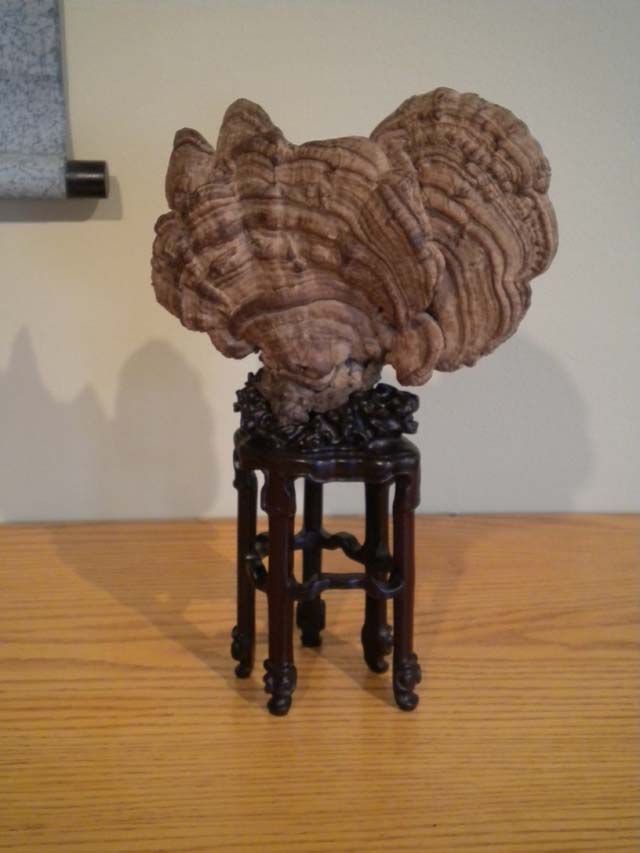 Chris Cochrane

Member





Lighting had yet to be adjusted on the stones on the original photo set, and it makes a big difference in appreciating stone photos. Since the Museum is over 100 miles distant, I couldn't shoot another set, but Museum curator Aarin Packard has. Instead of displaying stones from first-to-last or in the rhythmic vignettes that PVSG uses for display, Aarin distinguished stones & a related rattan vine object from China as distinct from Japanese & American stones.
Photos of exhibited
Chinese stones/vine
[
linked HERE
].
Photos of exhibited
Japanese & American stones
[linked HERE]
.
There is a "celestial stone" that I imagined as a reflected moon image, so it is surprising to see it labelled "desert sun." I wonder what viewers see before reading the title. Arrangement distinguishes comprehension; there are exhibited stones I would prefer re-arranged.
There will be a public walk-through of the exhibition by PVSG's Glenn Reusch, tomorrow (1:00 p.m., Sunday, December 18th), & afterward the exhibition closes.

Chris Cochrane

Member





Many thanks for sharing all theese nice photos from the exhibition.
The western stones, are the stones, I prefer...I am beginning to like more quiet western stones much better than chinese and japanese.
The "desert sun".....The stone is very pale (daylight) and is pretty much what I expect from a desertsun, not big and bright.
The Rattan Vine is interesting...I know all important suisekicollections has, at least one "dead wood- suiseki".
Resently I found a nice piece of wood, and remembered seeing one like this in a big collection, not long ago.
I did not pay much attension to it back then, but had a reminder.....
I was about to post a picture of the "dead wood" I found yesterday, before carving a daiza for it, but the photo did not turn out nice enough.
I will be very happy, if information about this is known to a reader ( Chris)....What is the name?, is it chinese tradition?....I know nothing, but will be happy to know everything possible about this kind of "missing link"
between stone and bonsaicollecting....I am sure many readers would love to know more, just like me.
Kind regards Yvonne
thank-you Chris
for sharing......appreciated your comments on how the stones were placed in the exhibit.

dick benbow

Member





Hi Yvonne... Root wood in exhibition with stones has two sources. One was the Chinese scholars' interest in naturally-contoured objects to express the energy of landscapes (
chi/qi
"spirit/breath of the Universe") in concentrated, miniature form. You'll find root wood along with scholar's rocks in John Hay's
Kernels of Energy, Bones of Earth
(China Institute exhibition & publication), Stephen Little's
Spirit Stones: the Collection of Ian & Susan Wilson
(Art Institute of Chicago exhibition & publication), Richard Rosenblum's
Art of the Natural World
and other publications.
The manager of a Shanghai stone shop who contributed to IBC helped PVSG members obtain the text
Root Carving Art in China
(China Forestry Publishing House, 2004). This book traces artistic natural root collection in China. The oldest is a very modestly altered piece found in the Mashan tomb of the Chu State (Warring States period) (therefore, prior to 278 BC)-- see
illustration from University of Michigan library [linked HERE]
. It features a mythological animal (a "Bixie") with a tiger's head and dragon's body that is very modern in its understated form.
PVSG member Daniel Bui has a world-class collection of Chinese natural root art that excites us. There was a naturally-contoured Chinese piece in the exhibit which isn't illustrated on the Museum blog. Its size & visual flow helped "close" the end of one table...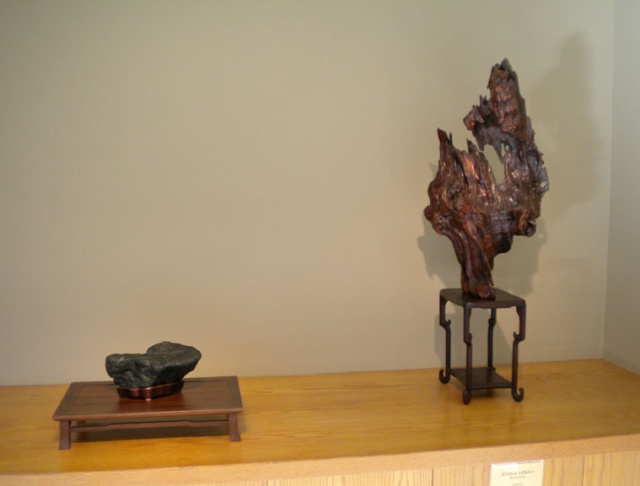 The other traditional source for exhibiting natural rootwood with stones is the Japanese literati influence. Japanese literati pieces of highest quality are associated with sencha tea aesthetics. The artist Imai Oshin added luster to the form into the 20th century. A peek at the archives for sencha/literati art objects sold by the Japanese art vendor
Kagedo [link HERE]
(Jeffrey Cline & William Knopse) in Seattle can still a suiseki lover's heartbeat. Read their exhibition books!
It was in lierati/sencha circles that alcove display of bonsai developed. Exhibition display of bonsai, stones & related items in artistic arrangement developed in sencha banqueting facilities before public exhibitions occurred separately (e.g., bonsai in Hibiya Park). Pat Graham's book
Tea of the Sages: the Art of Sencha
captures major players (Ingen, Jozan, Baiso, Kenkado, Ueda, San'yo, Chikuden, Mokubei et al.) affecting
sencha-seki
(sencha feeling expressed in a room of artistically arranged objects), which is sometimes expressed as
seifu
("cool, refreshing breeze") or
furyu
(literally "floating, drifting (wind + flow)."
Furyu
has more subtly in expression than its component kanji characters and suggests
a fleeting moment when experience is beyond contradiction/analysis
. Objects arranged artfully are "in
furyu
" rather than "outside of
furyu
." Appreciation of
seifu
and
furyu
from sencha (Japanese steeped tea in Chinese-style) are additions to
wabi-sabi
from chanoyu (native Japanese whisked tea) in appreciating the atmosphere/tone/feeling of suiseki displays.
Japanese art vendor Brian Harkins (in London) notes literati/sencha enthusiasts' influence on suiseki. His introductory remarks on suiseki in the Sydney Moss catalogue
When Men & Mountains Meet
(an exhibition of suiseki & scholars rocks) captures conversations he had with Ken'ichi Yoshimura & Arishige Matsuura as a privileged client. Brian Harkins & Katie Jones (another Japanese art vendor in London) published the first catalog in English devoted to naturally-contoured wood & bamboo objects introduced by Japanese literati/sencha enthusiasts.
As an element outside of established tradition, PVSG invited member (and professional photographer) Heide Wessels to mount photos on three scrolls this year to complement stone display. Perhaps, the photo I received was taken before final setup (stones appear askew), but it captures the arrangement in progress. Two of the photos of landforms are mostly abstract while the third could be recognized as looking into a stream bed under clear, flowing water...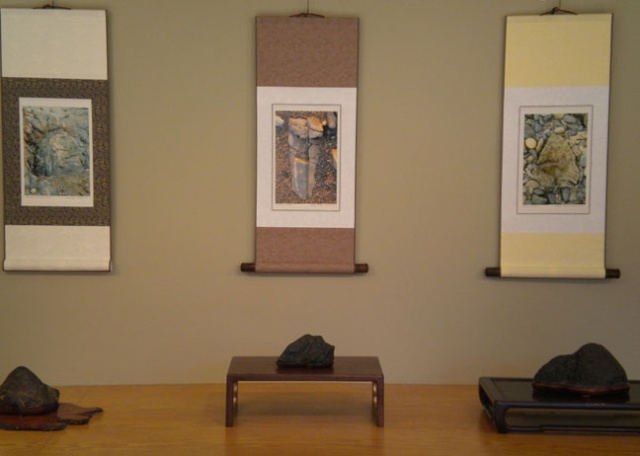 Chris Cochrane

Member





Hi Chris
Many thanks for taking your time, to share your knowlegde
, very interesting.....
I can understand natural rootwood is only exhibited together with stones...
The old root from before 278 BC, is very touching in its innocence, I saw the picture before.
The art Kagedo offers, is breathtaking
, I wish, I am able to learn a thing, or two....Jittacarvers could be inspired here.
I would like to see the 3 scrollpaintings up close, they look very nice....But I find them much to strong for the stones.
If you asked me, would I have placed the scrolls for them self, on a wall with a distance to stones, and not together with.
Kind regards Yvonne
Chris,
Thank you for posting the pics of the show and congratulations to Glenn, you, and the Potomac Viewing Stone Group for a great show. Awesome!
Best,
Todd

Todd Ellis

Member






---
Permissions in this forum:
You
cannot
reply to topics in this forum