Hi everybody,
two weeks ago, after years of surging the internet, I finally found a nice scroll with a Bonsai painted on it! Finding a nice scroll like this is one thing, trying to buy it for a reasonable price is a other! We had to stay up until 4 in the morning when the bidding would end and were delighted when we were able to buy it with in our budget! This is rare, because scrolls with Bonsai on it are highly desired by many internet buyers, so we were extremely lucky to get this on!
It is painted on paper and measures: height 77,6 inch and width 16,8 and the end rollers are made of wood. The painting on the scroll depicts a white Pine Bonsai standing on a white and blue earth were drum. The drum it self is decorated with Prunes and Bamboo, bringing the 3 friends of winter (Pine, Prunes and Bamboo) together. It needs just a little restoration by me, but that will be no problem at all!
The scroll now hangs on the wall in our living room and it really lights up the room now the day's get shorter and shorter while winter is creeping closer and closer!
Hope you like my new scroll just as much as I do?!
Cheers,
Hans van Meer.

Hans van Meer.

Member





Hi Hans

I love your scroll...Lucky you, to find this rare scroll.

Kind regards Yvonne
would like to know what the script says.

dick benbow

Member





Good Job Hans!...
Till 4 am shows serious commitment, with little repair needed even better!
This
one in all
type of message scroll style was new to me!
till Dick displayed his, Waterfall, Maple and Bird scroll as one complete thought!...
Now I too have now been looking every were for this new to me kind of scroll!,
now even with the possibility of what the calligraphy might say? exciting!
praying to be blessed as both you and Dick have been, soon I hope.
Congratulations on your special finds to you both...
stonener
*good feeling* 
Hi everybody,
I am glad to hear you like my scroll as much as I do! And I also love to know what the artist has written on this scroll?!
Yesterday I restored my new scroll with the Bonsai painting. It had a nasty very visual scratch right over the base of Bonsai drawing that needed some touching up by me!
Below: (green arrow) Close up off the damaged surface on the roots of the Bonsai painting.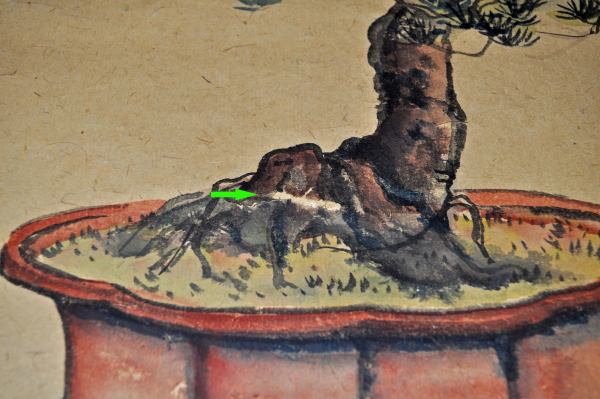 Below: This nasty scratch was probably the reason why the eventual selling price stayed relatively low and affordable for us, so if I could restore it myself, we would be very lucky indeed! Mixing several water colours to get all the right shades off brown's and black's was quit a task, but fun to do! And I think that the final result is very satisfying. and you would never know it onces was there……well all you do now!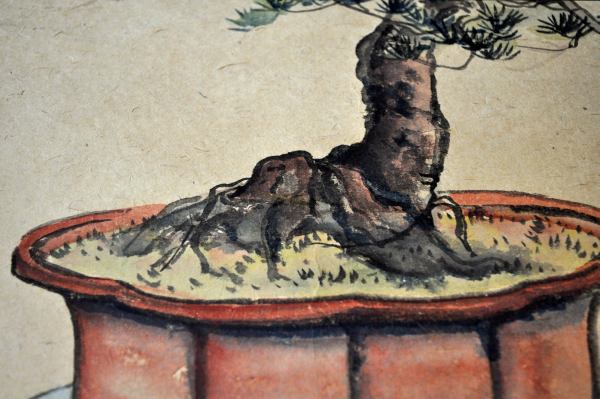 I am very happy with the end result and the scroll is all ready hanging on the living room wall again!
Only 4 more weeks to "BURRS" !!!!
Cheers,
Hans van Meer.
—————————————————————————

Hans van Meer.

Member





Excellent restoration job! your right can't tell it was there before!
Very nice before and after detail close up pictures appreciated.
Could be the start of a very promising new career for sure.
Hey Hans just wondering? my car has a similar scratch on it?
stonener
*impressed*

Similar topics
---
Permissions in this forum:
You
cannot
reply to topics in this forum